Kimbal Musk Brings Gardening And Food Literacy Effort To Detroit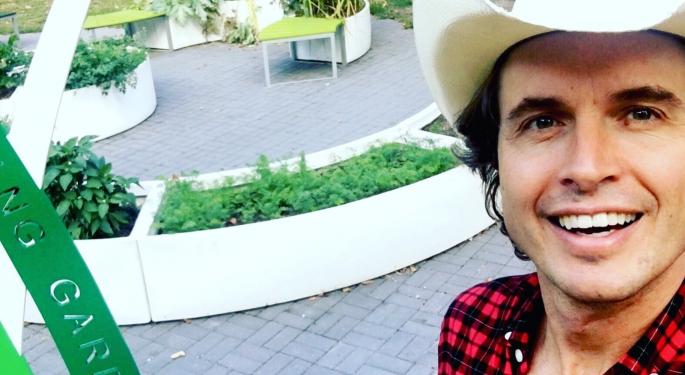 Kimbal Musk, brother of sustainable energy maven and Tesla Inc (NASDAQ: TSLA) CEO Elon Musk, thinks Detroit could be a little greener.
The head of Colorado-based nonprofit Big Green intends to plant gardens in 100 schools throughout Wayne County and nearby underserved areas as part of a $5-million effort to enhance youth food education and access.
The fruit and vegetable gardens are meant to support science lessons and encourage healthier eating.
"We have stopped educating our kids about real food for a couple of decades now, and the results have been disastrous, rampant diabetes ... and in some neighborhoods, over 40 percent of kindergarteners go into kindergarten obese."
Kimbal Musk told Crain's Detroit Business. "It's not something they did to themselves. It's what we did to them, and we now need to fix it."
The produce grown at the schools is generally sold at a school farmers market or incorporated into cafeteria meals.
Garden Logistics
The Detroit program is expected to install its first garden in April and complete 100 within 2 1/2 years, Crain's noted.
About $2 million has been raised so far from the likes of the Pathways Foundation, Gordon Food Service and Oakland Mediation's Carole Ilitch.
Big Green Detroit Regional Director Ken Elkins will raise the remaining $2.5 million to $3 million for initial planting, according to the nonprofit.
Maintenance will require about $1 million in additional funding each year thereafter.
About The Collaborators
Big Green also maintains garden programs in Denver, Indianapolis, Pittsburgh, Los Angeles and Chicago.
Musk has been in the food and agriculture business for more than a decade. In 2004, he opened Kitchen, a farm-to-table restaurant in Boulder, and has since expanded to six locations around the U.S. He also serves on the board of Chipotle Mexican Grill, Inc. (NYSE: CMG).
Related Links:
Detroit's Tallest Building Breaks Ground: 'This Is Going To Be A Site Of Our Recovery'
College Student Connects Detroit Water Bills With Amazon's Alexa
Big Green CEO Kimbal Musk. Courtesy photo.
Posted-In: Big Green Detroit Elon Musk food literacy gardening Kimbal MuskMedia Best of Benzinga
View Comments and Join the Discussion!