Warming The World: Michigan Startup Warmilu Proves Doing Good Isn't Just For Nonprofits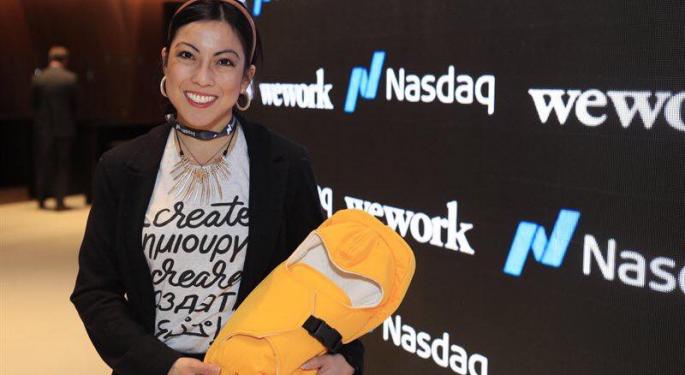 Who said humanitarian work had to be free?
"A lot of people think by doing good you have to be a nonprofit, or the doing good part of your business is the revenue loss driver,"Warmilu CEO Grace Hsia told Benzinga. "As it turns out, we've been able to sell infant warming blankets profitably for warming management to medical device distributors who distribute in east and central Africa."
Hsia's for-profit venture aims to save preterm infants in resource-scarce settings with new thermal technologies — and build the bank in the meantime.
"When our team looks at our goal as a company, even though there's a social good aspect, which I think a lot of people focus on and it's the driver behind why I do what I do, our goal is to become the most innovative non-electric warming technology company around the globe," she said.
So far, Hsia's found a way to do good while doing well. At 27, she's already made Forbes' 30 Under 30 in manufacturing.
See Also: A Startup That Helps Other Startups Get Money
The Money-Making Mission
Hsia says it's because she's mission-oriented.
"When you're working on a startup, one of the very first things you realize is there's going to be highs and lows, and you're going to need to have a really good reason, a passion to get you through," Hsia said. "My passion came from the fact that I had been born one month preterm, and if not for the first 11 days that I spent in an incubator, I would have died."
When Hsia learned 1 million infants die annually from hypothermia, she was struck.
"I remember feeling a shiver because I had been fortunate to be born in the U.S., but I thought to myself, I could've been one of those infants born in a resource-scarce setting, where even a baby who is born one month preterm might pass away from lack of basic infrastructure and resources beyond warming to provide care," Hsia said. "I felt like my life had come full circle."
She began working on the technology for her material science engineering capstone at the University of Michigan in 2011.
The Benevolent Business
Now, with a 10-person staff and 2,000-square-foot production facility, Ann Arbor-based Warmilu develops, produces and sells blankets with wireless, battery-less heat packs. The patented, phase-change solution stores latent heat energy captured through boiling, and it generates warmth for five to eight hours more than 100 times.
The painstaking design was as charitable as the corporate mission. Warmilu sources all materials from the U.S. and ensures that they're low-cost and medical or food grade for clients in unstable, resource-scarce or violent settings.
"We right from the beginning made sure everything was non-toxic and food grade so you can technically cut open a pack and drink the materials and not be harmed from it," Hsia said. "In addition, none of the materials can actually be used to make anything like a destructive weapon. We really were thoughtful about our material selection."
The U.S. Food and Drug Administration recently approved the technology for adult warming, while clearance for pediatric use — already achieved in Kenya — is in the works domestically.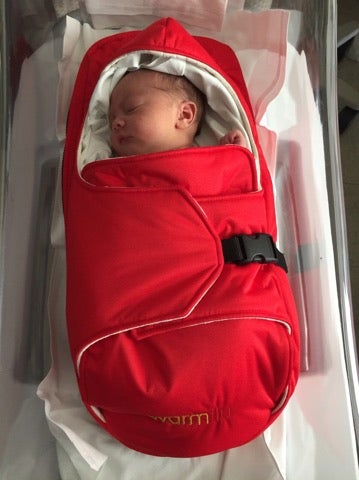 The Market Opportunity
The initial impetus for the business presents a significant revenue opportunity.
"Over 1 million infants die annually of hypothermia-related causes of the 15 to 20 million preterm infants who are born annually," Hsia said. "Around the globe, you're looking at a multi-hundreds of millions of dollars opportunity that's specifically related to infant preterm hypothermia warming."
And that's just one use case.
Considering opportunities for adult pain management and patient transport, as well as stadium and hunting seat cushions, Hsia cited a $2.8-billion global market for adult and infant warming, with the greatest opportunity in North America.
"Direct-to-consumer warming is projected to be anywhere from a $1-to-$3-billion market size, because if you look, there are definitely more practitioners looking for non-opioid ways of pain management at home," Hsia said.
Warmilu is looking to sell to both medical device distributors and hospital networks domestically and, through Relief for Africa, is targeting hospitals and government agencies in the resource-scarce settings of Kenya, Rwanda, Burundi, Somalia and others. The latter region has contributed the bulk of Warmilu's $110,000 in total sales, while just 5 percent came from the U.S.
See Also: 6 Months In Business, Autonomous Vehicles On The Road: Meet Ann Arbor's May Mobility
The Path To Profitability
And those sales supplement funding from grants ($160,000), co-founder financing ($40,000) and angel investments ($220,000).
"When you look at the company as a whole, yes we are a for-profit, yes we are profitable in our sales," Hsia said. "We're not a charity."
The firm is also in its first round of financing, which it intends to close with $780,000 in the form of a convertible note or simple agreement for future equity. With the extra cash, Warmilu plans to hit the ground running.
"Next year we're aiming for about $500,000 in revenue, and then the year after, we're aiming for closer to $1 million in revenue with the current pipeline that we have in place," Hsia said.
Near-term goals include payroll expansion and the advancement of a non-metallic activator and microwaveable pack. The so-called "universal pack" has been in the works for three years and is expected to be completed by early 2019.
View Comments and Join the Discussion!
Posted-In: Ann Arbor Detroit Grace HsiaFDA Top Stories Startups Exclusives Interview Best of Benzinga