PeerStreet: A Group Of Surfers Out To Revolutionize Real Estate Investing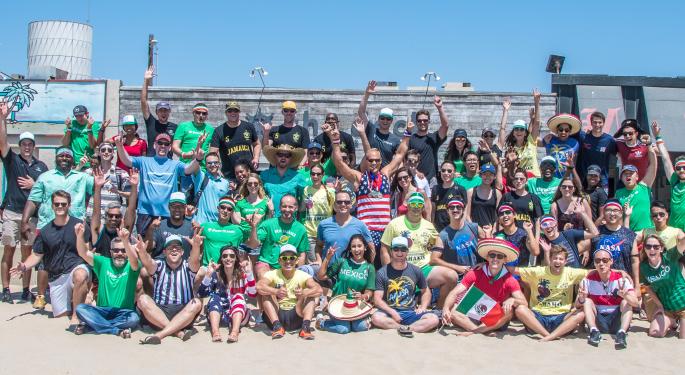 The Benzinga Global Fintech Awards are a yearly showcase of the best and brightest in fintech. In preparation for its biggest installment yet in May 2018, we're profiling the companies competing for the BZ Awards.
Our next feature is on PeerStreet.
What does your company do? What unique problem does it solve?
Brett Crosby, co-founder: PeerStreet is an investment platform that enables accredited investors to easily invest in high-yield, short term, real estate backed loans. PeerStreet sources its loans from non-bank lenders across the nation. They underwrite both the lenders and the loans using advanced algorithms, big-data analytics, manual processes and on-the-ground due diligence to filter and select high quality loans.
Previously, there wasn't an easy way for individuals to invest in real estate debt, and PeerStreet has finally given them access to this asset class. With a low minimum investment of $1000, people can diversify into this asset class in a way never before possible. PeerStreet has also transformed the way private lenders do business, making them more efficient by giving them access to the global capital markets, and in turn providing more opportunities for high quality borrowers to acquire financing.
PeerStreet's business model adds value to other participants in the ecosystem: investors, lenders and borrowers. PeerStreet is conceptually similar to a 'stock market' for investing in real estate debt for loans that fall outside of Fannie and Freddie.
Who are your customers?
Our customers are accredited individuals and institutional investors such as asset managers and funds.
How long have you been in business?
We were founded in 2013, so we've been in business for nearly 4 years. In that time, we've originated well over half a billion loans, with zero losses to investors to date.
Where are you located?
We are located in Los Angeles.
Who is your company's leadership? What kind of experience do they have?
Our three founders are Brew Johnson, Brett Crosby and Alex Perelman. Their combined experience in technology, real estate, finance and law is unique and unrivaled in the space. Brew is a former real estate attorney. Before PeerStreet, he worked as a General Counsel at VirtualTourist where he oversaw the company's $85 million sale to Expedia/TripAdvisor. Before that, he was a real estate attorney at Allen Matkins Leck Gamble & Mallory and a technology attorney at Brobeck Phleger & Harrison. Brew advised some of the largest real estate development and investment firms on a wide variety of complex real estate transactions.
Brett is a successful entrepreneur who previously helped build the world's largest Web Analytics platform. He was previously Director of Product Marketing at Google where his 10-year career spanned many of Google's most prominent products. Most notably, he co-founded Google Analytics, helped start Google's mobile advertising business, ran the founding product marketing team that launched Google+ and more recently ran the global marketing teams responsible for the dramatic growth of Chrome, Gmail, Docs and Drive.
Alex is a seasoned entrepreneur and engineer with an MBA from UCLA. He has been through Y Combinator and have built several startups alongside experience working within large corporations.
Who are your investors, if any?
Our investors include: Andreessen Horowitz, Felicis Ventures, Rembrandt Venture Partners, Montage Ventures, ThomVest, The Kaiser Family Foundation, Colchis Capital, Toba Capital, Le Frak, and many notable individual investors including Dr. Michael Burry, Adam Nash, Ron Suber, D. A. Wallach, etc.
Is there anything else Benzinga should know about your company?
While we are too large to be a flat organization, we believe that good ideas can come from anywhere. We imbue our culture with the understanding that anyone can help our business model improve and innovate. Our co-founders make it a priority to know and interact with our entire staff daily. No one is small or unimportant, and we celebrate personal and company successes at every level. We are serious about what we do, but make it a point to not take ourselves too seriously.
Our weekly Monday all-hands meetings are transparent, conveying important business information to everyone, not just the senior leadership. In addition to important business, it's also a time for us to get together and have a good laugh at the happenings of prior week and prepare for the week ahead. Both intentionally and organically we integrate fun into our daily work.
Along with all the critical business channels, we have a surfing channel in Slack, where our surfers and surf fans meet up to ride the waves or geek-out on the sport. Our "socks" channel also highlights the hysterical socks worn in the office. These types of ideas are encouraged because they lift the energy and motivation of all.
By supporting our employees' personal passions and talents, PeerStreet's culture is truly fun, but also critically supports the goals of the business. On a more external note, PeerStreet is entrenched in the financial technology and lending industries at large. PeerStreet has been named by American Banker as one of the "Best Places to Work in Financial Technology" in 2018 and one of the "10 Best Startups in Los Angeles" in 2017 by Zippia. PeerStreet is a member of the Marketplace Lending Association and has partnerships with over 150 private residential real estate lenders in over 30 states.
Photo courtesy PeerStreet.
View Comments and Join the Discussion!
Posted-In: Benzinga Global Fintech Awards Brett Crosby PeerStreetFintech Real Estate Best of Benzinga