Blockchain As A Service Takes Shape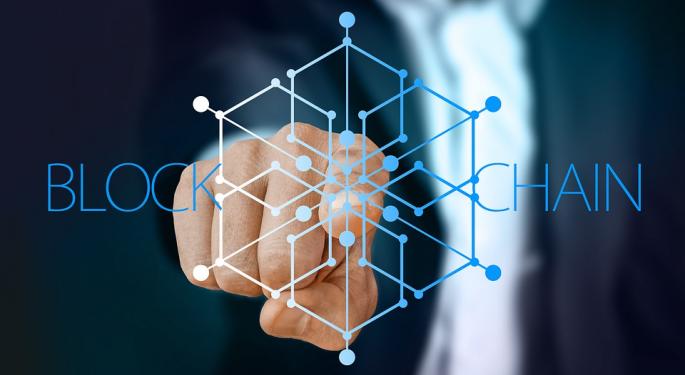 Blockchain technology is potentially the most disruptive force in the economic ecosystem right now. Blockchain has the potential to change the world in much the same way as the Internet. From finance to government to basic precepts of economics and modern society, the disruptive nature of Blockchain holds the distant promise of creating a new world order that decentralizes economic power and authority to the point of virtual automation.
However, on Wall Street, traditional investors are struggling to get a grip on the true scope of this potential as blockchain applications such as Bitcoin and Ethereum continue to react sporadically to both the upside and down compared to equities, bonds, and funds.
Ethereum has the attention of Wall Street
Of particular interest to traders and investors is Ethereum, which has held a comparatively a steady and sure-footed approach to long-term growth compared to bitcoin, which has had more frenzied growth and given some traders reason for pause. The more interesting part of this dynamic between bitcoin and Ethereum is that Ethereum has outperformed the more well-known coin in terms of percentage growth, having delivered 9,268% year-to-date gains as seen in the chart below.
Many traditional firms who are wary of the long-term prospects of Bitcoin are very vocal in their support of the long-term prospects of Ethereum. For instance, the Enterprise Ethereum Alliance, launched in February 2017 now has more than 150 organizations such as JPMorgan Chase & Co (NYSE: JPM), Microsoft Corporation (NASDAQ: MSFT), Mastercard Inc (NYSE: MA), Cisco Systems, Inc. (NASDAQ: CSCO) and Citigroup Inc (NYSE: C). The EEA connects business, startup, researchers and other stakeholders with Ethereum experts for the creation of applications on the Ethereum blockchain.
Ethereum, Jelurida And The Business Of Blockchain
Ethereum is not without its challenges. Same as Bitcoin, Ethereum is plagued by the curse of the first mover. The cryptocurrencies that might end up with consistently sustainably long-term prospects might well be the coins that show up after the initial frenzy of Bitcoin and Ethereum. This piece provides insight into a new blockchain application that could be the next big play in Ethereum's space.
One such latecomer is Jelurida, which has commanded its share of attention in the blockchain market as the brain behind the NXT blockchain platform, which has grown to be one of the most stable and reliable blockchains in the market. Jelurida's NXT is already in use by high-profile clients such as Accenture Spain and BNP Paribas to build fast, decentralized and functional blockchain apps.
NXT holds the record as the first 100% proof-of-stake (PoS) blockchain. It is scalable for business and requires zero in the way of power consumption. Jelurida has survived and thrived in the market for four years as one of the oldest blockchains in the market. NXT's PoS concept illustrates a sustainable and efficient way to validate transactions, one that has maintained itself outside of the Ethereum and Bitcoin schema.
Meet Jelurida's Ardor
Jelurida's latest refinement is Ardor, a platform designed to help businesses cut down the time and costs that they would expect to spend in building blockchain products or services. It achieves this through simple refinements in usability to fully capitalize on the broad utility inherent to blockchain technology.
One such simplification lies in the bones of the system. Ardor allows development in Java, which means developers don't need to go through the laboriously long route of learning Ethereum's Solidity programming language before they can build BaaS apps that interact with various APIs. The fact that the underlying NXT platform has been operational since 2013 also serves to remove skepticism from the minds of interested businesses.
Another reason Ardor has decent chances of overtaking Ethereum as the go-to blockchain as a service platform is that it uses a parent-child architecture. Existing blockchain networks such as Bitcoin and Ethereum are suffering massive scaling challenges as more people use their networks. The endlessly growing sequence of blockchain blocks make it more data intensive to confirm transactions as the file size continues to grow.
In the parent-child architecture, all transactions are processed and secured by parent chain forgers. Even though the child chains are tightly integrated into the main chain, they can be pruned off to reduce blockchain bloat without damage to key data stored on the parent chain. Even Ethereum cofounder Vitalik Buterin and founder of the Bitcoin Lightning network Joseph Poon are exploring Plasma, a model that scales blockchain by building child chains on a parent chain in order to "reframe all blockchain computation".
Features like child chains and java integration allow for the ability to issue and trade assets on an exchange, run public or private pools, set conditional transactions, setting up multistage security, and sending encrypted messages. Despite the continued volatility in the blockchain space, and all the questions still surrounding where this new framework fits into the current business and economic paradigm, Jelurida and Ardor are already bring the decentralized future into clearer relief.

The preceding article is from one of our external contributors. It does not represent the opinion of Benzinga and has not been edited.
Posted-In: Blockchain EthereumFintech Education Startups Small Business Tech General
View Comments and Join the Discussion!