A Startup That Helps Other Startups Get Money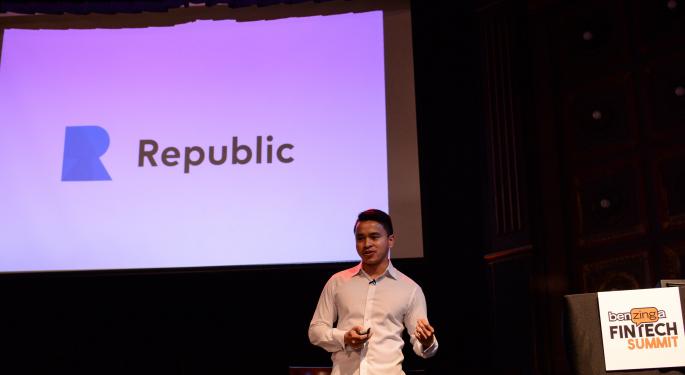 The Benzinga Global Fintech Awards are a yearly showcase of the best and brightest in fintech. In preparation for its biggest installment yet in May 2018, we're profiling the companies competing for the BZ Awards.
Our first feature is on Republic.
What does your company do? What unique problem does it solve?
Kendrick Nguyen, CEO: Republic is an equity crowdfunding platform - Think crowdfunding meets angel investing. We democratize angel investing for investors and for founders: 97 percent of the U.S. population who would otherwise not be able to invest in startups can invest through us. Any entrepreneur, not just those who get easily access VCs can get funded.
Who are your customers?
We operate as a platform. Our customers are startups who seek funding on the one side and investors (both accredited and unaccredited) on the other side. It has been extremely rewarding to speak to investors who are grateful that they can now become angel investors regardless of their income, who value Republic's mission and also see a new way of portfolio diversification in this. Entrepreneurs we work with value the exposure to thousands of users and validation they get for their product while raising funding.
How long have you been in business?
We launched the first four companies on our platform in July 2016.
Where are you located?
We are in New York City.
Who is your company's leadership? What kind of experience do they have?
A spin-out from AngelList, Republic is led by four co-founders, Ken Nguyen, Paul Menchov, Peter Green and Caroline Hofmann. Our team combines experience in investing, securities law, consulting, marketing, ops and growth. Our industry requires a unique blend of experiences given we are nascent, regulated industry.
Who are your investors, if any?
Our investors include AngelList and a range of investment funds and noted angels.
Is there anything else Benzinga should know about your company?
We distinguish ourselves from many other FinTech companies because of the diverse investor base and set of startups we attract. Our share of female investors is at least 3x higher than in Venture Capital. Female-founded startups make up over 50 percent of companies raising to date. You can read more about this topic here.
Posted-In: Benzinga Global Fintech Awards Kendrick Nguyen RepublicFintech Crowdsourcing Startups General Best of Benzinga
View Comments and Join the Discussion!