3 Fintech Startup Ideas For 2018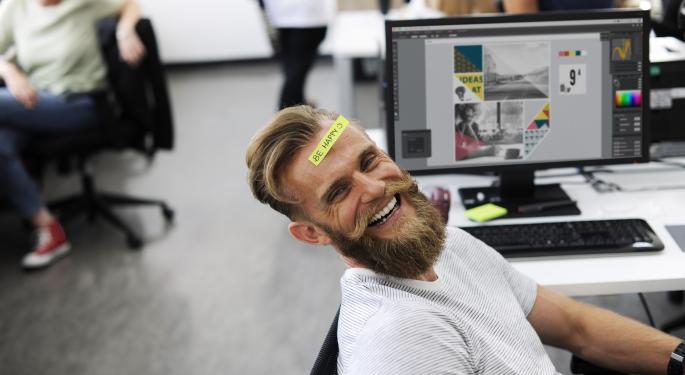 The fintech space has exploded recently, and it seems as though financial empowerment is back in the hands of the consumer with the help of creative startups.
You can see them popping up pretty much every day, typically with a fancy React Web App and a new take on an old problem.
Most fizzle out…
Which Ones Tend To Succeed?
The ones that provide the most utility, while also providing value. It's a great time to be an entrepreneur, and often startups have founders that are willing to set aside earnings to create something amazing, on the bet that they will profit later.
It's nothing new. Amazon.com, Inc. (NASDAQ: AMZN) famously had taken seven years to post its first net profit. Although, it does seem like more people are willing to take that risk today.
Let's not give too much credit to their bravery, however. Technology has made it easier to take risks. Twenty years ago you couldn't npm install react-starter-kit and have a solid foundation for your application in minutes.
Technology has filled the gaps that would otherwise sink a creative idea early. It's your hardest working employee, powered by innovative individuals around the world.
One company, RobinHood, is a great example of providing value-filled utility as a free investment app. Free trades were unheard of in the online stock trading industry, but Robinhood made it happen. They've become the fastest-growing brokerage ever and recently announced their web platform.
Related: A Michigan Startup Milestone: Cybersecurity Firm Duo Tops $1 Billion In Market Value
Some Ideas For New Startups
1. Needs-Based Credit Card
Credit cards haven't really changed their structure as far as how available balances work, and how you build credit. If the dollar amount can be applied towards anything, there's seemingly more irresponsible spending that will happen.
If purchases on a credit card were only available for needs-based items, like grocery or a car payment, there's another layer of responsibility that's being added.
2. Insurance Policy Investing
We all pay for some type of insurance, often never having a claim. Auto insurance is a must, and you can see that homeowners insurance rates can really vary depending on where you live.
What if the money you spend on insurance also becomes an investment. Your insurance company could allow you to choose an investment strategy and performance can be automated through a Robo Advisor that everyone can profit off of.
3. Student Loan Mortgage Refinancing
Student loans are a pretty big burden that affects the purchase decisions of home buyers in today's market.
One way to alleviate that would be to allow individuals to refinance their student loan in a way that also gives them a downpayment on a home.
Tips To Get Started
Where can you start? Ideas are just ideas. You have to execute. There are some amazing tools being built every day to get you started and here are some tips to point you in the right direction.
Use well-backed technology that is scalable.
You can seriously debate for weeks choosing a tech stack. My advice? Go with something that is solid, has a large community, and something you are either comfortable with or something that can be contracted out inexpensively.
Get Involved.
Getting involved in a local fintech organization is a huge step. It can lead to mentorship, hiring opportunities, and even investment.
Perfect is for the urgent.
All of the bells and whistles come with time. You can get a MVP up and iterate on it quickly. Consumers generally don't care about your ideas. Get the product to the people. It's better to fail early than to wait for it. And often, perfection is just a delay. Take a look at some of Facebook's early code that would probably have programming elitists today snarling – we all know how that story ends.
There is always room for competition.
Your idea doesn't have to be 100-percent unique. Don't get caught up on whether or not a product idea has already hit the market. There is always room for competition. If you feel like you can do something better, then do it.
Attend events.
There are plenty of fintech events throughout the country. Attending one of them can spark inspiration, and put you in touch with people you may want to partner with.
View Comments and Join the Discussion!
Posted-In: RobinhoodFintech Entrepreneurship Opinion Startups Small Business Tech Best of Benzinga