Trade Ideas: AI For The At-home Trader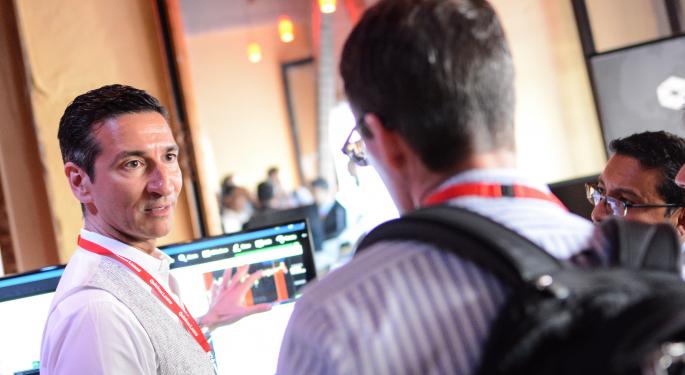 The 2017 Benzinga Fintech Summit was a gathering of leaders from every fintech vertical displaying the next generation of fintech innovation.
In this new article series, we'll be sharing insights and new products from the inaugural BZ Summit.
The Company:
Trade Ideas positions itself as "artificial intelligence as a service," according to managing partner David Aferiat. The company has provided market analytics for 14 years, and in that time, has observed a discrepancy in the data and tools available to retail traders compared to the resources institutional traders are able to use.
The Pitch:
Aferiat presented testimonials from several retail traders who became Trade Ideas customers and used it to generate impactful returns.
"Self-directed traders and advisors have the sensation of often 'chasing' opportunities or waiting for setups that may or may not materialize," Aferiat said. "And professionals know that using AI is part of the future of making decisions in the market as surely as using a chart is today. But the question is, who's getting access to this data?"
Aferiat highlighted the company's AI financial advisor, HOLLY, and said that it provides Trade Ideas customers with vetted trading strategies. Multiple algorithms are back-tested each day to provide users with different potential trades.
The Future:
"Everyone here should have a plan of providing AI capabilities to their clients," Aferiat said. "If you don't, rest assured someone does, and will be using that technology against your customers' trades."
Aferiat showed the audience a performance graph of an algorithmically-generated portfolio that had delivered 28% gains year-to-date. He concluded that the company's goal is to democratize access to artificial intelligence for traders. Watch Trade Ideas' demo at the Benzinga Fintech Summit below.
View Comments and Join the Discussion!
Posted-In: Benzinga Fintech Summit Fintech Trade IdeasFintech