Suretly Lets You Swipe Right To Lend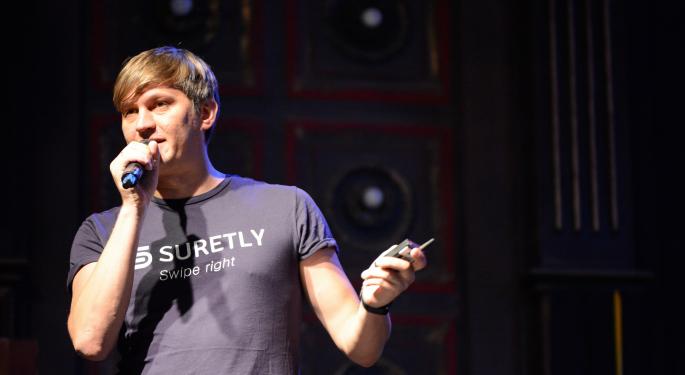 The 2017 Benzinga Fintech Summit was a gathering of leaders from every fintech vertical displaying the next generation of fintech innovation. In this new article series, we'll be sharing insights and new products from the inaugural BZ Summit.
The Company:
Suretly offers a platform for "crowdvouching" loans. What that means is that Suretly connects investors with people who, for whatever reason, have poor credit, but are capable of paying back loans.
The Pitch:
Suretly hopes to reach what Lobachev claims is "over half of Americans who are underserved, credit-wise," a potentially $140 billion addressable market. Lobachev's demo showed that most potential Suretly users only need loans of several hundred dollars. To lessen the risk to investors, Suretly uses "crowdvouching," meaning borrowers have to find guarantors on the platform who will vouch for them. If they default, losses are spread out among the guarantors, who must then pay the lender back. Lenders can scroll through potential borrowers through a dating-app like interface that displays borrowers' likeliness to repay debts.
The Future:
Suretly has not yet launched in the U.S., but is live in Eastern Europe. It plans to launch in the U.S. this winter. Lobachev said more than 20% of Suretly's customers have earned more than 10% a month on their investments through the app.
Posted-In: Benzinga Fintech Summit Fintech SuretlyFintech
View Comments and Join the Discussion!