How Wall Street's Head Honchos Feel About Cryptocurrency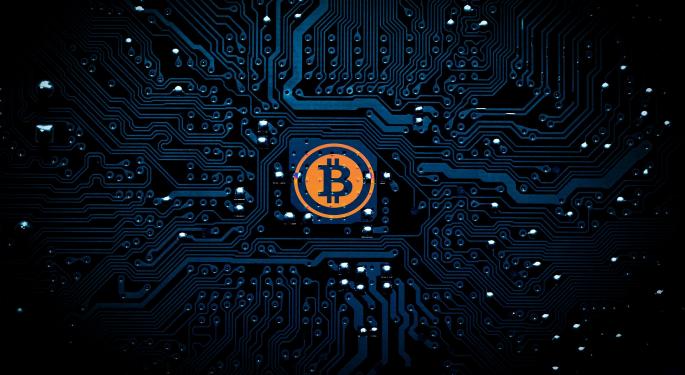 Cryptocurrency has become the "in thing," with people going gaga over digital currencies. What other explanation can be offered for the record surge in bitcoin, the widely used form of cryptocurrency?
Released in 2009 as an open-source software, bitcoin's value has gone through the roof in recent times. After starting 2017 at $966, the digital currency hit an all-time record of $5,856.10 last Friday.
With the promise this investment avenue holds out, can risk-preferring Wall Street firms stay off it for too long? It doesn't look so, going by recent commentaries from heads of these firms, though some of them weren't exactly patronizing the digital currency.
Polarizing The Experts And Greenhorns Alike
Cryptocurrency has polarized opinion like almost no other investment instrument has done in the past. No day passes without someone going to press, offering a positive or negative opinion about it.
As recently as this week, Russian President Vladimir Putin was quoted as having said in a meeting with Russia's top finance officials that cryptocurrencies should be brought within the regulatory net.
"The use of cryptocurrencies bears serious risks, including money laundering, tax evasion and funding for terrorism," Putin said.
See also: Cryptocurrency Mining: What It Is, How It Works And Who's Making Money Off It
Wall Street's Take On The Newbie
Despite the fears and risks surrounding cryptocurrency, it offers a compelling opportunity. With big U.S. banks having begun to report their quarterly results, CEOs of these firms used the earnings call as a platform for voicing their opinions on cryptocurrency.
Here's what some of them said about cryptocurrency.
JPMorgan
JPMorgan Chase & Co. (NYSE: JPM)'s chief financial officer Marianne Lake said on the company's earnings call, "We are open-minded for digital currencies that are properly controlled and regulated."
However, CEO Jamie Dimon has been very vocal in his criticism of the digital currencies. Last month, Dimon called bitcoin a fraud and said he would fire any employee trading it for being stupid.
Disparaging the currency, Dimon had said in late-2015, "Bitcoin is like $2 billion or $3 billion. We (JP Morgan) move $6 trillion a day."
However, since then, the value of bitcoin mined has increased significantly, with Cryptocoin News pitching the amount at $86.2 billion currently.
Dimon commented in a recent call that he isn't going to talk about cryptocurrency any more. He underplayed the significance of the digital currency soaring to a new high.
See also: Comparison of the best online brokers
Citigroup
Citigroup Inc (NYSE: C)'s CEO John Gerspach suggested that the bank considers the area of cryptocurrency and digital currency worthy of exploration. The firm is taking an "intense look at cryptocurrencies and the blockchain technology that underlies them," Gerspach said.
It may be worth noting that Citi reportedly said in July it's running a test platform for testing its own cryptocurrency solution, named Citicoin.
Goldman Sachs
Goldman Sachs Group Inc (NYSE: GS)'s CEO Lloyd Blankfein said last week he is still undecided on bitcoin. Blankfein said in a tweet on Oct. 3, "No conclusion — not endorsing/rejecting. Know that folks also were skeptical when paper money displaced gold."
Still thinking about #Bitcoin. No conclusion - not endorsing/rejecting. Know that folks also were skeptical when paper money displaced gold.

— Lloyd Blankfein (@lloydblankfein) October 3, 2017
Blankfein's statement came a day after Goldman announced it's exploring a digital currency operation.
Morgan Stanley
Morgan Stanley (NYSE: MS)'s CEO James Gorman took a kindlier view to cryptocurrency by saying in a late-September interview with the Wall Street Journal that he thinks cryptocurrencies as certainly something more than just a fad.
Related Link: Crypto Digest: A Primer And The Top ICO Prospects
View Comments and Join the Discussion!
Posted-In: Bitcoin cryptocurrenciesCryptocurrency Fintech Forex Markets Media Trading Ideas Best of Benzinga