How To Trade Stocks Using Blogger Sentiment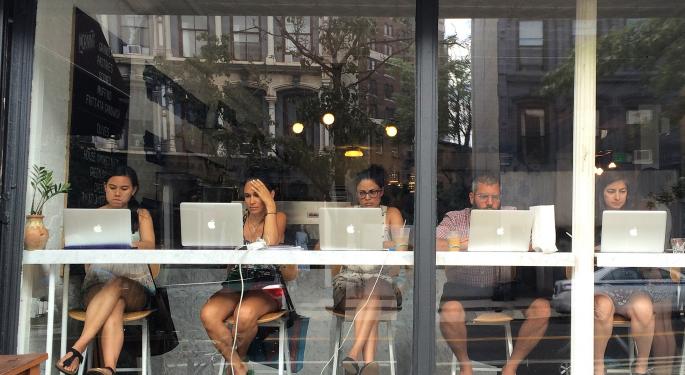 As a shorthand for current or potential trends, sentiment is a great gut check on how various segments of the stock market ecosystem are feeling on a particular stock. While sentiment from professional analysts, through ratings, price targets or notes, appeals to traders' sense of authoritative opinion, there is a massive and growing spectrum of quantified and aggregated sentiment from other sources that some traders have either been unable to reliably track or simply overlooked as too scattershot.
These ad hoc stock outlooks come from anything from website traffic to social media mentions. However, one of the most long-running sources of non-analyst sentiment from the legion of stalwart financial bloggers. As opposed to analyst commentary, bloggers have the leniency to make more unorthodox calls, though they still need to back up their thesis with strong reasoning and a decent track record.
While some traders have managed to find one or two reliable financial bloggers they turn to for trading ideas, others have also found aggregate sites like TipRanks for a wide selection of armchair analyst opinion. For those looking for a general sense of how these bloggers are discussing high-profile equities trading research platform FinanceBoards has also provided traders with a Bloggers Ratings Widget.
The widget, shown below, collects the 30 top tickers used by the most popular bloggers on TipRanks. It then analyzes posts for whether each blogger is bullish or bearish on the stock and arrives at a rating, shown on the far right.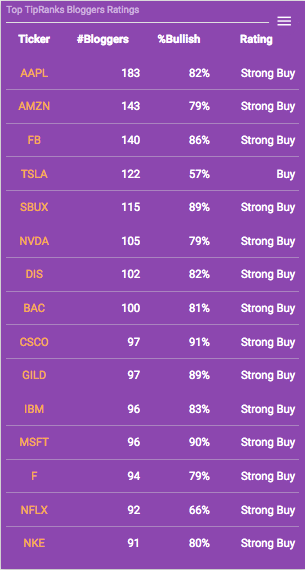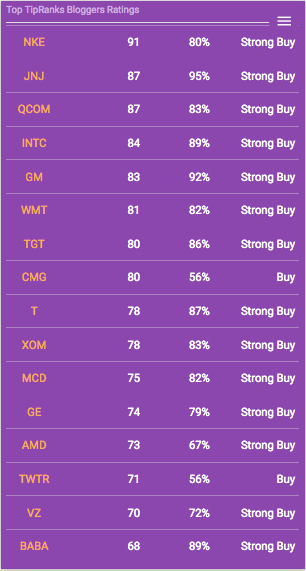 The stocks are ordered by the number of posts for each, which can prove useful for understanding the proportionality of mentions on the listed tickers.
Used as a regular reference point, you can get a fair sense of how market watchers online are discussing the latest news items or price movements surrounding these companies and gain a sense where interest is building.
For a more in depth look at how this sentiment breaks down, FinanceBoard users can also take a close look at the listed equities and research blogger sentiment other stocks within the same industry with the Bloggers Sentiment widget. Let's take
Exxon Mobil Corporation
(NYSE:
XOM
) as an example.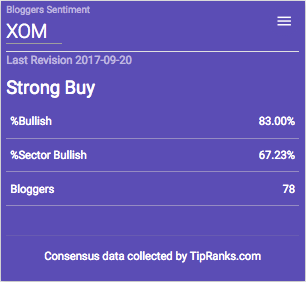 You can see that the data matches up, but also includes data on sector sentiment, which is still generally bullish. With that, users can see whether and how bloggers are talking about
Chevron Corporation
(NYSE:
CVX
).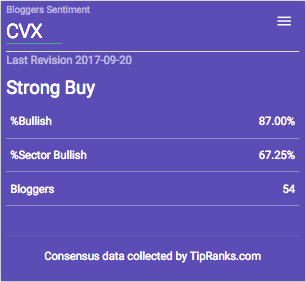 You can see that, while there are fewer bloggers writing about Chevron compared to Exxon Mobil, the sentiment is slightly more bullish on chevron, which might make it a good alternative.
This is one example of how research into the financial blogosphere could generate potential trading ideas. Interested traders could always perform more granular research by searching stock market blog aggregators for concrete commentary. Who knows, this research could turn up the next Jim Cramer.
FinanceBoards is an editorial partner of Benzinga.

Photo credit: public domain
Posted-In: finance blogs FinanceBoards WooTraderFintech General Best of Benzinga
View Comments and Join the Discussion!