CBOE's Catherine Clay Talks Fintech, Bitcoin And Volatility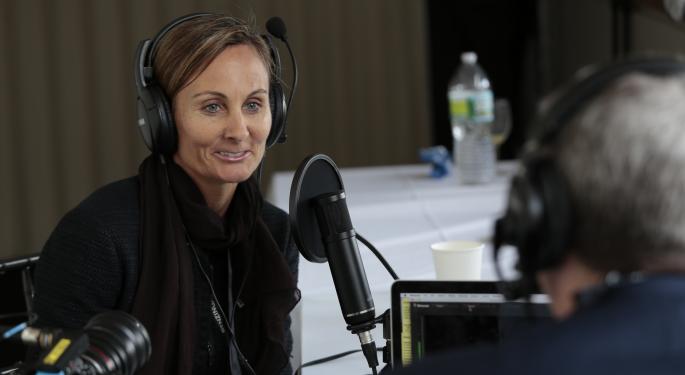 At CBOE, clients can shop for data much like they'd shop on Amazon.com, Inc. (NASDAQ: AMZN).
It's a revolution in how the options market manages data, and it comes thanks to the fintech platform CBOE LiveVol Data Shop, said Catherine Clay, VP, CBOE's global head of information solutions.
"Prior to Data Shop, the way people bought data was the fire hose approach," said Clay, who's speaking at the Benzinga Fintech Summit Thursday, Sept. 28.
"You couldn't get a small increment of data to save your life," she said with a chuckle.
Clay came to CBOE through the company's purchase of the San Francisco fintech company LiveVol, where she was CEO.
The executive said she's a "huge believer" in the impact small fintech innovators can have on larger organizations like CBOE. "It's a natural and necessary collaboration, in my opinion."
CBOE is stepping up its efforts on that front, Clay said, working with Chicago Mayor Rahm Emanuel's office on ChicagoNEXT fintech initiatives, as well as with groups such as the FinTank hub.
See Also: The Golden Gate To The Golden State Of Fintech
Q4 Launch Planned For Bitcoin Futures
One topic Benzinga Fintech Summit attendees can expect to hear Clay discuss: cryptocurrencies.
CBOE announced in August it was partnering with Gemini Trust Co. to begin bitcoin futures trading. The futures are expected to become available for trading in the fourth quarter or early first quarter, pending regulatory approval, Clay told Benzinga.
The partnership is a multiyear license allowing both companies to explore bitcoin derivative opportunities, Clay said: "We're working very closely to leverage their bitcoin market data into our existing data product lines."
CBOE's entry in the cryptocurrency asset class gives bitcoin added credibility, Clay said. "It brings a whole different audience."
A Disconnect Between Futures, Headlines
With the U.S. in a nuclear standoff with North Korea, the nation's healthcare laws in limbo and an ongoing investigation into Russian interference in the 2016 presidential election, it would seem logical that the equities market would be as unpredictable as the headlines.
Clay -- a former floor operations director at Timber Hill -- said that's not the case. "Despite the geopolitical banter and risks, we remain in this historically low volatility environment," she said. "And that's what people are really talking about."
CBOE is setting new volume records in CBOE Volatility Index, or VIX, options and futures, Clay said.
VIX options and futures are a "go-to asset class" even in today's low volatility environment, Clay said, adding that the VIX Index has maintained low levels over time despite the often heated geopolitical backdrop.
CBOE is a sponsor of the Benzinga Fintech Summit.
If you're looking for cool fintech startups and access to top financial institutions, and are sick of attending stuffy corporate conferences, the Benzinga Fintech Summit is the event for you. Visitwww.bzsummit.com for more details.
Connect with us on social media — use the hashtag #BZAwards and #Fintech to spread the word.
View Comments and Join the Discussion!
Posted-In: Benzinga Fintech SummitFintech Futures Options Top Stories Exclusives Markets Interview Best of Benzinga