With MoneyGram Up For Grabs, Will M&A Take Hold In The Money Transfer Space?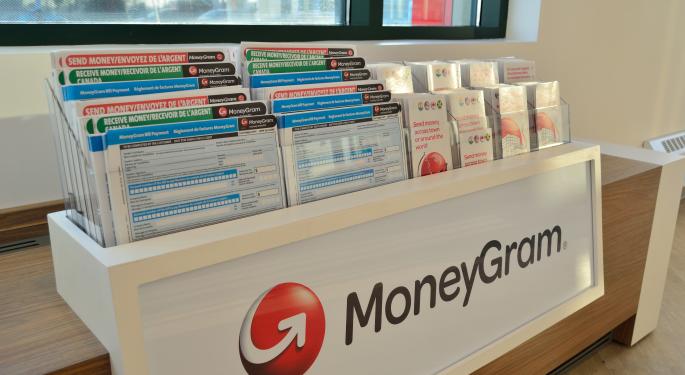 A bidding war has pitted Alibaba Group Holding Ltd (NYSE: BABA)'s financial arm, Ant Financial, against Euronet Worldwide, Inc. (NASDAQ: EEFT) to acquire Moneygram International Inc (NASDAQ: MGI).
Moneygram, a global provider of money transfer services, initially fielded a $13.25 per share offer from Ant Financial. After a fierce back-and-forth, Ant appears to have declared victory in the bidding war after offering $18 per share for the Dallas-based company.
Despite having the lower offer, Euronet highlighted in a press release of their own that regulators should consider that Ant Financial is based in China. Any M&A activity involving a Chinese acquirer and an American acquiree requires the approval of the Committee on Foreign Investment (CFIUS).
Assuming the deal is finalized and approved, Euronet may consider looking elsewhere in the space for another company to acquire. And even if they don't, the industry could be ripe for consolidation. Needless to say, this doesn't mean that there won't be any M&A activity in the space.
"As competition intensifies and margins are squeezed, we expect further consolidation in the money transfer space," said Rishi Zaveri, managing director with Cantor Fitzgerald
Other Potential M&A Opportunities
Given the fact that Moneygram and Ant Financial agreed on a $1.3 billion deal, it may be safe to assume that industry titan The Western Union Company (NYSE: WU) isn't up for grabs. But with mobile payments potentially increasing tenfold by 2021, they could make a play of their own. Western Union shelled out $974.6 million to acquire Travelex Global Business in 2011, so the company hasn't shied away from flexing its financial muscle in the past.
Western Union may also feel the pressure to hunt for an acquisition after Global Payments Inc's (NYSE: GPN) $4.3 billion acquisition of Heartland Payment Systems closed in April of 2016, to the approval of some Wall Street analysts. Global Payments currently has a market cap of $12.04 billion compared to Western Union's $9.57 billion.
Would Euronet look elsewhere in the money transfer space to try and keep up with these two giants? According to Google Finance data, they ended 2016 with $809.72 billion in cash and short-term investments. This gives them more than enough capital to seek out the industry's smaller players, even at a similar 64 percent premium that the Ant-Moneygram deal had.
Though there aren't many, it could be worth watching the smaller publicly traded companies in this space. OFX Group Ltd (ASX:OFX), an Australian-based payments company which itself rebuffed a takeover bid from Western Union in early 2016, could potentially find itself in the M&A crosshairs. So too could Midpoint Holdings (TSX.V: MPT), a Canadian firm regulated in both Canada and the UK.
With a new management team in place and having reported a profit in its most recent quarter, Midpoint, joins a very short list of TSX Venture companies that are profitable and an even shorter list of fintech start-ups that have reached a cash flow neutral position.
It's also worth keeping an eye on Qiwi PLC (NASDAQ: QIWI). A major player of payment services in Russia and the Commonwealth of Independent States (CIS), currently trades at a $1.04 billion valuation. With U.S.-Russia relations making headlines, it could be interesting to see if they make any moves for payment companies located outside the U.S. (an acquisition by a Russian company of an American one may not play out well).
"Everyone in the money transfer services industry knows the opportunity that exists in countries outside the U.S," said Zaveri. "It's something we all keep an eye on, and are constantly aware of what's going on in different countries."
See Also: Here's Why You Should Care About Chinese Startups
See Also: Alibaba's Ma Really Wants To Buy MoneyGram But Will It Be Approved?
Benzinga occasionally produces sponsored articles. The information contained within them is for informational purposes only, and the reports should not be construed as independent or unbiased research reports. If successful, the reports will increase investor and market awareness, which may result in increased numbers of shareholders owning and trading the common stock of the company discussed, increased trading volumes, and possibly increased share price.
Benzinga has been paid by its customers who have sponsored the awareness articles to produce and distribute them.
View Comments and Join the Discussion!
Posted-In: Ant Financial CFIUS EuronetFintech M&A News Contracts Tech