Onfido: Delivering Next Generation Identity Verification For The Financial Services Industry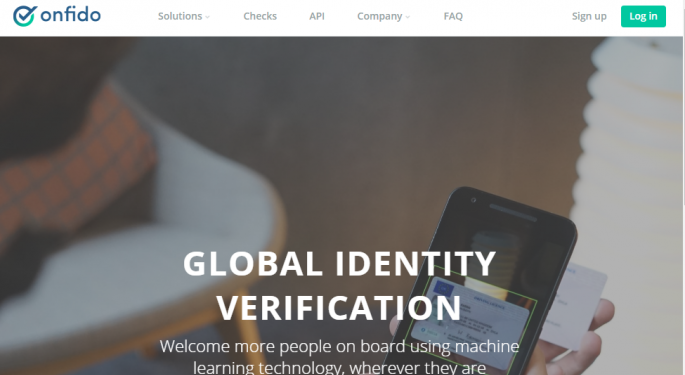 It's almost that time of year.
The 2017 Benzinga Global Fintech Awards is a competition to showcase the companies with the most impressive technology that are paving the future in financial services and capital markets.
To get you prepared for this year's awards, Benzinga will profile each fintech company that has applied. Want to get involved? Submit your company here.
For this installment, we spoke to Husayn Kassai, CEO of Onfido (answers have been edited for length and clarity).
What does your company do? What unique problem does it solve?
Onfido delivers next-generation identity verification, enabling businesses to verify that their users are who they claim to be, without the need to meet them face-to-face. In addition, Onfido also allows businesses to carry out background searches including Criminal Record, Right to Work and Anti-Money Laundering Checks.
The regulatory burden facing financial services has been steadily on the rise since the financial crash of 2008, and it doesn't show signs of slowing any time soon. But as financial services continue the migration online, the processes for addressing that regulatory requirement are struggling to keep up. Current Know Your Customer (KYC) and Anti-Money Laundering (AML) regulation and solutions were built for an offline world, where (for instance) customers being onboarded by a bank would need to have their documents and identities verified in person. Now that most customers interact with financial services online, that process is getting much harder to manage, driving up manual overheads and causing in-house compliance teams to balloon — in Citigroup's (NYSE: C)'s case, to a staggering 30,000 staff.
Onfido's Identity Verification Solution responds to these challenges by delivering a unique, layered, Machine Learning-based solution which increases conversion, reduces risk and cuts costs for businesses.
Who are your customers?
Our primary users are regulated businesses requiring "know your customer" and "anti-money laundering" checks, including fintechs, banks and e-gaming platforms. We are also used by leading businesses in the sharing economy for user verification. Our identity verification-supported background checks are used by high volume recruiters in the on-demand sector and traditional markets. Onfido works with over 1000 clients globally, including JustGiving, BlaBlaCar, Deliveroo and Monzo.
How long have you been in business?
We were founded August 1, 2012.
Where are you located?
We are headquartered in London and have offices in San Francisco, Lisbon and Delhi.
Who is your company's leadership? What kind of experience do they have?
Onfido's three co-founders are Husayn Kassai (CEO), Eamon Jubbawy (chief operations officer) and Ruhul Amin (chief technology officer). They met at Oxford University where Kassai and Jubbawy served as president and vice president of the Oxford Entrepreneurs Society, respectively. Kassai went on to work at Merrill Lynch (Bank of America Corp (NYSE: BAC)), Jubbawy at Credit Suisse Group AG (ADR) (NYSE: CS) and Amin at Mitsubishi UFJ Financial Group Inc (ADR) (NYSE: MTU) before founding Onfido.
_________
For another fintech profile, click here to read about how Validis, a cloud-based fintech, extracts and standardizes financial data.
If you're looking for cool fintech startups and access to top financial institutions, and are sick of attending stuffy corporate conferences, the Benzinga Global Fintech Awards is the event for you. From its first year in 2015, the competition grew to over 250 applicants and over 500 attendees in 2016.
Connect with us on social media — use the hashtag #BZAwards and #Fintech to spread the word!
________ Image Credit: Screengrab from Onfido
Posted-In: Benzinga Fintech Awards Benzinga Global Fintech AwardsFintech Education Success Stories Tech Interview General Best of Benzinga
View Comments and Join the Discussion!