Call Levels Delivers A Real-Time Market Monitoring And Notification System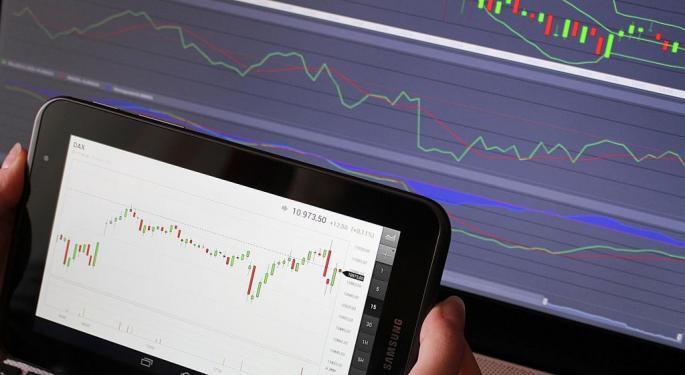 It's almost that time of year.
The 2017 Benzinga Global Fintech Awards is a competition to showcase the companies with the most impressive technology that are paving the future in financial services and capital markets.
To get you prepared for this year's awards, Benzinga will profile each fintech company that has applied. Want to get involved? Submit your company here. For this installment, we spoke with Daniel Chia, founder of Call Levels (answers have been edited for length and clarity).
What does your company do? What unique problem does it solve?
Call Levels is a technology provider offering real-time market monitoring and price alerts for over 10,000 financial assets across six asset classes. Incorporated in 2014, Call Levels serves over 210,000 users from over 100 countries, a majority of which are based in key global financial markets. Over the past year, user base has grown 25x due to the ability to scale efficiently by leveraging on our patent-pending market monitoring solution built and optimised on the cloud.
On the institutional level, Call Levels offers its real-time price monitoring and notification system via API that can be easily integrated with any third-party platforms used by financial institutions. The monitoring and notification API technology developed by Call Levels is inexpensive, scalable and ready to be implemented with minimal IT footprint.
Hence, we aim to sync workflow for individuals, enterprises and financial institutions seamlessly by providing the best real-time financial markets monitoring technology and price alerts on all platforms as a solution for all financial market participants. These solutions span across consumer communication channels (Facebook Messenger, Whatsapp, Line, Skype, Linkedin), business communication channels (Microsoft Teams, Symphony), work documents (Microsoft Excel, Google Sheets), mobile apps and websites.
Banks, financial institutions, corporations need market-monitoring services that are often costly such as Bloomberg. They also require other avenues to engage with and provide much better user experience to their clients. However, migrating from legacy systems to build scalable services on the cloud is difficult, labor-intensive and expensive. Call Levels' monitoring API serves as the key solution as it can be easily integrated with any cloud-based interfaces. This allows us to service users via multiple channels (Excel, ChatBots, Apps, Websites) providing the convenience of receiving financial markets information and notifications on any platform of their choice.
Who are your customers?
Banks, corporations and financial institutions currently gain access to financial information via providers such as Bloomberg. But with only approximately 280,000 Bloomberg terminals in the world, the latter have limited access due to its inherent high costs. As cost cutting becomes a key focus, cheaper alternative solutions are being sought after.
How long have you been in business?
Since September 2014.
Where are you located?
We are fully headquartered and operational in Singapore.
Who is your company's leadership? What kind of experience do they have?
Daniel Chia (Technical Co-Founder) - Daniel is the grand visionary and leader who provides the future points of direction. His strong background in Quantitative Finance having been a Quant Trader equips him with the requisite knowledge to write the R code that is implemented into the technology driving the product. A graduate of Cambridge & Harvard, he previously held the Vice President role at Ortus Capital Management for seven years, preceded by his role as Investment Manager at the Government of Singapore Investment Corp (GIC).
Cynthia Siantar (Business Co-Founder) - Cynthia Siantar graduated from LSE and Stanford and was in the Equity Capital Markets team at HSBC Hong Kong and Singapore for nearly three years; preceded by an investment analyst role at Mercer Investment Consulting Singapore. She was also recently listed on Forbes "30 under 30" 2016 in the Finance & Venture Capital Category and is a key figure in Monetary Authority of Singapore's (MAS) promotion of Fintech in Singapore.
Mr. Wong Joo Seng is our recently appointed Independent Director. Joo Seng is currently a Venture Partner of Vickers Venture. He is also the co-founder and founding chairman of M-DAQ; a pioneer in Singapore's fintech ecosystem, a role he stepped away from only after leading the company to a successful Series C funding round (at a valuation of $250 million) in late 2015.
Ryan Liew (Director) Business Development Lead - With proven successes in e-commerce, technology and capital markets, Ryan's immense technical and business experience has played an important role in helping Call Levels secure business partnerships internationally that are revenue-generating for the company. His past experiences included eight years of managing the institutional e-commerce franchise in Greater China as a Director in Barclays Capital & Citibank.
Is there anything else Benzinga should know about your company?
We have grown user base 25x in the past year to over 210,000 users globally, a majority of whom are based in key financial markets.
We were also Google Play store's 2nd fastest growing Finance App in USA in Q3 2016 according to App Annie while being fully headquartered in Singapore with no operational presence in the US.
In addition, we were featured on Google Play and Apple Store, two global features which saw our app trending in the finance category of 100+ countries.
Recently, we were awarded Asia's Most Promising Fintech Startup in the Asian Private Banker Technology Awards 2016.
Following our latest developments, we have connected our financial assets monitoring and alerts technology with Microsoft Excel to create a Call Levels Excel Plugin and Microsoft's bot connector framework to develop ChatBots on Facebook Messenger, Skype, Slack and Microsoft Teams.
If you're looking for cool fintech startups and access to top financial institutions, and are sick of attending stuffy corporate conferences, the Benzinga Global Fintech Awards is the event for you. From its first year in 2015, the competition grew to over 250 applicants and over 500 attendees in 2016.
Connect with us on social media — use the hashtag #BZAwards and #Fintech to spread the word!
Posted-In: Benzinga Global Fintech Awards Call LevelsFintech Startups Small Business Interview Best of Benzinga
View Comments and Join the Discussion!