This Fintech Company Invented A New Form Of Math To Analyze The Stock Market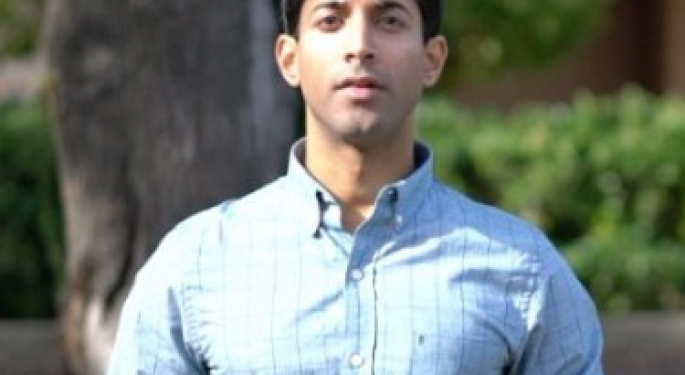 Nikhil Dhingra started with a thesis: because all market movements are a function of how crowds behave, you can't predict a stock's price movement. Then he set out to disprove it.
That led to the invention of behavioral calculus — a combination of calculus approaches and time series data with behavioral components.
"Behavioral calculus is really a concept we invented based on a thesis we had a few years ago, which is that all market movements are really a function of how crowds behave and sort of this herd mentality we're seeing — not only in the markets, but in daily activities in general," Dhingra said.
Dhingra and his team at Tradagon observed that, in particular, short-term price action is incredibly dependant on that crowd behavior.
"Longer term trends are obviously affected by fundamentals, but we believe that short-term price action, how prices will behave today, tomorrow, next week, even for the next month perhaps, are really embedded in the price action and what that represents in terms of how crowds will react to trends," he said.
How It Works
"One way to think of behavioral calculus….is really a hybrid of technical analysis on steroids" he said. "So we have multiple inputs that go into our engine, and obviously real-time price data is a big thing we look at, so we're predicting price action with prices and input, but we also can take multiple inputs of different structured and unstructured data."
The aggregated inputs generally include fundamental business data and economic reports like unemployment data. But the technology is "extensible" and can accommodate a variety of data sets with time-series components.
"You can overlay those different inputs and say, 'Well this company's earnings in the past have been trending up or down, so we would like to put that through the system,' and it will issue Buy or Sell signals based on those inputs and come out with sort of an aggregate Buy or Sell," he said.
The Future of Behavioral Calculus
Tradagon is looking to expand its offering to add non-financial trends to the equation, which may lend applicability off Wall Street.
"This is a little bit futuristic for us, but what we're working on now is taking in different types of data, say from the sphere of epidemiology, so you can look at how a disease might spread, and because of that time series data set, we can get the same level of predictive power in the model," he said. "I'm not saying that's an input into how to play the market, but it just speaks to the broad applicability and universal nature of this."
About The Company
Right now, Dhingra and the Tradagon crew trades their own capital in their flagship fund, primarily through at-the-money and out-of-the-money options 2-3 weeks out.
The company launched late in 2016, and Dhingra said he's hoping to pilot his strategy among trading institutions — particularly hedge funds and investment firms who remain quant-heavy while believing in the long-term market effects of fundamentals. From there, he hopes to bring behavioral calculus to the masses.
"We're kind of taking this in a phased out approach and seeing 'Ok let's apply this at scale with greater assets under management, with greater computing power, and let's find a way to really expose this to the average consumer to really help them on a day-to-day basis.'"
You can listen to the full interview with Dhingra in the clip below.
PreMarket Prep is a daily trading ideas show focused on technical analysis and early morning movers.
Listen to PreMarket Prep and chat LIVE with our hosts, guests, and other listeners every weekday morning from 8-9 ET!
Posted-In: Fintech Entrepreneurship Success Stories Be Your Own Boss Startups Small Business Interview General
View Comments and Join the Discussion!