Paxos Accelerates Post-Trade Settlements For Global Institutions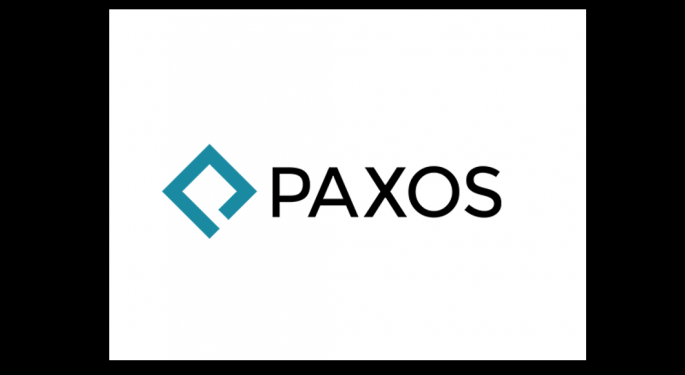 It's almost that time of year.
The 2017 Benzinga Global Fintech Awards is a competition to showcase the companies with the most impressive technology that are paving the future in financial services and capital markets.
To get you prepared for this year's awards, Benzinga will profile each fintech company that has applied. Want to get involved? Submit your company here. For this installment, we spoke with Paxos Marketing Director Ben Pousty.
What does your company do?
Paxos is a financial technology company delivering innovative blockchain solutions for global financial institutions. We are laser-focused on post-trade settlement and are working to transform how assets flow through the global financial system.
Our flagship product is BankchainTM, a next-generation blockchain post-trade settlement platform that brings faster settlement speeds and reduced counterparty risk to capital markets, while delivering significant operational efficiencies for market participants.
Paxos' initial focus is on the London bullion market with our new Euroclear Bankchain blockchain gold settlement service. Developed in collaboration with Euroclear, a leading global settlement house, Euroclear Bankchain will deliver instant settlement and simultaneous delivery versus payment (DvP) to the gold market for the first time while minimizing counterparty risk.
What unique problem does it solve?
The core problem we are solving is the rising cost of doing business and shrinking margins for many market participants across the financial services industry. Our Bankchain blockchain settlement platform addresses a few of the key root causes of this problem, specifically inefficient settlement processes, increasing regulatory constraints/costs and high operating costs.
Bankchain accelerates and streamlines post-trade settlement by digitizing and automating processes and reduces the regulatory burden by delivering fully auditable and immutable data recording/tracking. Bankchain's automated processes also offer market participants greater operational efficiencies across their middle and back-offices.
Who are your customers?
Global financial institutions across capital markets.
How long have you been in business?
We were founded in 2013 and the vision for Bankchain — to transform post-trade across capital markets with a next-generation blockchain settlement platform — was first conceived in 2015.
Where are you located?
Headquartered in Manhattan with an office in London.
Who is your company's leadership? What kind of experience do they have?
Paxos' management team is led by CEO and Co-Founder Charles Cascarilla. Charles co-founded institutional asset management complex Cedar Hill Capital Partners in 2005 and its venture capital subsidiary, Liberty City Ventures, in 2012. He also sits on the Governing Board of the Hyperledger Project. Earlier in his career, Charles was a portfolio manager at Claiborne Capital and worked at both Bank of America Securities and Goldman Sachs.
Paxos' board of directors includes former FDIC chair Sheila Bair, former Senator Bill Bradley, former chair of the Financial Accounting Standards Board Robert Herz, former chairman, president & CEO of Lotus Development Corporation Jim Manzi and former NYSE CEO Duncan Niederauer.
For another fintech profile, click here to read about how Private Wealth Systems empowers ultra high-net-worth individuals.
If you're looking for cool fintech startups and access to top financial institutions, and are sick of attending stuffy corporate conferences, the Benzinga Global Fintech Awards is the event for you. From its first year in 2015, the competition grew to over 250 applicants and over 500 attendees in 2016.
Connect with us on social media — use the hashtag #BZAwards and #Fintech to spread the word!
Posted-In: Ben Pousty Benzinga Global Fintech Awards PaxosFintech Startups Small Business Interview Best of Benzinga
View Comments and Join the Discussion!