The Wall Street Vet That Wants To Give Investors A Directional Edge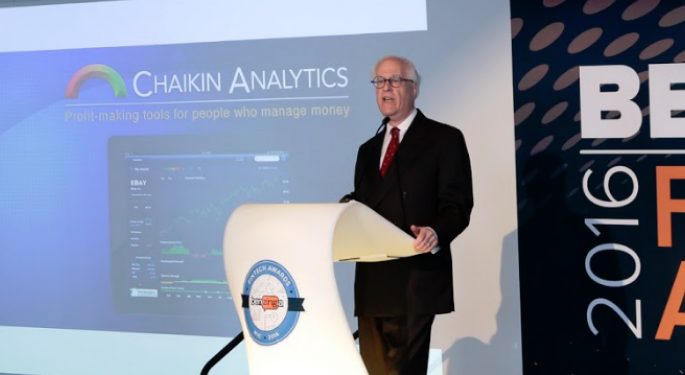 In over 40 years on Wall Street, Marc Chaikin has built tools used by some of Wall Street's biggest names. He built the first real-time workstation for portfolio managers, which is now owned by Thomson Reuters, and his Chaikin Money Flow indicator is still used 40 years after its inception.
Now, he's built a platform that he hopes will level the playing field for retail investors looking to manage their own accounts: Chaikin Analytics.
Appearing on Benzinga's PreMarket Prep on Thursday, Chaikin explained why he came out of retirement to launch a suite of tools entirely from scratch.
"After the financial collapse of '08 I read an article that $300 billion was being transferred from full service brokerage firms like Merrill Lynch and Smith Barney to self-directed accounts and online brokers," he said on the show. "And I immediately thought 'Wow these people don't have either the tools or temperament to manage that kind of money.' Obviously, people were disenchanted with their advisors and Wall Street in general after the collapse, but you still have to have the resources to effectively manage that kind of money."
To solve that problem Chaikin launched Chaikin Analytics in 2011. The suite aims to help active investors find stocks they'll like while avoiding ones they wouldn't want to own.
Hear Marc live, on a special event to the Benzinga audience on Monday, January 16, 2017 at 4:15 ET "How to Discover Winning Stocks in Trump's Presidency". To register for free, click here.
The centerpiece of the platform, he explained, is the Chaikin Power Gauge, a 20-factor model that includes financial metrics (such as free cash flow and earnings), sentiment indicators, insider buying, and short interest, among others. 85 percent of the model is fundamental, according to Chaikin, while 15 percent is technical.
"No matter how good your model is, your fundamental research, if the market doesn't agree with you, at best it's dead money; at worst it's a disaster in the making," he said.
The goal of the Power Gauge, he said, is to give investors a complete picture of a stock's long and short potential over a three to six month period.
He also mentioned the platform's newest feature, Stock Discovery Engine - launched in December - which tailors stock picks based on the qualities of a security you specify.
"The Discovery Engine uses the kind of technology and logic that Spotify uses to find music that you like and Netflix, Inc. (NASDAQ: NFLX) uses to help you find films. You basically seed it with a stock and then it finds similar stocks."
Chaikin said the overall goal of his product is to help investors find a directional edge. He estimated that 95 percent of the options traders whom he observed as Head of Options at Tucker Anthony lost money by not having this edge.
"They didn't understand the importance of having a directional edge, of having some basis for believing that a stock was going to go up if you were buying calls, or down if you were buying puts. And I think that's probably still true today, and that was 30 years ago. You need a directional edge, whether you're a swing trader or an options trader."
Listen to the full discussion with Marc Chaikin at the 35:10 mark in the clip below.
PreMarket Prep is a daily trading ideas show that focuses on technical analysis and actionable short term trades. You can listen to the show live every morning from 8-9 ET here, or catch the podcast here.
Chaikin Analytics is a sponsored partner with Benzinga. This article was written in conjunction with Chaikin Analytics, and may have been subject to their approval.
Posted-In: Fintech Entrepreneurship Success Stories Startups Small Business Markets Tech Trading Ideas Best of Benzinga
View Comments and Join the Discussion!