Regulators Decide To Issue Bank Charters For Fintech Firms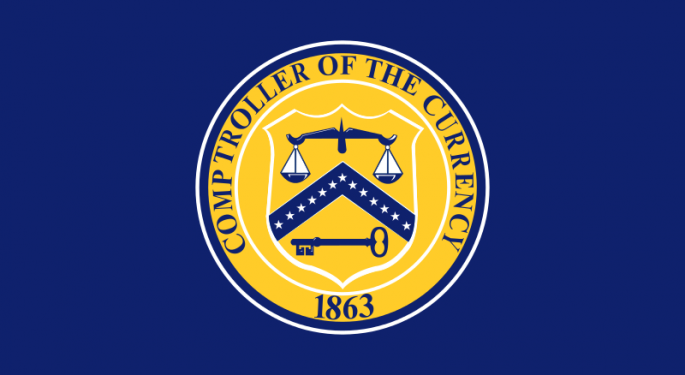 Comptroller of the Currency Thomas Curry announced that his office would consider applications from financial technology (fintech) companies to become special purpose national banks.
The move would benefit firms providing online lending and smartphone payment, and they would boost competition between traditional lenders and new firms. The new law would also provide more federal supervision to this industry. On the flip side, several lenders would feel the pinch if fintech firms become banks.
Considering Fintech Charter Applications
Curry said that considering fintech charter applications provides businesses a choice without creating a requirement to seek a charter. However, companies seeking a charter are evaluated to ensure they have a reasonable chance of success, appropriate risk management, effective consumer protection and strong capital and liquidity.
"First and foremost, we believe doing so is in the public interest. It is clear that fintech companies hold great potential to expand financial inclusion, empower consumers, and help families and businesses take more control of their financial matters," Curry said in a press release.
However, an approval from the Federal Deposit Insurance Corp. is required for firms that receive the OCC charter to accept government-insured deposits.
The OCC published a paper discussing the issues and conditions that the agency will consider in granting special purpose national bank charters. The paper is available on the agency's website at occ.gov and comments may be submitted through January 15, 2017.
Moves Within The Space
On back of the news, the below stocks moved as follows:
LendingClub Corp (NYSE: LC) rose 3.50 percent to $5.33.
On Deck Capital Inc (NYSE: ONDK) fell 4.42 percent to $4.22.
Square Inc (NYSE: SQ) shares were up 1.14 percent to $13.21.
Image Credit: By This vector image was created by Ali Zifan [CC BY 3.0 (http://creativecommons.org/licenses/by/3.0) or Public domain], via Wikimedia Commons
View Comments and Join the Discussion!
Posted-In: FDIC Fintech Charter ApplicationsFintech News Legal Media Trading Ideas General Best of Benzinga