After Trump's Election Upset, A New Focus On Social Media Data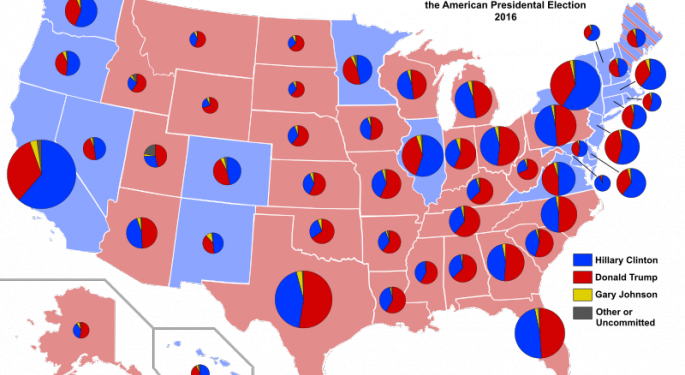 In the wake of Donald Trump's election upset, the political establishment that predicted a Hillary Clinton victory has been wracked by doubt and self-reflection. Commentators have taken particular ire with pollsters, as most leading models showed Clinton ahead in the polls up until late election night.
Since then, there has been renewed attention on how to read the lay of the land in politics, and some in the big data space are pointing to social media analytics as a better dowsing rod for America's opinions than traditional polling models.
Andy Swan, CEO of Likefolio, a data company that provides social media sentiment analysis for products of publicly traded companies, is one such voice.
"Polling is becoming less and less accurate, period," said Swan.
A Shift Away From Polls
According to Swan, organizations that typically rely on polling data to gauge demand for everything from consumer products to political candidates, such as marketing companies and venture capital firms, are now looking at social sentiment data for insight into consumer behavior.
"[What differentiates social analytics from polling is that] real people are participating in [social media] on a voluntary basis," Swan said. "That's one thing that puts flaws into polling — the observed knows that they are being observed and they change their answers to fit what they think might be more correct. On Twitter Inc (NYSE: TWTR), people are just constantly talking in this enormous sample size universe."
Likefolio data could have given investors a jump on some retail earnings last year, according to Benzinga.
Swan also noted that people's' positions on topics are likely to quickly shift, as American discourse has adjusted to the constant stream of input from a 24/7 news cycle and constant sharing on social media.
"Another huge problem with polling in general is that it is often done over a very specific slice of time," Swan said. "If you are tracking social data, you are ingesting a continuous stream of data that you can analyze [against] itself over time periods to see shifts that are occurring. The most important thing people want to know is what is truly shifting, where polling is trying to answer 'where are people at exactly right now?' Those are two very different questions."
The New Face Of Polling
A New York Times article published days before the Brexit vote — which many polls did not predict — lists other problems with polling, such as modern difficulties with finding representative sample sizes.
The Times notes that even though a great number of American adults use the internet, it can be difficult to get a sample that is representative of the electorate, as different demographics are represented online than in real life.
Despite these changes in the way organizations take America's political pulse, Swan doesn't foresee the demise of polling as an industry or practice. He instead thinks that polling practices will have to catch up with the times.
"I don't think that pollsters will go out of business," Swan said. "They just have to change their model dramatically. People call us that used to use polling services [and] now want social data when it comes to investment analysis. It's not the demise of trying to predict where people are or where they're going. It's the methodology that needs to change, and that has become obvious."
Image Credit: By Ali Zifan (Own work; used Blank US Map.svg.) [CC BY-SA 4.0], via Wikimedia Commons
Posted-In: 2016 presidential election Andy SwanFintech Politics Crowdsourcing Startups Interview General Best of Benzinga
View Comments and Join the Discussion!