Which Of These University Teams Has The Best Investing Strategy?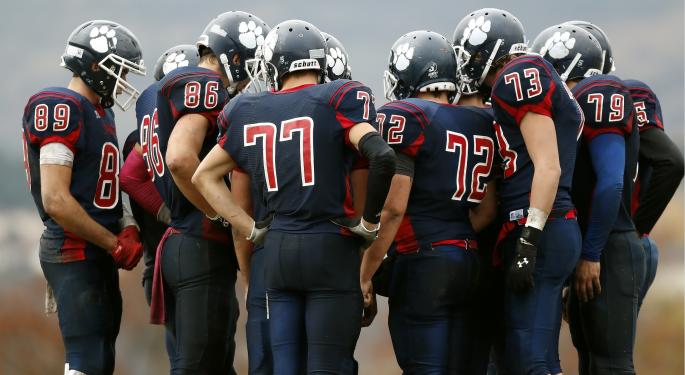 We wrote last week about about the Peeptrade University Challenge, where teams of graduate students from 10 top business schools all over the world will manage competing portfolios.
Each team will start with $10,000 of real money on October 3rd, which they will manage until December 2nd. Following that, each team will present and defend their portfolio to a panel of experts in Chicago, who will then judge the winner.
Ahead of the competition, which starts on Monday and runs until December 2nd, Benzinga caught up with several teams to ask about their strategy and why they're competing.
Jonathan Sanders of INSEAD said he jumped at the opportunity because of his prior experience as a junior portfolio manager.
"Given my background in investments I thought immediately that I could go in and help anybody who is interested in going into hedge funds or asset managements or anything in public equity."
Sanders said his six-member team's strategy will be based around a strategic asset allocation, and that they'll be focusing on software and healthcare companies. They'll also have a tactical strategy around REITs and are looking into options scenarios.
"We'll be very systematic on the first part and implement that rigorously. We're doing a lot of economic analysis to make sure the Fed, economy, and the economic dogma which is dominant right now isn't changing."
Carl Jackson, a member of the of the Indiana University team, said they will be focused more on undercovered small cap stocks.
"The majority of us have a little bit of a lean towards value. I think that's a little more of an academic approach. Our basic strategy is we want to focus on small cap value and we have a strong lean on business improvement. We are looking for companies that perhaps have the ability for information arbitrage. They're less covered."
Jackson said they structured their nine-person team based on a traditional fund. Him and other second-year MBA students who've had jobs in investing have taken the roles of CIO and portfolio manager. The five first year students on the team will be focused on covering each of the 11 sectors.
Alvar Fernandez, a master of finance at the London Business School, said his team will have a mix of top-down and bottom-up strategies. The top down approach will be at the sector and industry level, but they will still do individual stock analysis to pick stocks.
The stock picking strategy itself will be a blend of value and growth strategies, according to Fernandez.
"We don't want to be strictly defined as value or growth. We'll look for companies with good fundamentals good return on equity, good cash flows, low debt. We'll also be focusing on market leaders or companies that can be market leaders."
Everyone on the six-member team is going for their master in finance. Two are CFA's, two have been portfolio managers, one was in equity research and another was a trader at Morgan Stanley (NYSE: MS).
"The first step was trying to figure out, if we were doing this for real clients, how would we do with the restraints for the challenge? So we said 'Ok, we should go for a sector allocation. How can we do that?' We said the best way was to run a model portfolio optimization and get weightings for the industry level. And we like stock picking. We think we can find value in some companies."
The Georgetown team however said they'll be focusing on more of a hybrid approach for their portfolio.
"The hybrid approach will involve a split between value and market volatility, with the main portfolio driver centering around geo-political events," said Felix Delgado.
Delgado added that many members of the Georgetown team are intimately involved with the investing process at their current jobs.
"We have members working in the treasury department for top tech companies, analysts working for asset management firms, and engineers working for public works. So, it is really the team's diversity and scope of knowledge across many sectors that is our main strength."
Sanders, who worked in investment management for four years before going for his MBA at INSEAD, thinks the biggest takeaway will be how difficult it can be to actually stick to a pre-determined strategy in a live portfolio.
"It will be a really good way for some of our younger members to get hands-on experience of how to run a portfolio. One, it's a strategy. But also, how do you execute your strategy? Unless you've been working in it before you'd be surprised how difficult it is to execute the strategy you've chosen."
The portfolios will be hosted on Peeptrade here , and will be updated in real-time throughout the competition. Some teams will be charging subscription fees, the proceeds for which will be donated to charity. Charities include Anthony Nolan,the Diabetes Youth Foundation, and So Others Might Eat.
View Comments and Join the Discussion!
Posted-In: PeeptradeFintech Education Exclusives Interview General Best of Benzinga