Why The Lending Industry Is Like The Music Industry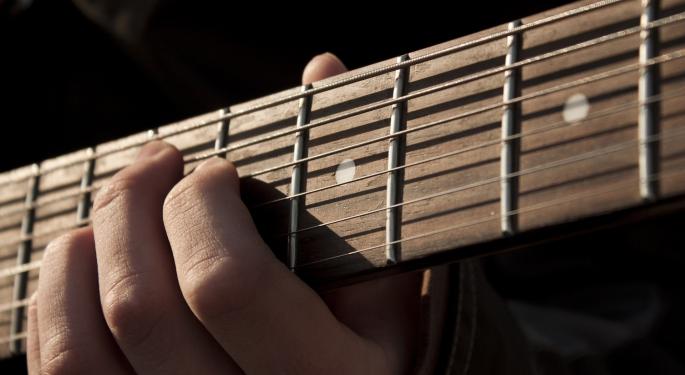 The music and business worlds don't always move in sync.
Spotify is losing money, Apple Inc. (NASDAQ: AAPL) Music has not been the success investors were hoping for, and Pandora Media Inc (NYSE: P) stock has spent much of the year in single digits. And remember Wall Street's reaction to the Nashville Area ETF (NYSEArca: NASH)?
But according to one leader in the small business space, today's lending industry is mimicking the state of the music industry from 10-15 years ago.
The obstacles to the online lending industry are nothing new. Between strict regulations, steep competition and the hesitation of banks to buy in after the recent increase in defaults, online lenders like Credibly,LendingClub Corp (NYSE: LC) Kabbage and OnDeck Capital Inc (NYSE: ONDK) face an uphill battle.
However, Glenn Goldman, CEO of Credibly, spoke to the Financial Times to reaffirm his optimism towards the future of online lenders by comparing it to the online music industry 10 years ago.
Back then, he says, "The method of music delivery was being disrupted. Many of those businesses were not making money. There were a lot of regulatory and legal questions about who owned what rights to what music, and, like today, there were probably a couple hundred different platforms delivering music in different ways."
In the years since, the online music industry has consolidated itself, with platforms like Spotify and iTunes.
"Today, a dozen or so platforms have materially changed the way that we access music, and we're all thrilled about that."
Goldman sees the same thing happening in his industry, where tough regulations and compliance restrict the growth of online lending, and where hundreds of these firms compete to provide funding to small businesses.
"The fact that we went from about 200 to maybe a dozen or so of those [online music] platforms didn't change the value proposition, and I think we're seeing something very similar here," Goldman said.
Goldman added that, despite all the problems online lenders face, these firms have already helped lower the cost of debt for millions of people and small businesses worldwide.
"Those in the small business space have delivered capital to small businesses who otherwise never would have gotten access to capital," he said. "While the face or the structure of the industry is going to change, the use case and the value proposition is here to stay."
Posted-In: CrediblyFintech Emerging Markets Startups Small Business Markets Tech Best of Benzinga
View Comments and Join the Discussion!