Wall Street Mentalist Oz Pearlman Wows Audience At Benzinga Fintech Awards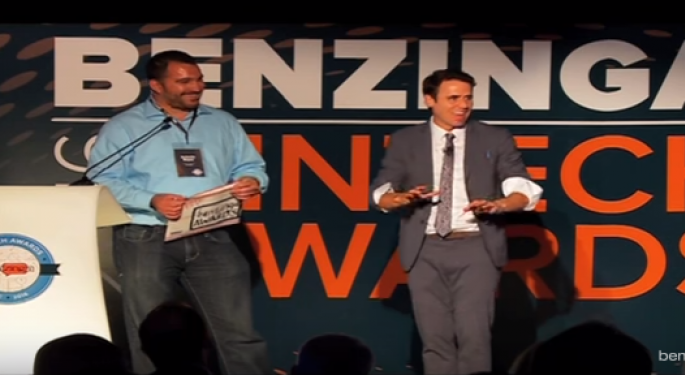 Oz Pearlman, whom the financial media has dubbed "The Wall Street Mentalist," wowed the Street again last month with a performance at the Benzinga Fintech Awards Gala.
Pearlman's act consisted of multiple segments that showcased his ability to read and control a room.
First, Pearlman dissected un-truths from audience members in a game of "three truths and a lie." Pearlman's talents lie in his nearly-supernatural ability to read people. People pick up on visual cues from others when we are trying to look past the content of their speech, and Pearlman is a master at reading micro-expressions and analyzing speech patterns to determine if someone is lying.
Watch the clip below for an example, as he deduces the name of an audience member's dog with the intellectual rigor of Sherlock Holmes.
Pearlman produced a true "wow" moment later in the performance, as he concocted a tale based on various audience members' input that revealed one man's secret love of Justin Beiber. Words fail to convey how he did it in an appropriately skeptical manner, so watch the clip for yourself and decide whether Oz Pearlman is a sorcerer, telepathic, or simply a master of showmanship (if not all three).
Posted-In: Benzinga Fintech Awards Oz PearlmanFintech News Events Best of Benzinga
View Comments and Join the Discussion!