Airlines, Telecom, Industrial Stocks Seeing Strength On Infrastructure Spending Hopes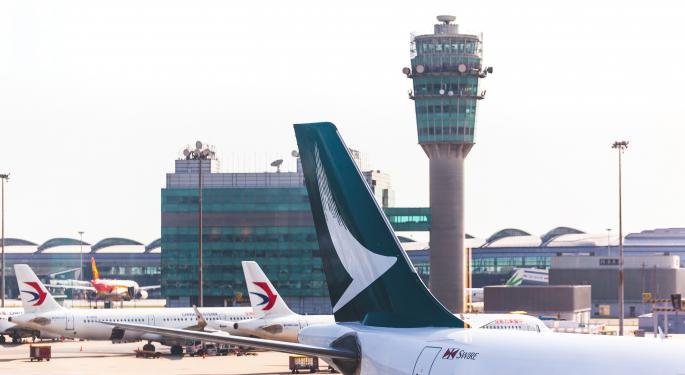 Key Takeaways:
Optimism trade is back amid infrastructure, Fed bond-buying hopes
Fed's Powell to testify before the Senate starting later this morning
Oracle earnings tonight follow yesterday's strong results from Lennar
(Tuesday Market Open) Major indices executed a 180-degree turn over the last 24 hours as optimism flooded back in amid a very positive news flow.
First, the S&P 500 Index (SPX) bounced firmly off a key support level early yesterday after opening sharply lower. Then the market got another boost from the Fed stepping in to say it would buy individual corporate bonds. The next shot in the arm came when Bloomberg said this morning the Trump administration plans to announce a $1 trillion infrastructure spending proposal.
Obviously, this isn't the first time investors got excited about a possible infrastructure program. We'll have to wait and see where this goes. There's been bipartisan support in Congress for one in the past, but the election is less than five months away, which complicates things.
If Washington does come through, companies in the Industrial space would probably benefit, which could explain why shares of some of those firms rose in pre-market trading. Caterpillar Inc (NYSE: CAT) climbed 6%, and Boeing Co (NYSE: BA) and airline stocks also got a lift. Communication Services stocks could also benefit if the infrastructure proposal includes expanding broadband, as Bloomberg's article hinted.
Shoppers Return? Retail Sales Up Big
May retail sales data this morning showed a big improvement from April, giving futures another positive jolt in pre-market trading. The headline number rose 17.7% and was up 12.4% not including automobile sales. Analysts had expected 9% growth.
This follows a nearly 15% revised decline in April and suggests consumers got back out to spend money in May. Still, we're not out of the woods, with millions of people still unemployed. This is one report, not necessarily a trend.
Overseas indices mostly moved higher early Tuesday, which provided some additional support. There's also some hope that tensions might ease on the China front as top U.S. and Chinese diplomats are scheduled to meet.
There will probably continue to be nervous longs, with a lot of people getting anxious over every piece of news. However, a "buy the dip" mentality appears to be back, too, judging from yesterday's sharp turnaround.
A lot of news reports say the Fed's bond-buying announcement explains why things came back yesterday. That definitely helped the rally, but it overlooks the fact that the SPX was already almost unchanged when the announcement happened. The recovery from lows occurred without help from the Fed, implying that there is buying interest not far below current levels. Some analysts note that there's still a good deal of institutional money on the sidelines, too.
Good Morning, Chairman Powell
It's Fed time again today as Chairman Jerome Powell addresses and takes questions from a Senate committee. And it was also Fed time yesterday when news of the Fed's plans to buy individual corporate bonds gave the market a midday energy boost. (See below for more on the Fed's new bond-buying policy and its potential impact).
It's possible Powell could share more thoughts on the Fed's new strategy today. His testimony begins soon after the opening bell, and he's sounded pretty cautious lately about the growth outlook. More of the same wouldn't be too surprising. Unless some other big news hits, attention is probably going to be squarely on Powell for the first part of the day, but maybe a little less tomorrow when he testifies before a House committee.
Powell's words after the Fed's meeting last week received some of the blame for Thursday's selloff, though it's debatable if he deserved it. The Fed's quarterly outlook also showed basically no chance of a rate hike in the next two years, putting a damper on hopes of the economy popping right back from COVID-19.
Let's Have Class Outside
What's played out since the Fed meeting was some growing doubt about the "optimism trade" seen earlier in June. The optimism trade really was about businesses getting started and going quickly back to normal. If we do have a slowdown in opening businesses—and a couple of states have slowed their dates—it's going to be very difficult for the reality of business to keep up with market expectations of a few weeks ago.
Some of those reopening concerns appeared to dissipate a bit on Monday, though for all we know they could pop up again any time considering how unpredictable the virus data tends to be. It's unpredictable and unprecedented, which makes things very tough to measure. News on Monday that some states might be rolling back their restaurant opening policies adds to the concern.
If you look at the "indoor vs. outdoor" perspective on Monday, there wasn't a huge discrepancy. Balanced buying spread across most sectors. However, you might argue that "indoor recess" won the day as the PHLX Semiconductor Index (SOX) climbed 1.4% while the Dow Jones Transportation Average ($DJT) rose less than 0.9%. Airlines were mixed, while FAANG stocks mostly gained 1% or more. Generally, FANGS and tech, in general, have done better since the crisis began as people saw them less affected by the shutdowns.
Small-caps, represented by the Russell 2000 Index (RUT), jumped out of the starting gate this week to lead all major indices Monday. That's something people tend to like seeing because it suggests strength in the domestic economy where most of the smaller companies play. The RUT had an amazing range of more than 500 basis points yesterday from bottom to top (see chart below).
The optimistic view being heard around Wall Street early this week suggests the virus isn't going away but is becoming more of a regional, state-by-state issue. There may be flareups here and there, according to this school of thought, but the national emergency and shutdown of March and April would be unlikely to happen again. Remember, that's just one theory.
For a sense of the optimism level, it helps to follow the benchmark 10-year Treasury yield. It had rocketed to flirt with 1% just over a week ago and then collapsed back below 0.7% by late last week. For now, it's basically splitting the difference, hanging out near 0.75%. Another jump above 0.8% would probably show some positive sentiment returning.
Corporate news is a little thin, though homebuilder Lennar Corporation (NYSE: LEN) reported after the close yesterday. It beat analysts' estimates on top- and bottom-lines and said the housing market improved in May and June. Shares are up just a bit this morning.
The housing sector had a nice Monday, helped by what looks like a rebounding market for new homes in some markets. Oracle Corporation (NYSE: ORCL) steps up to the plate after the close today. The stock has done very nicely over the last three months, and investors likely will focus on ORCL's push to transform its applications business to be more cloud- and subscription-based, Barron's reported.
CHART OF THE DAY: DAILY DOUBLE: This one-day chart of yesterday's moves in the S&P 500 Index (SPX—candlestick) and the Russell 2000 Index (RUT—purple line) show how both climbed dramatically from their early lows and how both responded positively to the Fed news just after midday. However, the RUT outpaced the SPX most of the session, often seen as a reflection of optimism around the domestic economy where small-caps do most of their business. Data Sources: FTSE Russell, S&P Dow Jones Indices. Chart source: The thinkorswim® platform from TD Ameritrade. For illustrative purposes only. Past performance does not guarantee future results.
Fed Backstop for Bonds? A Fed that's willing to directly purchase debt from individual corporations arguably provides another backstop in case of economic distress. Having the Fed in there to scoop up bonds likely means lower borrowing costs, which companies could conceivably use to build infrastructure, hire workers, and develop new products. It also might promote stability and remove another layer of uncertainty in the economy around possible bond defaults. At least that's the hope.
However, other central banks have tried to do the same thing, with patchwork results. In Japan, central bank buying is sometimes blamed for the continued presence of so-called "zombie" companies that would have otherwise gone bankrupt long ago.
Also, having the Fed's own corporate bonds could complicate things when and if Powell and the company decide this particular tool isn't needed anymore. Companies could suddenly face higher borrowing costs if the Fed starts selling the bonds it owns, and that could pressure company shares, too. It might fuel ideas that the Fed has lost faith in the companies whose bonds it's selling, causing others to cash in, as well. A bridge to cross when we get to it, maybe.
Getting Technical: You could argue it's technically very positive that the S&P 500 Index (SPX) came down to test the area under 3000 early Monday, sniffed around near technical support at 2960, and then almost immediately popped back up above 3000 to post gains. This was long before the Fed's bond announcement.
In the technical world, traders tend to see a quick reversal like yesterday's pointing toward more strength ahead. There didn't appear to be a lot of selling interest down under 3000, unlike in February and March when selling accelerated once the market took out that level.
Keep in mind, though, that the traditional technical rulebook basically got thrown out earlier this year both on the way down and the way back up as major indices generally ignored support and resistance points on the charts. It looks like the SPX is going to quickly take out previous resistance at between 3080 and 3130.
The Cboe Volatility Index (VIX) scampered all over the place Monday, just like the major indices. It climbed above 38 early as uncertainty flared around Wall Street, then faded to around 34 by the end of the day. That's down from last week's peak levels but still up sharply from lows below 25 a couple of weeks ago.
Housing Up Next, Along with Crude: Tomorrow brings monthly housing starts and building permits for May. Analysts look for a healthy jump in starts to a seasonally-adjusted rate of 1.17 million, according to research firm Briefing.com. That compares to just 891,000 in April and would be the first uptick since November.
Another item to consider watching tomorrow is the weekly government crude production and stockpiles report. Last time out, many analysts called the data bearish because supplies surprisingly grew by nearly 6 million barrels. This is the heart of summer "driving season" when supplies typically fall by millions of barrels a week, not rise. Another weekly supply gain might raise eyebrows about consumer demand because one week could be a blip but two might be a trend.
This week's economic calendar. Source: Briefing.com
TD Ameritrade® commentary for educational purposes only. Member SIPC.
Photo by MELANIO SALOME JR. PECH from Pexels.
View Comments and Join the Discussion!
Posted-In: Boeing Caterpillar Dow Jones Transportation Average Jerome Powell lennar OracleFederal Reserve Markets