Will Fed Open Door To Rate Hike, More Stock Losses?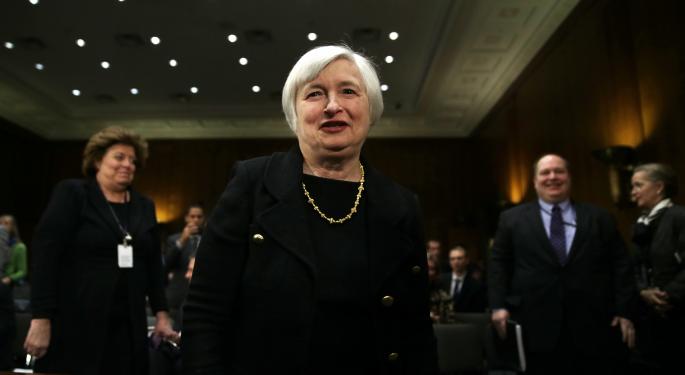 The roller coaster continued on Wall Street and may not stop soon as another potentially market-moving Federal Reserve meeting dominates the agenda this week.
The S&P 500 (SPX) dropped 3.1% in January before rebounding 5.5% in February and quickly shaving 3% so far in March. Last week marked the third weekly loss in a row. With only a dozen trading days remaining in Q1, the index has now lost 0.6% year to date, although importantly has held the significant 2050 line.
This week, a light earnings calendar means the Tuesday–Wednesday Fed meeting—which could include a shift in position for the interest rate–setting panel—could be the primary influence on the market's next twists and turns.
There's another potential driver that's not to be ignored, though. Crude oil tumbled below $45 per barrel and, after dropping about $5 last week, is now probing the five-year lows from late January.
Weekly oil inventory data due out on Wednesday could be the next catalyst for crude trading and, subsequently, the energy-related names of the SPX. In step with crude, the dollar's stretch to 12-year highs against the euro, which is nearing dollar parity now under $1.05, continues to act as a mild drag on stocks.
And there's the calendar to consider, too: options expiration and the added broad-market volatility that can come with it. March holds one of four quarterly "quadruple witching" dates, which bring the expiration of futures and futures options on top of stock and index options.
That means the big firms with market muscle may have to unwind many of their stock versus futures versus option positions and the net result might be a bit more trading activity, which could exacerbate volatility before the weekend.
Buckle Up
With both bulls and bears suffering whiplash, risk perceptions seem to be picking up. As evidence, the CBOE Volatility Index (VIX) briefly topped 17 last Wednesday for the first time in nearly a month. VIX finished the week near 16, up more than 20% month to date (figure 1).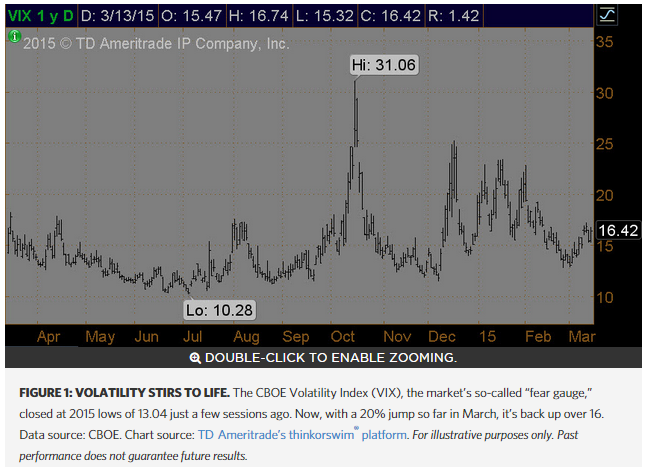 VIX, the market's "fear gauge," has been moving higher over the past two weeks as all nine broader S&P sectors are in the red since February. Interestingly, unlike the decline in January, financials are not leading the retreat. That group lost 7.1% in the first month of 2015, but as we can see from figure 2, the sector is showing the most resilience so far in March.
Related Link: Stock Market Follows The Money, Eyeing Euro Parity
Meanwhile, some of the top-performing sectors in January, including utilities, are among March's laggards. Utilities are down nearly 8% in 2015, while energy is down more than 6% thanks to another leg lower in March.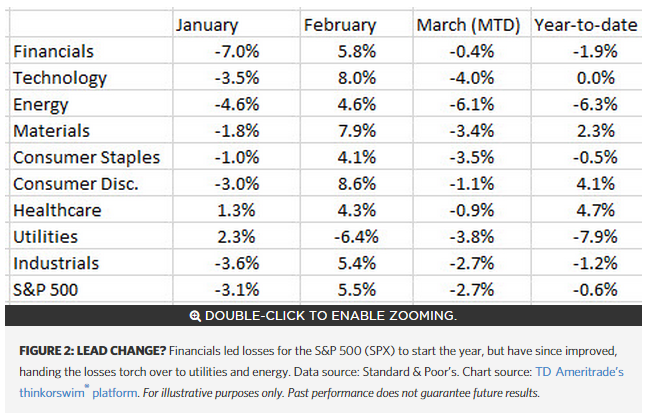 Interest Rate Watch
The losses in utilities and energy names essentially conspired to pull the S&P 500 underwater year to date, which highlights two important themes to watch in the week ahead: energy and interest rates.
It's evident that utility names have been under fire in recent weeks amid concerns about rising interest rates, which tend to cool demand for the high-yielding utility stocks. On March 6, for instance, strong jobs numbers were blamed for a sharp uptick in bond yields; utility stocks within the S&P 500 lost 3% on the day. Utility shares are also increasingly blacklisted as investors start to position for the possibility of higher interest rates in the months ahead.
Here Comes The Fed
Wednesday's Federal Open Market Committee (FOMC) meeting conclusion, which includes a follow-up press conference from Fed Chair Janet Yellen, is likely to garner a lot of interest given the rate uncertainty. The Fed isn't expected to take action at the March meeting, but some Fed watchers think the group may drop key wording from its statement, including the buzzword "patient" that has been used so far to describe its shift toward raising rates for the first time since 2006.
Around that little meeting, a few economic reports on housing and manufacturing will trickle in (see figure 3). As for earnings, the software sector is in focus Tuesday with Adobe (ADBE) and Oracle (ORCL) reporting after the bell. Nike (NKE), Tiffany (TIF), and KB Home (KBH) are among a small list of companies sharing results later in the week.
Good trading,
JJ
@TDAJJKinahan
This piece was originally posted here by JJ Kinahan on March 16, 2015.
A long call or put option position places the entire cost of the option position at risk. Should an individual long call or long put position expire worthless, the entire cost of the position would be lost.
Spreads and other multiple-leg option strategies can entail substantial transaction costs, including multiple commissions, which may impact any potential return.
A rollover is not your only alternative when dealing with old retirement plans. Please click here for more information on rollover alternatives.
Futures and futures options trading is speculative, and is not suitable for all investors. Please read the "Risk Disclosure for Futures and Options" prior to trading futures products.
Market volatility, volume, and system availability may delay account access and trade executions.
Past performance of a security or strategy does not guarantee future results or success.
Options are not suitable for all investors as the special risks inherent to options trading may expose investors to potentially rapid and substantial losses. Options trading subject to TD Ameritrade review and approval. Please read Characteristics and Risks of Standardized Options before investing in options.
Supporting documentation for any claims, comparisons, statistics, or other technical data will be supplied upon request.
The information is not intended to be investment advice or construed as a recommendation or endorsement of any particular investment or investment strategy, and is for illustrative purposes only. Be sure to understand all risks involved with each strategy, including commission costs, before attempting to place any trade. Clients must consider all relevant risk factors, including their own personal financial situations, before trading.
TD Ameritrade, Inc., member FINRA/SIPC. TD Ameritrade is a trademark jointly owned by TD Ameritrade IP Company, Inc. and The Toronto-Dominion Bank. © 2015 TD Ameritrade IP Company, Inc. All rights reserved. Used with permission.
Posted-In: JJ KinahanFederal Reserve Best of Benzinga
View Comments and Join the Discussion!