#PreMarket Prep For The Week Of June 8: No Summer Break From Markets With These NYSE Traders, Fund Mangers & Market Technicians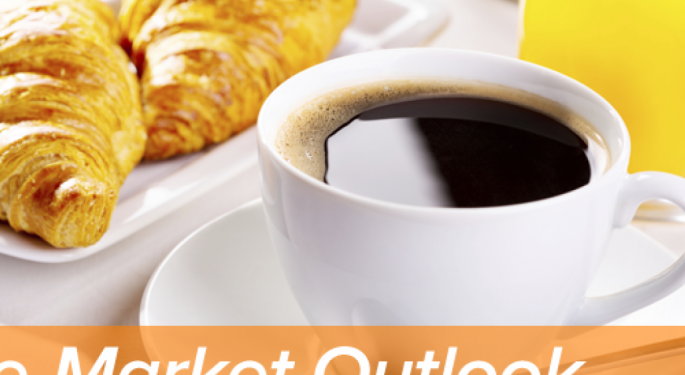 Instead of taking a summer vacation from trading, join these NYSE Floor Traders, fund managers and market technicians on this week's #PreMarket Prep!
Be sure to tune in at 8:00 am EST Monday-Friday here to interact with our veteran traders, market technicians and money managers that come on the show.
Monday, June 8, 8:35 a.m.
Tim Anderson (@TJAnderson1), Managing Director at TJM investments
Tim Anderson has 30 years experience in equity capital markets and trading that includes senior positions at major investment banks as well as buy side equity hedge funds. He is located on the New York Stock Exchange and is a relationship manager for Institutional Broker Dealer accounts and buy side institutions.
9 a.m.
Scott Redler (@RedDogT3), Chief Strategist at T3 Live and T3 Trading Group
Scott Redler has been trading equities for more than 10 years and has more recently received widespread recognition from the financial community for his insightful, pragmatic approach. He began his career as a broker and venture capitalist where he was able to facilitate relationships that led him into trading. Beginning his trading career at Broadway Trading in 1999, Scott moved on with Marc Sperling to Sperling Enterprises, LLC after establishing himself as one of the best young traders in the firm. As a manager at Sperling Enterprises, he maintained his status as a top trader at the firm while working closely with all traders in the firm to dramatically increase performance.
9:20 a.m.
Serge Berger (@SteadyTrader), Head Trader & Investment Strategist at The Steady Trader/p> Serge Berger has been an active trader since 1998. During his career, he's been a financial analyst, dealt in fixed income instruments at JP Morgan, and was a proprietary trader in equities, equity options and futures.
Tuesday, June 9, 8:35 a.m.
Nic Chahine (@racernic), Options Expert
Nic Chahine joins the show every Tuesday to discuss the week's options outlook. He is also a Marketfy Maven and the author of Create Income With Options Spreads. Prior to trading full time, he climbed the ranks of the corporate finance world. Then in 2000, Chahine branched out with an internet venture as CFO/COO. The venture paid off well enough to allow him to start his own fund and pursue his passion: the stock market. Chahine also has a background in electrical engineering.
9 a.m.
Sheldon McIntyre (@hertcapital), Founder of 360° Virtual Advisor
Sheldon began his career in 1996 at an investment management firm headquartered in Santiago, Chile, where he later became a Managing Partner of the firm responsible for the discretionary asset management division. In 2001, he joined a New York based long/short equity hedge fund as a Portfolio Manager. In 2002 he returned to Chile to trade independently and in 2011 founded 360° Virtual Advisor exclusively for Chilean clients. In February 2015 I opened 360° Virtual Advisor to international members with the transition to the Benzinga Marketfy platform. You can find out more by visiting his website: 360° Virtual Advisor Live.
9:20 a.m.
Karl Snyder (@snyder_karl), Chief market Strategist with Garden State Securities
Karl Snyder is a member of the Market Technicians Association and holds the Chartered Market Technician designation. He is both series 66 and 7 licensed. Snyder is also a series 87 licensed research analyst. He specializes in inter-market analysis with an emphasis on sector rotation and the impact of the business cycle on the financial markets. Prior to starting his financial career, Snyder studied at Rutgers University and served in the United States Marine Corps as a non-commissioned officer.
Wednesday, June 10, 8:35 a.m.
Fari Hamzei (@HamzeiAnalytics), Founder of Hamzei Analytics
Fari Hamzei joins the show every Wednesday, bringing his wealth of knowledge on aggressive equity options and index futures trends. Hamzei is frequently quoted by CNBC, Bloomberg and RealMoney. His book, "Master Traders: Strategies for Superior Returns from Today's Top Traders," published by John Wiley & Sons in October 2006, was a bestseller on Amazon trading books space.
9 a.m.
Kevin Kelly (@ReconKevin), Chief Investment Officer of Recon Capital
Kevin Kelly focuses primarily on the equities and options markets. As Chief Investment Officer, he oversees all research and investment strategies. Kelly also serves as Portfolio Manager for the DAX Germany ETF (DAX) and NASDAQ 100 Covered Call ETF (QYLD). Prior to joining Recon Capital, Kelly served as a Portfolio Manager for a hedge fund from 2008 – 2011 where he focused on equities and equity derivatives. Mr. Kelly also previously worked for Goldman, Sachs & Co.
9:20 a.m.
Greg Capra (@PristineTrading), CEO of Pristine Trading
Greg Capra is President and CEO of Pristine Capital Holdings, Inc., a leading online educational service for active, self-directed traders since 1994. He has been a day and swing trader and won the Moneyshow Live Trading Challenge six times in a row. While the trading tools were crude in his early years of trading, Greg noticed that certain patterns would continually repeat themselves on a daily, weekly, monthly and yearly basis. Greg identified these patterns and then dove into why these candlestick patterns would form and how to best profit from them. He discovered how to understand the human emotion contained within every candlestick formation; and soon, without the help of any unnecessary trading indicators, the world-renowned Pristine Method was formed.
Thursday, June 11, 8:35 a.m.
JC Parets (@allstarcharts), Founder of Eagle Bay Capital
JC Parets is is a 10-year veteran and Market Technician who actively manages money incorporating Technical Analysis and Behavioral Finance into his practice. JC's work has been featured regularly on CNBC, Fox Business, Bloomberg, Business News Network, Wall Street Journal and Yahoo Finance among many other financial media outlets. JC Parets recently launched a research arm named Eagle Bay Solutions where market participants around the world can pay for access to his research.
9 a.m.
Kenny Glick (@HitTheBidRadio), Owner and Creator of HittheBid.com
Kenny Glick started his professional life as a stand-up comic, but was lured into a 'Boiler Room' operation by an admiring fan that thought his personable nature would be a good fit for "selling slime." His career began a few years before the dot-com bubble, but he actually had more success during the crash. More than anything, though, he strives to bring comic relief to trading.
9:20 a.m.
Karl Setzer (@ksetzergrains), Grain Market Analyst at MaxYield Grain
Karl Setzer has spent his entire life and professional career in farming, and remains a farm kid at heart. It's this passion that guides his pursuit of leading edge information and insights that are featured in his daily commentary/market analysis, which is published and heard throughout the Midwest and internationally, including Europe, Ukraine, Pakistan, Singapore and Dubai. He is also a regular contributor to Dow Jones and Reuters News Services. Karl spends much of his day hedging MaxYield's grain position and coaching our Grain Solutions Team in client risk management.
Friday, June 12, 8:35 a.m.
Jonathan Corpina (@JonathanCorpina), Senior Managing Partner at Meridian Equity Partners
Jonathan Corpina manages trading and sales on the Meridian NYSE trading desk. An NYSE member since 2001, Corpina is an elected Executive Floor Governor, President of the Organization of Independent Floor Brokers, and is a board member of the Floor Members Emergency Fund. Jonathan is currently an active member of the NYSE Stock Allocation, NYSE Broker Handheld, Broker Technology and Floor Facilities Committees.
9 a.m.
Mark Yusko (@MarkYusko), CEO and CIO of Morgan Creek Capital Management
Morgan Creek Capital Management is a registered investment adviser formed in July 2004 to provide investment management services based on the University Endowment Model of investing to wealthy families, individuals and institutional investors. Morgan Creek currently has $4.1 billion in assets under advisement in non-discretionary accounts and discretionary funds. Prior to forming Morgan Creek, Mark served as the Chief Investment Officer for the University of North Carolina at Chapel Hill from 1998 to 2004.
9:20 a.m.
Ryan Craver (@ryanmcraver), Retail Expert & SVP of Emerging Brands & Digital at Lamour Group
Ryan Craver currently leads Strategy and Emerging Brands for Lamour Group's portfolio of global brands while advising several startups focused on Mobile and AdTech. Prior to joining Lamour,Ryan was in charge of the core department store strategy at Lord & Taylor / Hudson's Bay Company and was a senior leader at Accenture, driving growth and profit improvement across multiple clients, including Virgin Media, FedEx and Best Buy.
Posted-In: Benzinga #PreMarket Prep JC Parets Jonathan Corpina Mark Yusko Nic ChahineExclusives Pre-Market Outlook Interview Best of Benzinga
View Comments and Join the Discussion!