#PreMarket Prep For The Week Of May 4: Options, Forex And Technical Analysis Experts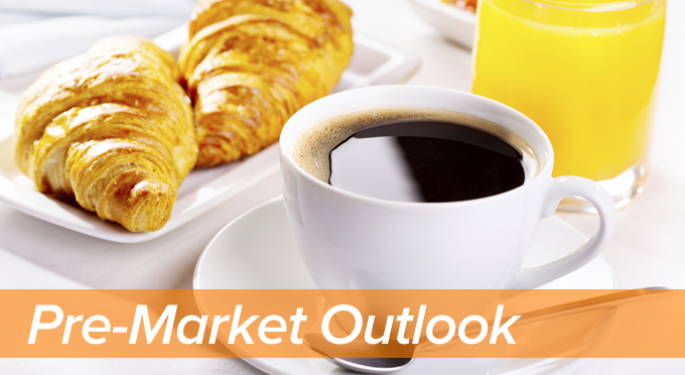 Get ahead during the heart of earnings season with experts in options, forex and technical analysis on this week's #PreMarket Prep!
Be sure to tune in at 8:00 am EST Monday-Friday here to interact with our veteran traders, market technicians and money managers that come on the show.
Monday, May 4, 8:35 a.m.
Anne-Marie Baiynd (@AnneMarieTrades), Author and Financial Analyst
Anne-Marie Baiynd is a trader, author and financial analyst best known for her book, "The Trading Book Course: A Practical Guide to Profiting with Technical Analysis."
9 a.m.
Scott Redler (@RedDogT3), Chief Strategist at T3 Live and T3 Trading Group
Scott Redler has been trading equities for more than 10 years and has more recently received widespread recognition from the financial community for his insightful, pragmatic approach. He began his career as a broker and venture capitalist where he was able to facilitate relationships that led him into trading. Beginning his trading career at Broadway Trading in 1999, Scott moved on with Marc Sperling to Sperling Enterprises, LLC after establishing himself as one of the best young traders in the firm.
9:20 a.m.
Serge Berger (@SteadyTrader), Head Trader & Investment Strategist at The Steady Trader
Serge Berger has been an active trader since 1998. During his career, he's been a financial analyst, dealt in fixed income instruments at JP Morgan, and was a proprietary trader in equities, equity options and futures.
Tuesday, May 5, 8:35 a.m.
Nic Chahine (@racernic), Options Expert
Nic Chahine joins the show every Tuesday to discuss the week's options outlook. He's a Marketfy Maven and author of the Create Income with Options Spreads blog.
9 a.m.
Karl Snyder (@snyder_karl), Chief market Strategist with Garden State Securities
Karl Snyder is a member of the Market Technicians Association and holds the Chartered Market Technician designation. He is both series 66 and 7 licensed. Snyder is also a series 87 licensed research analyst. He specializes in inter-market analysis with an emphasis on sector rotation and the impact of the business cycle on the financial markets. Prior to starting his financial career, Snyder studied at Rutgers University and served in the United States Marine Corps as a non-commissioned officer.
9:20 a.m.
Chris Martenson (@chrismartenson), Economic Researcher and Futurist
Chris Martenson is an economic researcher and futurist specializing in energy and resource depletion, and co-founder of PeakProsperity.com (along with Adam Taggart). As one of the early econobloggers who forecasted the housing market collapse and stock market correction years in advance, Chris rose to prominence with the launch of his seminal video seminar, The Crash Course, which has also been published in book form (Wiley, March 2011).
Wednesday, May 6, 8:35 a.m.
Fari Hamzei (@HamzeiAnalytics), Founder of Hamzei Analytics
Fari Hamzei joins the show every Wednesday, bringing his wealth of knowledge on aggressive equity options and index futures trends.
9 a.m.
Jeff Yaede (@TraderMinute), Founder and Lead Trader of TraderMinute
A former hedge fund manager, Jeff Yaede started TraderMinute in 2012, recognizing an opportunity to combine three of his great loves—a love for the market, a love for teaching people how to make money using the market, and a love for The Challenge. TraderMinute has allowed him to do all three, making the market "game" even more exciting and rewarding every day. Since November of 2012, TraderMinute has been running challenges every four months or so with the goal of giving members the necessary tools to find success in the market despite their background, knowledge and current ability.
9:20 a.m.
Bruce Marshall (@simplerbruce), Income Trading Specialist for Simpler Trading
Bruce Marshall is a career trader and began his trading journey shortly after the crash of 1987. He started his career working for a Wall Street firm on a bond desk. After several years trading bonds, he switched to the equity side. He began his love of trading equities and options early on and traded IPO's, secondaries, and preferred's. Over the years, he worked for several Wall Street firms managing institutional money as well as retail accounts. Marshall developed a love for options and the Income Style of Trading as a result of continuously trading through the Gulf War, the Dot.com bubble, 911, the Economic Crisis of 2008, the Flash Crash, as well as many other milestones.
Thursday, May 7 8:35 a.m.
JC Parets (@allstarcharts), Founder of Eagle Bay Capital
JC Parets is a money manager, chartered market technician, technical analysis practitioner and blogger. He is also a Marketfy Maven and the author of Eagle Bay Solutions.
9 a.m.
Adam Sarhan (@adamsarhan), Founder and CEO of Sarhan Capital
Sarhan Capital, a boutique investment and advisory firm, strives to provide intelligent ideas that generate strong returns for its clients in all market environments. There are three primary services: asset management, institutional advisory and Independent research, which are rooted in an objective analysis of global capital markets and U.S. equities.
9:20 a.m.
Nate Tobik (@oddballstocks), Investor and Founder of CompleteBankData.com
CompleteBankData is a place for information on banks, banking institutions and bank-holding companies. Nate Tobik is a value investors and also runs oddballstocks.com, an investment blog that uses research from CompleteBankData.com.
Friday, May 8, 8:35 a.m.
Jonathan Corpina (@JonathanCorpina), Senior Managing Partner at Meridian Equity Partners
Jonathan Corpina manages trading and sales on the Meridian NYSE trading desk. An NYSE member since 2001, Corpina is an elected Executive Floor Governor, President of the Organization of Independent Floor Brokers, and is a board member of the Floor Members Emergency Fund. Jonathan is currently an active member of the NYSE Stock Allocation, NYSE Broker Handheld, Broker Technology and Floor Facilities Committees.
9 a.m.
Raghee Horner (@ragheehorner), Forex and Currency Trading Expert for Simpler Forex
Raghee Horner started trading at the tender age of 17 while still in high school. She continued her pursuit of trading through college until going full-time after graduation; torn between the charts and law school, the markets won out. With a degree in English, Horner has a passion for communicating the message of the markets as well as teaching self-directed traders how to find choice, freedom, and an edge in the currency and futures markets. Three books (published by Wiley & Sons), countless speaking engagements, seminars, Chief Currency Analyst for IBFX (bought by FXCM), and trips across the globe, Horner shares all the she does and has learned at SimplerCurrencies.com.
9:20 a.m.
Jason O'Donnell (@BluestoneFinGrp), Chief Investment Officer at Bluestone Financial Institutions Fund
Jason O'Donnell has served as Chief Investment Officer of Bluestone Financial Institutions Fund since the fund's launch in January 2015. Mr. O'Donnell previously served as Principal and Director of Research at Merion Capital Group since March 2012 and is a founding member of the firm. In these capacities, he was responsible for directing the company's research strategy and covering publicly traded small and mid-cap banking institutions. Prior to Merion Capital Group, O'Donnell was Director of Research and a Senior Research Analyst at Boenning & Scattergood, a brokerage and investment bank based in Conshohocken, Pennsylvania.
View Comments and Join the Discussion!
Posted-In: Anne-Marie Baiynd Benzinga #PreMarket Prep JC Parets Jonathan Corpina Nic ChahineExclusives Pre-Market Outlook Interview Best of Benzinga