#PreMarket Prep Guest List For The Week Of April 13: Get Ready For The #BestofBiotech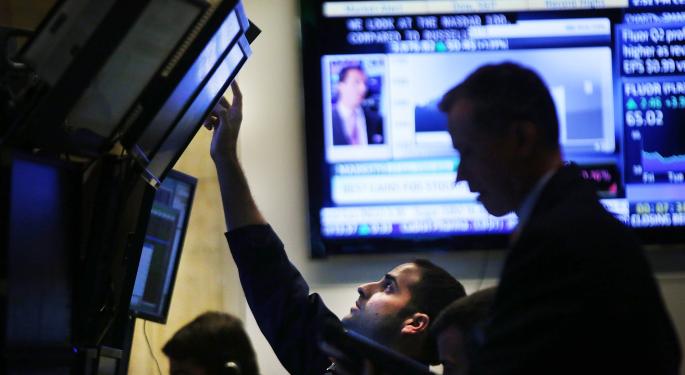 Get ready for our #BestofBiotech show featuring biotech traders and experts like TheStreet's Adam Feuerstein on this week's #PreMarket Prep!
Be sure to tune in at 8:00 a.m. EST Monday-Friday here interact with our veteran traders, market technicians and money managers that come on the show.
Monday, April 13, 8:35 a.m.
Dave Lauer (@DLauer), President and Managing Partner of KOR Group LLC
Dave Lauer has extensive experience designing and building the infrastructure that underpins many modern electronic trading systems and several years experience as a quantitative analyst and trader on high-frequency trading desks. Lauer's current work focuses on massively scalable technology and predictive analytics.
Christopher Nagy (@christophernagy), Founder and CEO of KOR Group LLC
Chris Nagy is a 25-year veteran of Wall Street and was previously the managing director of order routing, sales strategy and market-data strategy at TD Ameritrade where his responsibilities included developing and implementing best execution, routing technology and execution analytics, as well as developing routing and execution strategy.
9 a.m.
Scott Redler (@RedDogT3), Chief Strategist at T3 Live and T3 Trading Group
Scott Redler has been trading equities for more than 10 years and has more recently received widespread recognition from the financial community for his insightful, pragmatic approach. He began his career as a broker and venture capitalist where he was able to facilitate relationships that led him into trading. Beginning his trading career at Broadway Trading in 1999, Scott moved on with Marc Sperling to Sperling Enterprises, LLC after establishing himself as one of the best young traders in the firm.
9:20 a.m.
Greg Harmon (@harmongreg), CIO & Partner at Presidium Capital and founder of Dragonfly Capital
Greg Harmon has more than 25 years of trading experience at BNP Paribas, State Street and JPMorgan. He is the author of "Trading Options: Using Technical Analysis to Design Winning Trades."
Tuesday, April 14, 8:35 a.m.
Nic Chahine (@racernic), Options Expert
Nic Chahine joins the show every Tuesday to discuss the week's options outlook. He's a Marketfy Maven and author of the Create Income with Options Spreads blog.
9 a.m.
Aron Pinson (@MicroFundy), CFA, Co-Founder and the Chief Investment Officer at LPS Financial LLC
Aron Pinson is the author of the MicroFundy blog. He has more than a decade of professional financial market experience. Pinson is a Chartered Financial Analyst and is a member of the CFA institute.
9:20 a.m.
Joseph Childrey (@SeasonalFund), Managing Partner and Chief Investment Officer of the Probabilities Fund
Joseph Childrey developed an investment philosophy that incorporates the principles of behavioral finance and trend following. He launched and managed the Probabilities Fund L.P., a long/short hedge fund, for six years before converting the fund to a mutual fund. Childrey served private and institutional clients at Wells Fargo/AG Edwards for 15 years, starting his career at PaineWebber. An inventor, Childrey co-invented with Jon Jewitt a patented product in the consumer electronics industry that is marketed and sold worldwide.
Wednesday, April 15, 8:35 a.m.
Fari Hamzei (@HamzeiAnalytics), Founder of Hamzei Analytics
Fari Hamzei joins the show every Wednesday, bringing his wealth of knowledge on aggressive equity options and index futures trends.
9 a.m.
Jill Malandrino (@OptionsProfits), Product Development Manager for OptionsProfits at TheStreet
Jill Malandrino is the Product Development Manager for TheStreet's OptionsProfits. In addition to managing the product and content for the site, she is a market site reporter for the NASDAQ, reports from the floor of the CME and CBOE, hosts the Morning Call for TheStreet and the All-in-One video for Options TV. Prior to OptionsProfits, Malandrino was the Market Intelligence Manager for The Fly on the Wall and headed the Institutional Product Marketing effort for the Prudential Equity Group.
9:20 a.m.
Christopher Angus (@CyborgQuant), Managing Director at Cyber Quant
Christopher Angus is an algorithmic hedge trader in futures and commodities, as well as the managing director of Cybor Quant, a high-end financial tools platform for the investment community.
Thursday, April 16, 8:35 a.m.
JC Parets (@allstarcharts), Founder of Eagle Bay Capital
JC Parets is a money manager, chartered market technician, technical analysis practitioner and blogger. He is also a Marketfy Maven and the author of Eagle Bay Solutions.
9 a.m.
Sean Emory (@_SeanDavid), Portfolio Manager at GFG Capital & Author of TheMarketMeter.com
Sean Emory is currently the author of TheMarketMeter.com and lead portfolio manager of various strategies topping $1 billion in assets. The strategies consist of four global allocation portfolios and a concentrated growth equity portfolio. Prior to arriving at GFG Capital he was an investment trustee and equity/fixed income analyst for the Stetson University endowment. Thereafter he began analyzing small cap stocks at KCM hedge fund.
9:20 a.m.
G. Thomas "Tommy" Lackey Jr. (@gtlackey), Founding Partner and CIO of Barber LackeyFinancial Group
Prior to BLFG, Lackey was a senior account executive and manager at JP Atkinson and Associates. Over the last 21 years while working with clients and their investment portfolios, Tommy earned his Certified Financial Planner and Chartered Market Technician among other industry designations. While a good portion of Lackey's career has been on the adviser side of the business, over the last decade he has developed and utilizes various proprietary technical market tools to identify investment opportunities for the portfolios he manages.
Friday, April 17, 8:35 a.m.
Christian Tharp (@cmtstockcoach), Expert Biotech Trader
Christian Tharp is a certified market technician. He has helped more than 2,500 beginner and advanced traders and investors around the world take control of their own financial futures. Tharp is also a Marketfy Maven and the author of the "Five-Star Stock Watch."
9 a.m.
Adam Feuerstein (@adamfeuerstein), Senior Columnist at The Street
Adam Feuerstein joined TheStreet in 2001. Before that, he worked for other business publications, including Upside.com and the San Francisco Business Times.
9:20 a.m.
Karen Andersen (@MorningstarInc), CFA, Healthcare Strategist for Morningstar
Karen Anderson is in charge of biotechnology research. Before joining Morningstar in 2005, Anderson received a master's degree in business administration from Rice University, where she served as senior healthcare analyst for the M.A. Wright Fund and earned the distinction of Jones Scholar.
Posted-In: Adam Feuerstein Benzinga #PreMarket Prep Biotech JC Parets morningstarExclusives Pre-Market Outlook Interview Best of Benzinga
View Comments and Join the Discussion!