Is Apple's 'Drought Of Innovation' Finally Over?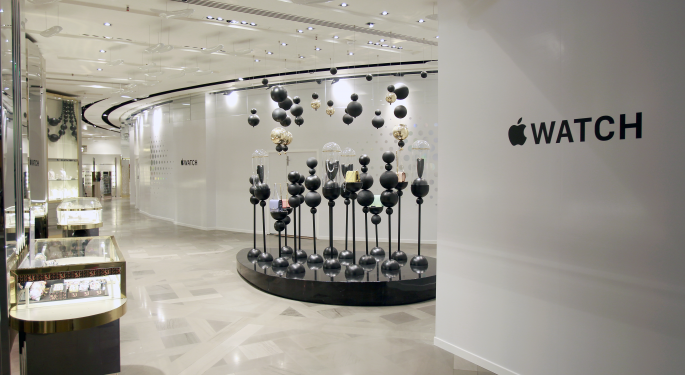 Apple Inc. (NASDAQ: AAPL) is only weeks away from releasing the long-awaited Apple Watch. The Cupertino, California-based tech giant made the unusual decision to announce the device several months ahead of its release.
"I think the Apple Watch is pretty different," Hardeep Walia, co-founder and CEO of Motif Investing, told Benzinga.
"I can't remember a time when Apple pre-announced that they were going to ship six or seven months ahead of release. I think that was driven by an appetite to deliver more innovation."
Walia, whose startup is among those competing in the Benzinga Fintech Awards, said that there has been a "drought of innovation" at Apple.
"I haven't been blown away like I was in the early days when iPads came out, when the iPhone came out," he said. "I think this is them gearing up for that."
Walia noted that Apple has a lot going on between the watch, its acquisition of Beats and the upcoming music service. There could be other, unknown products that Apple is also working on.
Related Link: 6 Reasons To Attend The Benzinga Fintech Awards
The Jewelry Business
Apple traditionally manufactured expensive hardware, but Walia said the company is "effectively getting in the jewelry business."
"They're not just going down the mainstream techie product [category], they're trying to branch beyond their market," he said. "Now their hardware translates to jewelry. They're slowly expanding beyond the traditional mainstay of what you would [expect] from Apple, which is technology products."
Apple Watch has successfully landed on the cover of several fashion magazines across the globe. The company's vision has propelled Apple to look beyond the technology aspect of its watch.
"That's why it's creating a lot of anxiety in the marketplace around this," Walia continued. "Swatch is aggressively trying to launch a product in time for that. It's beyond just the technology expertise. It is a different kind of product."
'Not Just Another iPhone'
Walia said that he thinks there are a lot of eyes on Apple Watch because it's "not just another iPhone."
"A watch is very, very different," he said.
"I haven't worn a watch in years. I have my phone, it's just as convenient. It'll be interesting to see where their sweet spot is on this. The whole ability to…use it as a health device is pretty important. They like to do the big bang and the guessing games. This is one where we've been waiting six months now for it to ship."
Disclosure: At the time of this writing, Louis Bedigian had no position in the equities mentioned in this report.
Posted-In: Apple Apple Watch Hardeep Walia iPhone Motif InvestingExclusives Tech Interview Best of Benzinga
View Comments and Join the Discussion!