Will Facebook And Twitter Take Over Google's Ad Business?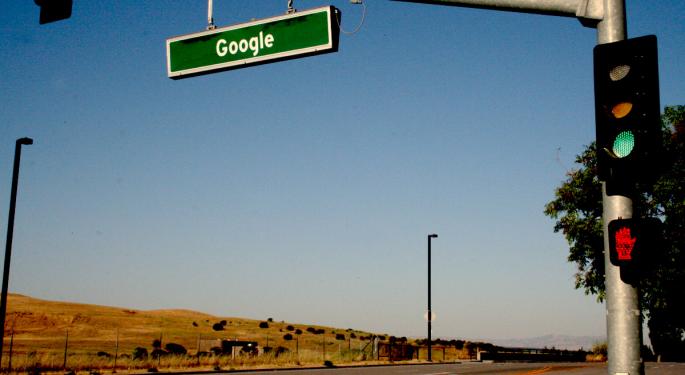 Facebook (NASDAQ: FB) and Twitter Inc (NYSE: TWTR) are rising stars on Wall Street, but are they really capable of taking the ad revenue that Google Inc (NASDAQ: GOOG) once dominated?
"They definitely have the potential, right?" Niles Lawrence, president of stock analysis site Vuru, told Benzinga. "The way that social sharing happens, and the focus that they have of just social, is really interesting."
Lawrence said that Facebook's high user base -- there were 1.39 billion monthly active users as of December 31, 2014 -- gives the company a significant advantage.
"Even converting 1 percent of that could be a huge play on any kind of revenue they decide to generate, even if they get into things like banking," said Lawrence. "They have this whole leverage of users to take into that space. The potential is really endless, whereas a lot of times with Google…you don't necessarily have a user base around Google."
Gmail, YouTube and other Google services have users, but no one needs to sign up before using Google.com.
"Twitter and Facebook have users on the platform itself," said Lawrence. "Google might be the place they go to for search, but they're not necessarily registering for Google search, whereas you have to register to use Facebook, Twitter.
"So, [Facebook] is consistently seeing growth in their user base, which is not the same kind of growth you see with Google."
Related Link: Google Search Is Twitter's Plan To Monetize 500 Million Logged Out Users
'Huge Potential'
Despite the threat of social media, Lawrence said Google has "huge potential."
"Anything Google wants to do they can do," he said. "It's really cool to see that. Android is the most-used operating system because there are so many companies using Android. I think Google is a great stock."
Lawrence also noted that Google is a verb.
"The power of a company like that creates a really strong pricing power with anything they do," he said.
"It creates this economic moat around them -- this competitive advantage -- it really sets them apart from other companies. Their biggest industry is still search...Even though most of their money comes from ads and such, the market for search itself is so big for Google it's hard to compete right now."
Vuru is one of many firms competing in the Benzinga Fintech Awards.
For more information on the startup, don't miss Lawrence's exclusive video interview with Benzinga President Kyle Bazzy:
Disclosure: At the time of this writing, Louis Bedigian had no position in the equities mentioned in this report.
Image credit: Mutante, Wikimedia
Posted-In: Facebook Google Niles Lawrence twitter VuruExclusives Tech Interview Best of Benzinga
View Comments and Join the Discussion!