Agricultural Commodity ETFs Hit New Lows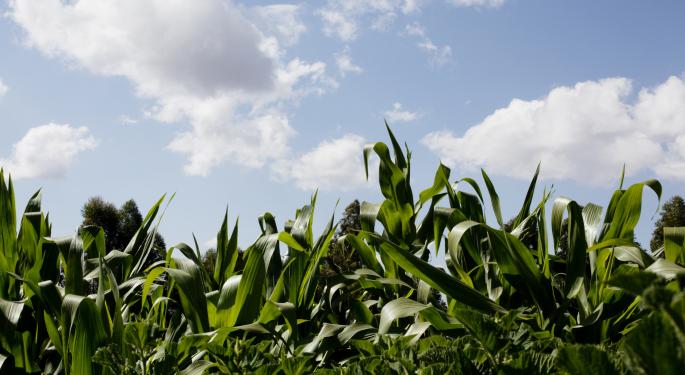 While the summer months spur rapid price increases in energy costs, another key indicator of consumer behavior is seeing a wave of deflationary selling pressure.
Agricultural commodities such as corn, wheat and soybeans have been in a freefall since peaking in May.
The price action of these core food ingredients is indicating a glut of supply that may ultimately translate into lower prices of finished products as well.
Several years ago, investing in these agriculture markets required the ability to access sophisticated futures exchanges. However, there are now a multitude of ETF options that allow investors easy access to these soft commodity themes.
The Teucrium Corn Fund (NYSE: CORN) is an exchange-traded fund that is dedicated to tracking the daily price changes of a basket of corn futures contracts. CORN currently has $77 million in total assets and charges an expense ratio of 1.99 percent.
Related Link: 3 Water ETFs To Quench A Summer Drought
As you can see on the chart below, this ETF has continued its 2013 slide and is now hitting life-time lows. So far this year, CORN has dropped over 9 percent and has yet to show any signs of a slowdown in descent.
The Teucrium Wheat Fund (NYSE: WEAT) and Teucrium Soybean Fund (NYSE: SOYB) are two other agricultural sectors that have struggled this year. WEAT has lost nearly 10 percent in 2014 and SOYB has slipped significantly from its high.
Crop forecasts continue to show favorable weather patterns and successful conditions to expand current supply levels. If that forecast is correct, it would likely lead to another wave lower in current prices.
However, if the global economy begins to experience a wave of inflationary pressures, the prices of these food groups could soar.
Investors that are looking for a diversified way to play this theme may be interested in the Teucrium Agriculture Fund (NYSE: TAGS). This ETF is an equal-weighted play on corn, wheat, soybeans, and sugar futures contracts.
It should also be noted that all of these funds are organized as commodity pools that issue shares, and as a result will distribute a K-1 to shareholders at the end of the year. You should thoroughly research the implications of this tax issue before opting for this type of ETF.
View Comments and Join the Discussion!
Posted-In: corn soybeans sugarSpecialty ETFs Commodities Markets Trading Ideas ETFs Best of Benzinga