A New Automation ETF For Traders Who Haven't Yet Been Replaced By Robots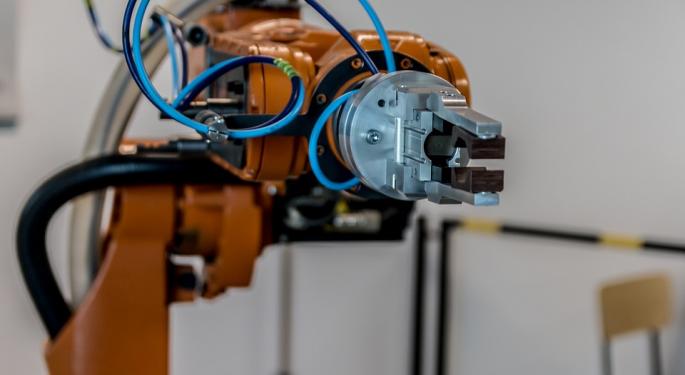 Despite civilization's rapid forward march toward mechanization, humanity has been routinely bad at predicting the scope, scale and impact of new technologies and the unforeseen consequences brought on by these sometimes massive shifts in how we as humans interact with the world. Case in point, a recent study from the PEW Research Center shows that, while two-thirds of Americans believe automation will replace most of the work done by humans, 80 percent don't believe that their jobs will be affected. For further evidence of humanity's inadequacy for technological prognostication, just look at any prediction made about the internet in the past 30 years.
It's under that premise of unpreparedness that Indxx created the Global Robotics & Artificial Intelligence Thematic Index, which is composed of companies producing the less consumer-facing technology that will soon put you and everyone you know on the dole.
Investors looking to to gain exposure could look towards the index's corollary, the Daily Robotics, Artificial Intelligence & Automation Index Bull 3X Shares ETF (NYSE: UBOT). Both the index and the ETF aim to reflect the changing paradigm across all sectors toward the precision and consistency that automation provides by including exposure to companies creating the systems, hardware and software with the greatest potential of supplanting the need for human hands, bodies and brains. Among companies like Mitsubishi Electric and the multinational Fanuc Corporation, which have their cold robotic appendages in myriad aspects of automation, there are other companies included in the index that have certain specializations across a number of industrial and technical field.
As a GPU manufacturer that is already heavily involved in providing processing power for self-driving cars and deep learning AI software, NVIDIA corporation (NASDAQ: NVDA) holds the largest share of the index. However, the rest of the list is populated by robotics and specialty automation companies from around the world, many of which remain unlisted in the major U.S. exchanges.
The following, high exposure companies largely cover companies that specialize in factory and industrial automation. Both Yaskawa Electric Corporation and Hyundai Heavy Industries specialize in producing modular software, hardware and ambulatory robotics systems for factory or heavy industrial use. As with most modern robotics operations, these systems largely focus on increasing speed and efficiency in dangerous or repetitive fabrication and assembly tasks. Hyundai, in particular, manufactures robotic systems used to fit pipes on oil rigs and build massive freighter ships.
Related fields such as factory automation and system optimization, which aim to make the robotic factory floor as efficient as possible are also represented in the index. Keyence Corporation, another major component of the index, caters almost exclusively to the broad and seemingly endless market of defining new productivity analytics and synthesizing solutions for gauging and improving an increasingly mechanized workflow.
Finally, one of the most dramatic areas of mechanization is in healthcare. Unexpectedly, this is represented in the index by its second-largest component, Intuitive Surgical, Inc. (NASDAQ: ISRG), which builds the leading robotic surgical system and has a global install base of 4,271 units. Japanese medical device maker Omron Corporation is also represented in the new index, although their products are primarily operational and extend beyond medicine, producing equipment and electrical systems related to everything patient care to system automation for prisons.
The panoply of corporations involved in laying the foundation of a new, less humane future extend beyond the Apples, Google and Microsoft's of the world.
View Comments and Join the Discussion!
Posted-In: Direxion ETFSector ETFs Specialty ETFs Markets Tech ETFs