Are Commodities Basing Out?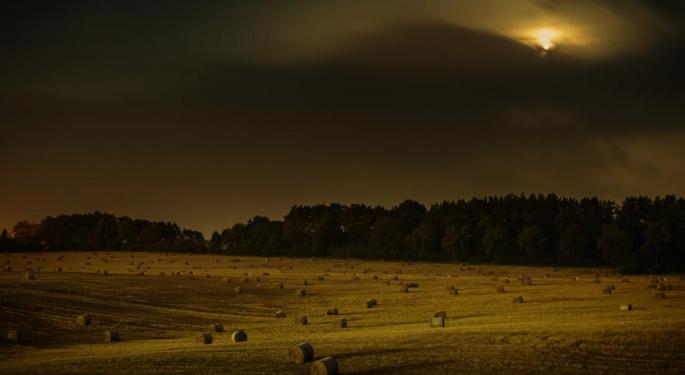 Days of Awe
Yesterday was the evening of Yom Kippur, a time for atonement when each person's fate for the coming year is inscribed into the Book of Life.
As such, with the impending verdict sealed, one is meant to amend his or her behavior and seek forgiveness for wrong doings.
Can the market amend its behavior? Who does the market need to seek forgiveness from and for what wrong doings?
The market doesn't care what any of us think, yet on the other hand, as group psychology indeed has an impact, in Monday night's commentary I urged folks and investors to "Please try to dwell on the positives and embark on a new collective, self-fulfilling prophecy to reduce fear."
There is a popular market adage that states, "Sell Rosh Hashanah, buy Yom Kippur."
If the market follows any credo set by the High Holy days, what might be the market's fate in its Book of Life?
The First Chapter Could Be About The Phases In Commodities.
(I'll cover how to trade market phases in this week's webinar)
2 ETFs I Track
Unless you are new to this daily (and if you are, welcome and thank you!) you know I have been waiting patiently for these ETFs to confirm a bottom in place.
PowerShares DB Agriculture Fund (NYSE: DBA) major holdings are cocoa, corn, live cattle, soybeans and sugar.
PowerShares DB Com Indx Trckng Fund (NYSE: DBC) main components are gasoline, crude oil, gold, some corn, aluminum, soybeans, wheat and zinc.
Beginning with DBC, the most salient commodity is oil. USO has an average daily volume of over 29 million. Highly speculated, it is currently sitting just below its 50 DMA awaiting a confirmation of a Recovery phase, which it hasn't had since June.
In August 2014, USO broke the weekly moving averages. A final flush of the down move might have occurred the week ending August 28th.
Since CORN is also a holding in DBC, a move in that ETF over 23.80 on a weekly basis could be the ticket to ride.
DBA, with Cocoa as its main holdings, has 2 ETFs NIB and CHOC. Both are barely traded. Technically, however, both are in solid bullish phases. Should the other agricultural commodities come out of their slumber, DBA, especially with a weekly close over 21.52, looks attractive.
In the spirit of Yom Kippur, all investors ought to review their goals and objectives. Perhaps it is time to begin your portfolio anew. Raw materials are after all, the staff of life!
S&P 500 (SPY) 190 has daily chart support with 195 now the hurdle to clear.
Russell 2000 (IWM) Broke 114 which means unless this gets back over 115.40, could see 112 then 110 next
Dow (DIA) 162.15 turned out to be a good pivotal spot. Since it closed above, look for a move over 164.50 if good, otherwise, next support at 157 area
Nasdaq (QQQ) 104 was a near term target. It closed just above so perhaps, we will see another test of 105.55 before we see lower prices
Volatility Index (VIX) Closed right on the 200 DMA.
XLF (Financials) 22.40 closest support. Good if it clears back over 23.20
KRE (Regional Banks) 36.35 best underlying support. Note that if this can continue to hold over 40.15 that is a decent sign
SMH (Semiconductors) Over 50.85 would be a tempting long swing buy. Otherwise, expect 48-48.50 support
IYT (Transportation) 142.50 pivotal with 146.10 overhead resistance and 140 next support
IBB (Biotechnology) 340 pivotal now resistance
XRT (Retail) A monthly close over 45.38 keeps hope alive. Otherwise, looking at 44.00 next closest support
IYR (Real Estate) Still has a shot if can hold 70.85 area
ITB (US Home Construction) From riches to rags although it did hold the 200 DMA
GLD (Gold Trust) 110.50 really good resistance 106.90-107.20 key support
USO (US Oil Fund) Looks like its trying hard to bottom-not ready to buy just yet though
TLT (iShares 20+ Year Treasuries) Confirmed phase change to bearish-sloppy trading
UUP (Dollar Bull) Unconfirmed phase change to warning (over the 200 DMA)
CORN (Corn) Over 23.80 on a weekly basis good
DBC (DB Commodity Index) Like better if can clear/hold over 15.25
The preceding article is from one of our external contributors. It does not represent the opinion of Benzinga and has not been edited.
Posted-In: Commodities commodity ETFs Specialty ETFsSector ETFs Specialty ETFs Commodities Markets ETFs Best of Benzinga
View Comments and Join the Discussion!