Closed-End Fund ETFs Follow High-Yield Bond Path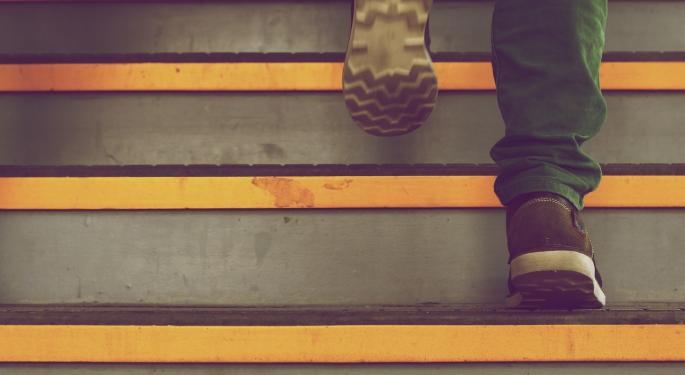 Income investors are always hungry for new high-yield opportunities and one small corner of the marketplace that seeks to fill that demand is closed-end funds (CEFs).
A closed-end fund is different from a traditional mutual fund or ETF in that it has a fixed number of shares (similar to an individual stock). This means its market price can trade at a premium or discount to the fund's net asset value. In addition, closed-end funds have the ability to use leverage to boost their returns or achieve significantly higher yields than their conventional peers.
One way to invest in closed-end funds is by researching individual managers and selecting a style that meets your needs. Nevertheless, there are several exchange-traded funds that own a basket of CEFs for further diversification.
Related Link: High-Yield Bond ETFs Grapple Higher
PowerShares CEF Income Composite Portfolio
The PowerShrs CEF Income Cmpst Prtfl (NYSE: PCEF) is the largest and longest tenured ETF in this class. It owns a group of 147 underlying closed-end funds and sports a 30-day SEC yield of 7.51 percent. Total assets in PCEF are quickly approaching $700 million.
The underlying asset allocation of PCEF is currently 69 percent bonds and 31 percent equity or option income strategies. Because of the dual focus on fixed-income and high yield, the PCEF portfolio tracks closely to an index of junk bonds, such as the iShares iBoxx $ High Yid Corp Bond (ETF) (NYSE: HYG).
The chart below shows the similar correlations between the two funds over the last year.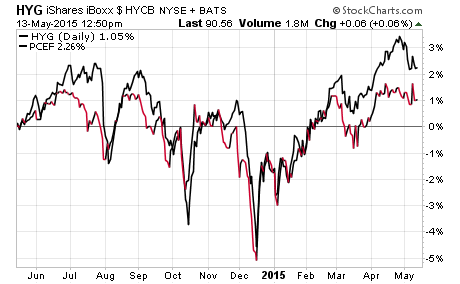 Despite the relatively similar price action, the 30-day SEC yield of HYG is just 5.11 percent. In effect, you pick up an additional 50 percent in yield with the PCEF portfolio. That additional yield will of course come with the concomitant higher risk of the underlying leverage and heavy credit exposure.
Related Link: Don't Ever Pay A Sales Charge For An S&P Index Fund
YieldShares High Income ETF
Another quickly growing alternative in the ETF of CEF world is the Exchange Traded Concepts Trust (NYSE: YYY). In its almost two years of existence, YYY has accumulated nearly $100 million in assets and takes a slightly different tact in its portfolio construction methodology.
This ETF is based on the ISE High Income Index, which selects 30 closed-end funds based on distribution yield, discount to net asset value and overall liquidity. Currently the asset allocation of YYY is similarly weighted to PCEF with 68 percent of the portfolio in debt and 32 percent in equities. This ETF also has a slightly higher 30-day SEC yield of 8.35 percent.
These funds offer compelling yields, yet investors should be aware that the price action will likely have close ties to U.S. credit fundamentals.
Image Credit: Public Domain
Posted-In: closed-end funds ISE High Income IndexSector ETFs Specialty ETFs Trading Ideas ETFs Best of Benzinga
View Comments and Join the Discussion!