Poor Earnings Hit ETFs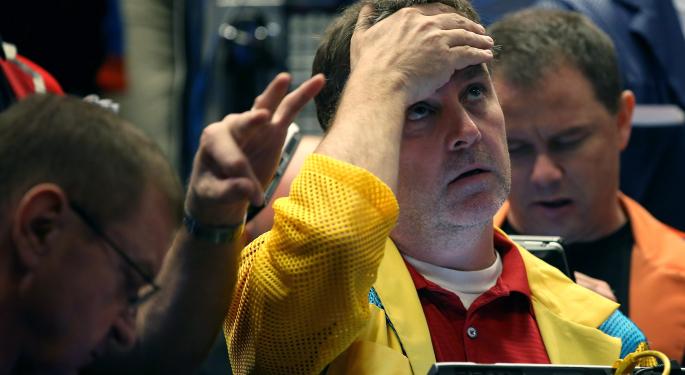 There was a major pothole hit this week following a string of poor earning's reports fueled by a strong dollar and a slowing of the global economy in the fourth quarter. Consumer staples giant Proctor & Gamble Co (NYSE: PG) suffered greatly from the dollar appreciating against foreign currencies, as they generated 61 percent of their revenue outside the U.S in 2014.
Proctor & Gamble reported EPS of $1.06 versus estimates of $1.14, and revenue of $21.16 million versus estimates of $21.7 million for their fiscal second quarter. The drop was due to currency fluctuations as CEO A.G. Lafley stated, "The October - December 2014 quarter was a challenging one with unprecedented currency devaluations."
Along with Proctor & Gamble, some of the world's largest technology companies suffered from poor earnings as well. Microsoft Corporation (NASDAQ: MSFT) being hit the worst, falling 10 percent despite beating on revenue and posting in-line EPS for fiscal 2014. The concern comes with the decreased revenue in their largest sectors: computing hardware and gaming revenue decreased 11 percent, as well as the licensing revenue from their flagship Windows business fell 2 percent.
The most concerning earnings report came from construction equipment giant Caterpillar Inc. (NYSE: CAT). The company posted a net profit of $757 million, down nearly 25 percent from $1.03 billion a year ago, and EPS of $1.35 missing estimates of $1.55 for the fourth quarter. Hurting the stock and spooking investors was the company's forward guidance.
Related Link: Carter Worth And Mike Khouw's Caterpillar Inc. Trade
Caterpillar expects sales of $50 billion in 2015, down 10 percent from 2014's expected sales of $55 billion, and EPS of $4.75 versus Wall Street's expectations of $6.67 per share for 2015. Normally a solid gauge for the global economy, Caterpillar remains pessimistic for 2015 growth, stating, "We expect world economic growth to only improve modestly in 2015. The relatively slow growth in the world economy and continued weakness in commodity prices -- particularly oil, copper, coal and iron ore -- are expected to be negative for our sales."
Below are a number of ETFs that have the above companies as top holdings.
SPDR Consumer Staples ETF
The Consumer Staples Select Sect. SPDR (ETF) (NYSE: XLP) tracks 42 consumer staple companies, most of which are large-caps. The companies are spread out among six sectors with in the industry, with food and staples retailing at 27 percent and beverages at 19 percent being the top two sectors.
The top individual companies that make up the ETF are:
Proctor & Gamble with a 13.2 percent holding
The Coca-Cola Co (NYSE: KO) making up 9.3 percent
Wal-Mart Stores, Inc. (NYSE: WMT) coming in at 7.7 percent
XLP is up 19 percent over the last 12 months and 10 percent over the last six months. The ETF has an expense ratio of 0.16 percent.
iShares U.S. Technology ETF
The iShares Dow Jones US Technology (ETF) (NYSE: IYW) is made up of 143 technology companies across seven sub sectors with software and services at 48 percent and tech hardware and equipment at 36 percent being the most heavily weighted.
The top holdings include:
Apple Inc. (NASDAQ: AAPL) at 18.7 percent
Microsoft making up 11 percent
Intel Corporation (NASDAQ: INTC) coming in at 5 percent
IYW is up 17 percent over the last 12 months and 1 percent over the last six months. IYW has an expense ratio of 0.43 percent.
Vanguard Industrials ETF
The Vanguard Industrials ETF (NYSE: VIS) provides investors with exposure to 352 companies in the industrials sector across 23 sub sectors. With aerospace and defense at 22 percent, industrial conglomerates at 17 percent and railroads at 8 percent being the most heavily weighted sub sectors.
The top individual holdings include:
General Electric Company (NYSE: GE) at 9.9 percent
Union Pacific Corporation (NYSE: UNP) making up 4.2 percent
3M Co (NYSE: MMM) coming in at 4 percent
Caterpillar is the eighth-ranked holding at 2.1 percent.
VIS is up 9 percent over the last 12 months and up 2 percent over the last six months. The ETF has an expense ratio of 0.12 percent.
View Comments and Join the Discussion!
Posted-In: A.G. Lafley WindowsSector ETFs Trading Ideas ETFs Best of Benzinga