ETFs To Play A Manufacturing Rebound In China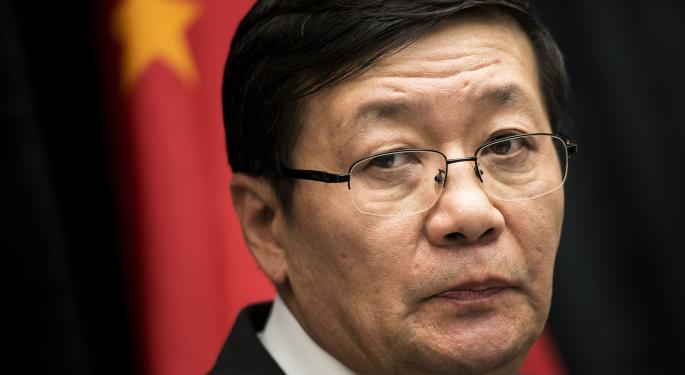 Stock markets around the globe fell on Monday after China's Finance Minister, Lou Jiwei, alluded to the possibility that a stimulus package may not be in his country's near-term plans.
Many on Wall Street, in particular, were anticipating a monetary move from China after a string of subpar economic releases over the past few months.
The Shanghai Composite Index is up nearly 15 percent in the last quarter and hit a 52-week high earlier this month. Its value fell 1.7 percent after Jiwei's comments.
The Numbers
Investors are now turning to more economic numbers.
Related Link: Higher Mortgage Rates Could Boost Homebuilder ETFs
On Tuesday, the country reported its monthly HSBC PMI for September came in at 50.5, better than the 50.0 forecast and August's 50.2 mark.
The Investing Angle
Consequently, investors have the option of a slew of China ETFs that cover all sectors and asset classes.
Over the last year, one of the top performers in this space has been the Global X China Energy ETF (NYSE: CHIE) with a gain of 7.7 percent. The instrument's top-two stock pick make up 22 percent of its holdings, and both trade in the U.S. as American Depositary Receipts.
PetroChina Company Limited (NYSE: PTR) makes up 11 percent of the portfolio and is up 15 percent in the last year.
CNOOC Ltd (ADR) (NYSE: CEO) is down 12 percent over the past year and accounts for a similar portion of the ETF's holdings.
The remainder of Global X China Energy's top 10 holdings do not trade on a major U.S. stock exchange, and its beta is 1.40, which suggests it sports a higher level of volatility than the S&P 500.
Even more volatile, though, is the Global X China Industrials ETF (NYSE: CHII), with a beta of 1.63.
Over the past year, this ETF is up 5.6 percent. More diversified that its energy-focused counterpart, Global X China Industrials' top holding makes up less than 5 percent of its portfolio.
On a subsector basis, the ETF is also heavily diversified. Machinery & equipment accounts for 36 percent of holdings, followed by building and construction at 33 percent, and transportation at 32 percent.
None of the ETF's top ten holdings trade on a major U.S. exchange.
Final Thoughts
In the scenario China doesn't implement a stimulus package in immediate future, GDP growth north of 7 percent over the next year could still be enough to boost the two aforementioned ETFs. The duo's recent pullback offers investors a fairly attractive entry point and risk-reward tradeoff.
Because of high volatility, though, potential bulls must be aware of possible short-term changes in value.
Disclosure: At the time of this writing, the author had no position in the equities mentioned in this report.
Posted-In: China ETFs Emerging Market ETFsEmerging Market ETFs Top Stories ETFs Best of Benzinga
View Comments and Join the Discussion!