Biotech ETFs Hitting New Highs On Takeover News (FBT, PBE, ITMN)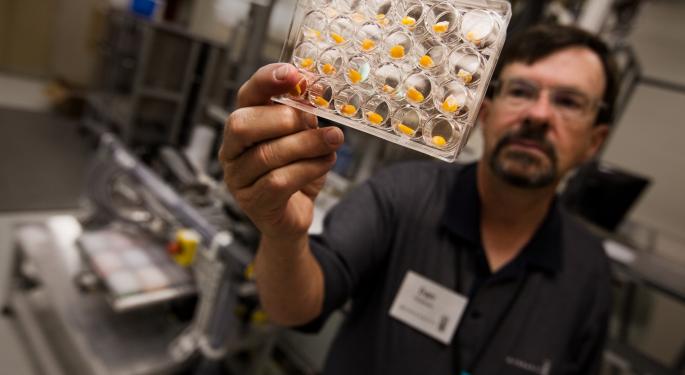 The biotechnology industry had a big day Monday after the news of Swiss pharmaceutical giant Roche agreed to acquire the U.S biotech company InterMune (NASDAQ: ITMN) for $8.3 billion in cash.
The deal breaks down to Roche paying $74.00 a share for InterMune, a 38 percent premium from its close on Friday and a 68 percent premium from August 12, when talks of the acquisition began.
The purchase gains Roche an idiopathic pulmonary fibrosis drug, Pirfenidone. The drug gives Roche access to a section of the biotech industry that it has struggled to break into over recent years.
Roche CEO Severin Schwan said during a conference call "This will allow Roche to grow and strengthen its pulmonary franchise globally; it's a perfect fit from a portfolio point of view. We plan a smooth transition ensuring readiness for an expected launch of Pirfenidone in the U.S. in 2014."
Related Link: 3 Retail ETFs To Consider Heading Into Year-End Sales
The news of Roche's acquisition could be good news for a number of biotech funds across the market. Below are two highlighted ETFs that have InterMune as a top ten holding and rallied on the news Monday.
First Trust Biotechnology Index Fund (NYSE: FBT)
This fund has an almost 6 percent holding of InterMune, the fund's largest holding out of its 20. FBT closed Monday with a gain of 4.2 percent at a new all-time high.
It is one of the best performing Biotech ETFs in the market with a 32 percent increase year to date. When a major deal is announced it typically pushed up the price of the peers in the sector and could boost all related stocks. The ETF has an expense ratio of 0.60 percent puts it on par with its competitors.
PowerShares Dynamic Biotechnology & Genome Portfolio (NYSE: PBE)
This fund consists of 29 holdings with InterMune as its ninth largest holding at 3.5 percent. PBE closed Monday with a gain of 2.9 percent, which was good enough for a new all-time high. PBE is up 27 percent year to date.
The ETF has historically had a positive response to M&A's, as it surged in June when Merck (NYSE: MRK) agreed to acquire Idenix Pharmaceuticals (NASDAQ: IDIX). The top two holdings in the ETF are biotech giants Gilead Sciences (NASDAQ: GILD) and Amgen (NASDAQ: AMGN), making up 11 percent of the portfolio. The ETF charges a 0.63 percent management fee for the fund.
As of June 30, Roche has paid off nearly three quarters of the debt it took on when it purchased a 44 percent stake of Genentech in 2009. This new availability in capital may allow Roche to increase its market share with more acquisitions on the near future.
Roche is not alone, as there will likely be more multi-billion dollar deals in the biotech sector in the year ahead.
View Comments and Join the Discussion!
Posted-In: Genentech pirfenidone RocheBiotech Sector ETFs Health Care ETFs General Best of Benzinga