Time To Sell Gold ETFs? (GLD, GDX, DGZ)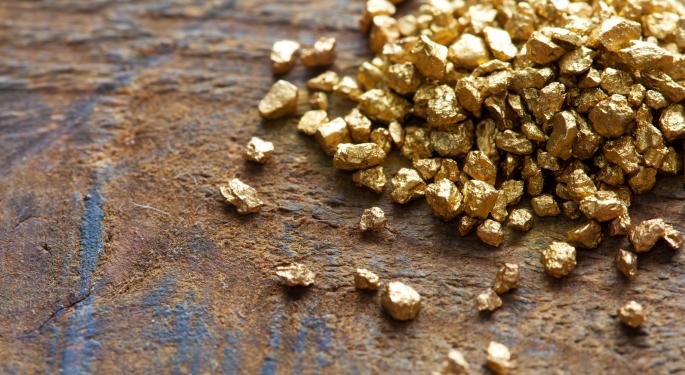 Gold fell by more than three percent on Thursday to close out the session at the lowest price in more than three years.
The February gold contract closed at $1,193.60/ounce, after falling $41.40 or 3.4 percent on the day. Shares of the SPDR Gold ETF (NYSE: GLD) were trading down nearly two percent for the day and are down 3.6 percent in the last three trading days.
The gold bubble burst and burst hard this year after putting in the twelfth consecutive positive year in 2012. GLD is down 29 percent in 2013 and the chart indicates there are lower prices ahead. The mining stocks have been hit even hard with the Market Vectors Gold Miners ETF (NYSE: GDX) losing 56 percent of its value this year and today it hit a new five-year low.
See also: ETF Award Winners Announced (BKLN, PHDG)
The announcement by the Fed yesterday to begin tapering of the monthly asset purchases was viewed as a negative for the precious metals and spurred on the latest wave of selling. As the Fed begins the winding down of its quantitative easing program it should eventually boost the value of the U.S. Dollar and interest rates will move higher, this will put downward pressure on precious metals.
Another factor to consider has to do with the reasons why gold would be in an investors' portfolio today or for the long-term. If the largest amount of central bank intervention ever was not enough to keep the rally in gold going, what will spur on the next wave of buying for the precious metal?
The days of gold as a currency alternative appear to be over. The days of gold as a safe haven have also disappeared. And when all asset classes are analyzed for a portfolio, gold is one of the least attractive options. The combination of all factors do not bode well for gold and its investors.
Investors that are interested in profiting from a falling gold price could consider the DB Gold Short ETN (NYSE: DGZ). The ETN will track the daily inverse movement of the price of gold futures. Today the ETN is rallying 1.8 percent and is at the best level in five months and is on the verge of a major breakout.
In the end, the fundamental reasons to own gold are no longer apparent and the technicals are flashing a sell signal. It is time to let gold complete its pullback and revisit at a later time.
View Comments and Join the Discussion!
Posted-In: Sector ETFs Commodities Markets Trading Ideas ETFs Best of Benzinga