ETFs for Turkey Day (PBJ, IYT, XRT, TUR)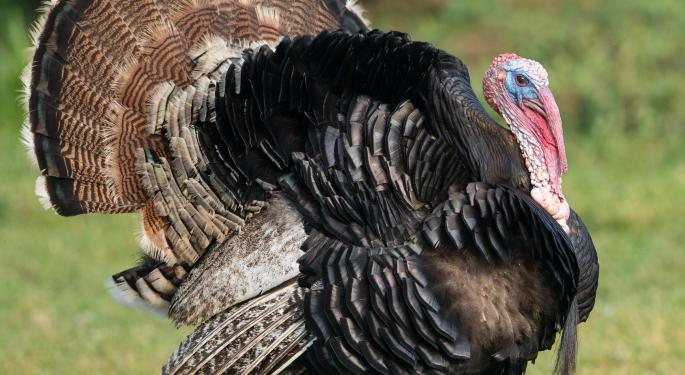 It is Thanksgiving week and investors from coast to coast are gearing up for some big meals, shopping, and hectic travel. After overeating and falling into a turkey coma it is time to get back to work and thank about making some money again. There are a handful of Thanksgiving related ETFs out there for investors to ponder as they suck down some Rolaids.
PowerShares Dynamic Food & Beverage ETF (NYSE: PBJ)
The ETF is a basket of 30 stocks in the food and beverage sector with a heavy concentration on the consumer staples, which will likely be on your dinner table over the holiday. Top holdings include Pepsico (NYSE: PEP), The Hershey Company (NYSE: HSY), and Kraft Foods (NYSE: KFT). KFT is the company behind Stove Top stuffing, an all-time classic in many households for Thanksgiving.
Related: Four Thanksgiving Stocks Worth a Second Look
The ETF is up 32 percent in 2013, outpacing the S&P 500 and is trading just below a new all-time high. PBJ has a nice blend of small-cap and large-cap stocks, creating diversification for investors. The expense ratio is 0.63 percent.
iShares Transportation ETF (NYSE: IYT)
The day before Thanksgiving is the busiest travel day of the year as Americans flock to break bread with their families. Whether it is land, rail, or air, IYT has you covered with exposure to a plethora or transportation stocks. The top holdings include rail company Union Pacific (NYSE: UNP), Alaska Air (NYSE: ALK),and FedEx (NYSE: FDX).
IYT closed last week at the best level ever and is up a whopping 37 percent this year. A strong 2013 from the railroads and airlines have been a big boost for the sector. The basket of 20 stocks charges an expense ratio of 0.45 percent.
SPDR S&P Retail ETF (NYSE: XRT)
Thanksgiving is synonymous with shopping and more specifically Black Friday. The day after the holiday is one of the busiest shopping days of the year and the unofficial kickoff to the holiday season. XRT is a basket of 99 retail stocks that cover all aspects of the sector. The top holdings include Rite Aid (NYSE: RAD), Amazon.com (NASDAQ: AMZN),and PriceSmart (NYSE: PSMT).
Related: Winter Storm Could Cripple Holiday Travel
The ETF has had a great year, up 41 percent, and is currently trading just beneath an all-time high. XRT differentiates itself from its retail ETF peers by offering a diverse group of stocks that allows investors to gain access to the entire retail sector. The expense ratio is 0.35 percent.
iShares MSCI Turkey ETF (NYSE: TUR)
There is no real connection between investing in the country of Turkey and the American Thanksgiving experience, but the name of the country alone puts it on this list. The ETF has been struggling this year along with the entire emerging market asset class and it is down 14 percent in 2013.
The protests that took place earlier this year caused the ETF to fall and it has yet to rebound even though the political concerns have subsided. The growth potential is there for the country, but until the geopolitical situation improves the ETF is concerned a big risk.
Happy Thanksgiving!
Posted-In: Thanksgiving TurkeySector ETFs Emerging Market ETFs ETFs Best of Benzinga
View Comments and Join the Discussion!