Hey, We Got a Rally Going On Here
Talk about climbing a wall of worry; just a bit more juice and the S&P 500 and two key sectors would move past price hurdles that could clear the way for bigger gains.
Let's start with a look at the S&P 500: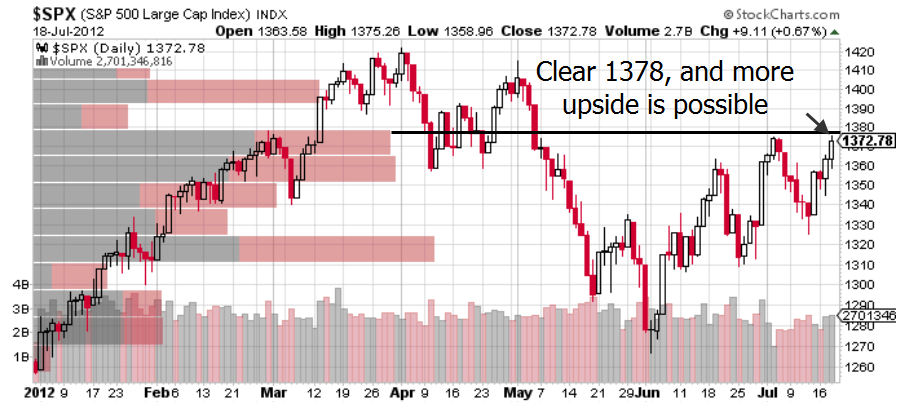 The benchmark index could soon move above a major volume resistance area.
Stick with me. It's not as complicated as it sounds.
The bars to the left of the chart show you the prices that have attracted the most trading volume this year.
So we're about seven points away from making new month highs, and busting through a major volume resistance band. In other words, a close at the end of the week above 1378 could clear the way for a possible run at the 2012 highs.
That may be easier said than done.
What's worrying traders is that defensive stocks – utilities, healthcare and consumer staples – continue to be among the top performers. If this rally has real strength, you would see riskier stock groups leading the way.
That's why tech is a sector to watch closely. The XLK (NYSE: XLK) saw its biggest gains since late June yesterday (counting the gap up) and its biggest intraday (open to close) since May. Stocks including Intel (NYSE: INTC) rallied as its sales outlook was not as bad as many had feared.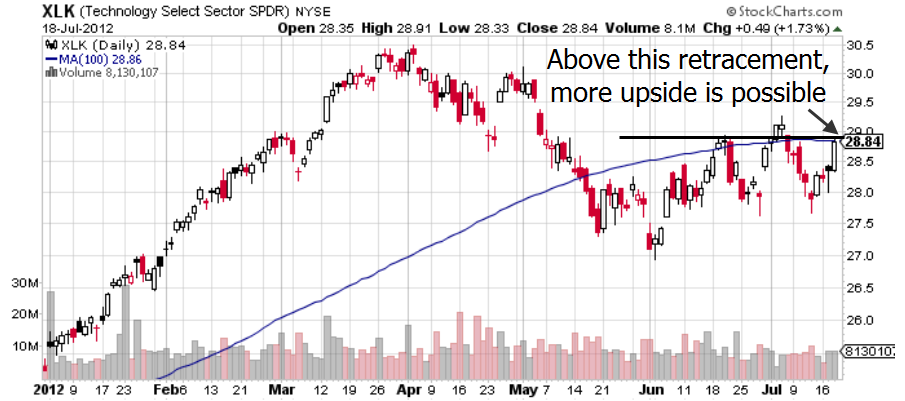 Wednesday's rally carried the XLK to its 100-day moving average, and the Fibonacci retracement level from its move since April, marked by the black line on the chart. Get past the near-term resistance, and tech could be posed for a move past its July highs, and possibly to year highs.
Energy (NYSE: XLE) is arguably even more important, as it's been one of the worst-performing sectors year-to-date. It also paused near its 100-day average at the close yesterday. That level also is major Fibonacci retracement of its move up from the 2010 lows to the following year's highs.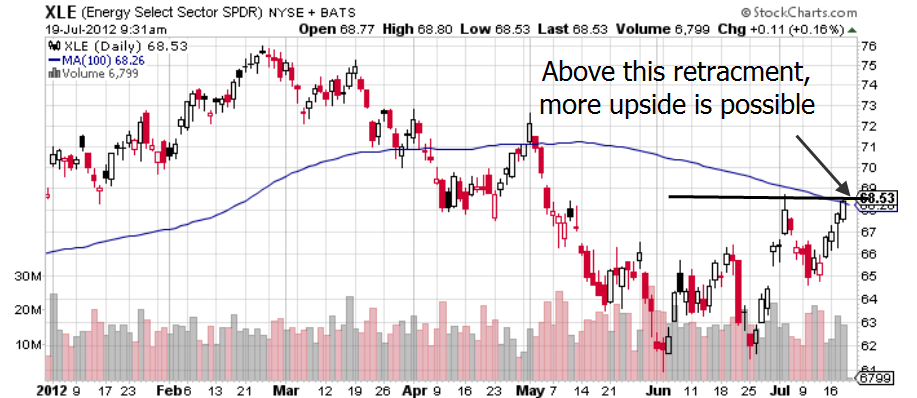 Another few ticks higher and the XLE could clear an important hurdle that could change the conversation, and have traders thinking there is potential for it to rally toward the
Posted-In: Sector ETFs Markets Tech Trading Ideas ETFs
View Comments and Join the Discussion!