Emerging Market Bond ETFs Feel Global Credit Crunch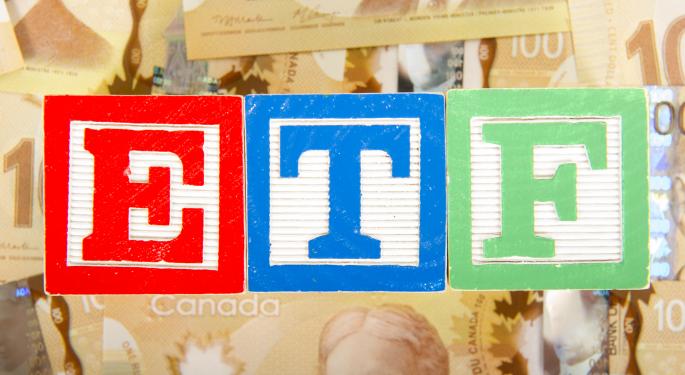 The global credit markets received a jolt on Monday, when the Russian Central Bank increased its key interest rate from 10.50 percent to 17 percent in a single motion.
That action was taken as a result of the rapid declines the country is experiencing in their currency markets along with concerns over the financial viability of this commodity-focused economy.
Interest rate hikes of this magnitude are almost unprecedented and underscore the severe effects that oil producing nations are undergoing during this deflationary cycle.
The effects of these central bank policy changes and concomitant spread widening in other developing nations have put emerging market bonds under the microscope once again.
Related Link: Why We're Running The Risk Of A '1998-Style' Global Financial Panic
iShares JPMorgan USD Emerging Markets
The iShares JPMorgan USD Emer Mkt Bnd Fd ETF (NYSE: EMB) tracks a broad basket of U.S. dollar denominated sovereign bonds from more than 30 individual emerging market nations.
This includes countries such as Russia, China, Turkey, Mexico and Indonesia to name a few. This ETF has a duration of seven years and a current 30-day SEC yield of 4.91 percent.
EMB is off 6 percent in the month of December as fixed-income investors have pulled back on their risk appetite for high yielding foreign bonds.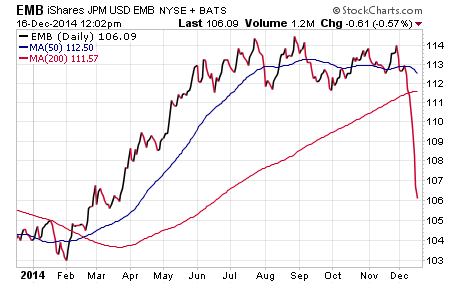 PowerShares Emerging Market Sovereign
The PowerShares Emerging Market Sovere (ETF) (NYSE: PCY) tracks a similar broad-based bond portfolio as EMB and has seen a comparable draw down this month. Prior to this credit shock, emerging market bonds were one of the leading sectors of the fixed-income market in 2014.
WisdomTree Emerging Markets
A look at corporate bonds via the WisdomTree Emerging Markets Trust (NASDAQ: EMCB) shows an even sharper decline from the highs. EMCB is off 9 percent in December as above-average exposure to bonds of Brazil, Mexico and Russia have contributed to heavy selling.
It's worth noting that this emerging market corporate bond ETF is actively managed and can adjust its credit, duration and country exposure as needed to weather this style of volatility.
The majority of the credit exposure in EMCB is currently focused in the BB and BBB-rated spectrum.
Disclosure: At the time this article was published, the author was long EMB.
View Comments and Join the Discussion!
Posted-In: brazil China global credits markets Indonesia MexicoEmerging Market ETFs Currency ETFs ETFs Best of Benzinga