An Economist's Perspective On Ebola Outbreak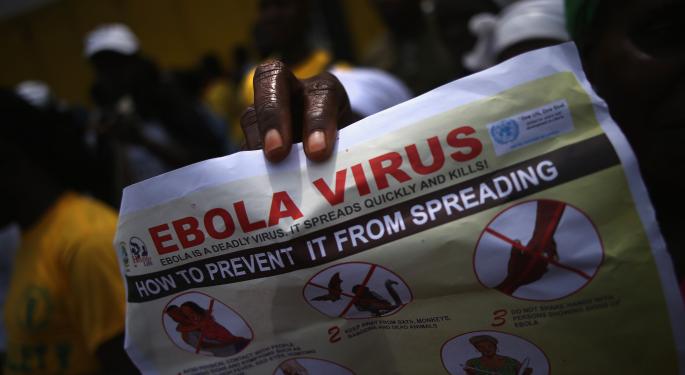 Neil Dutta is the head of U.S. economics for Renaissance Macro Research, and he said that even though the risk of an outbreak in the United States is low, there will still be a lot of headlines about it in the near future.
He recently joining Benzinga's #PreMarket Prep to share thoughts on the Ebola outbreak from an economist's perspective.
"Remember, we've dealt with issues like this before," he said. "The most recent, obviously, is the SARs outbreak in 2003."
Related Link: This Company Offers A Product Like Customizable, No-Fee ETFs
He also mentioned that 2003 was a good year for the U.S. economy, and it grew by about 4.5 percent.
"Not that I'm saying that will happen over the next year," he said.
The CNN Effect
It's difficult to measure psychological impacts of events like this, Dutta explained, but he does think this will continue to be spotlighted in the media and experience the "CNN effect."
"We know that Ebola is a very deadly disease," Dutta said. "But I also know that the U.S. public health system is second to none."
Keeping Perspective
Dutta emphasized that it's important to keep these things in perspective.
"The question is whether this is going to be enough to materially offer your baseline projections over the next couple of months, and I'm just not there yet," he said.
He also talked about employment and retail sales. You can find Dutta's most recent research report here.
Check out his full interview:
Don't forget to tune in to Benzinga's #PreMarket Prep Monday-Friday 8-9:45 a.m. ET for your daily dose of market news and analysis.
Posted-In: Benzinga #PreMarket Prep Ebola economics employments numbers Neil Dutta Renaissance Macro ResearchEconomics Interview Best of Benzinga
View Comments and Join the Discussion!