Ukraine Should Have Seen The Russian Invasion Coming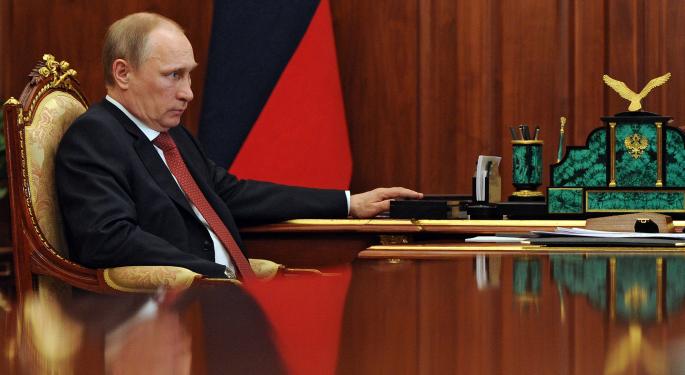 Last weekend, Russian President Vladimir Putin reportedly told European Commission President Jose Manuel Barroso, "If I want to, I can take Kiev in two weeks."
It might be the first truthful statement Putin has made in months.
At this point, there is almost no doubt that Russia is actively pursuing a military conflict with Ukraine. According to NATO, there are now more than 1,000 Russian troops armed with heavy artillery operating inside the country with an additional 20,000 troops stationed close to the Ukrainian border.
The military escalation has caught many, notably NATO, by surprise, but there have been a few signs this was coming.
In 2011, Putin published a major policy article in a Russian newspaper that outlined his long-term strategy to build a Eurasian super-state within the boundaries of the former Soviet Union, called the Eurasian Union. Putin stressed the new Eurasian Union "will not be a reincarnation of the USSR," but failed to highlight the difference in detail.
At the time, Putin tried to dismiss arguments "by some of our neighbors" (clearly hinting at Ukraine) that joining the Eurasian Union would contradict their pro-European stance. Three years later, it was Ukraine's pro-European inclinations that ultimately drew Putin's ire and led to the annexation of Crimea.
Related Link: Global Demand For Coffee Expected To Hit Record Highs
The Kremlin has also given more recent clues to its nefarious intentions. On July 28, an international arbitration court ruled that Russia had subjected Yukos, the former state-owned oil company whose previous owner had run afoul of the Kremlin, to politically-motivated attacks and awarded shareholders $50 billion in damages.
Although the verdict will be difficult to enforce, $50 billion is 2.5 percent of Russia's annual GDP, and the country is already on the verge of recession. However, the telling comments came later when a person close to Putin said the ruling was a non-issue compared to the stand-off with Ukraine. "There is war coming in Europe," he said. "Do you really think this matters?"
Currently there is little to deter Putin from instigating even more. He was able to annex Crimea with little resistance. As the Ukrainian conflict worsens, protecting Russia's international reputation no longer seems like a priority.
The country with the most to lose in this stand-off (other than Ukraine) is Germany. According to the International Energy Agency, Russia supplies about 38 percent of German gas imports, 35 percent of oil imports and 25 percent of coal imports.
Chancellor Angela Merkel knows that Russia has the upper hand and will tread lightly, but this conflict increasingly has a preordained feel. If you're looking to hedge some long-equity exposure, selling the iShares MSCI Germany ETF (NYSE: EWG) would be a prudent move.
Tags: Jose Manuel Barroso NATO Vladimir Putin
Posted in: Economics ETFs Best of Benzinga