5 Of The Best Tech Analysts To Follow On Twitter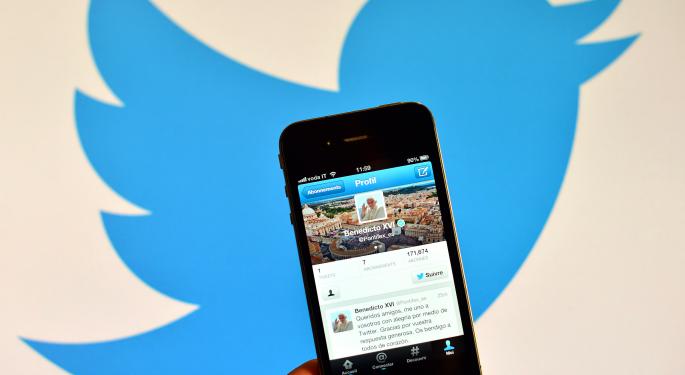 Are you following the right analysts? If you're an investor, a curious consumer or anyone who wants to know what's going on within the tech industry, make sure you follow these five analysts.
Michael Pachter
Wedbush analyst Michael Pachter (@michaelpachter) has been tweeting about video games since July 2009. His messages are frequently saved and re-tweeted by his 42,000 followers, such as this one:
I presume PS4 owners feel validated if more people buy one. Thats fine, but they aren't invalidated if Xbox One wins for a month. Fanboys!!!

— Michael Pachter (@michaelpachter) October 14, 2014
Pachter has also provided Benzinga with some memorable quotes: Digital Vs. Physical Media: "It's sort of like saying, do you care about renting a DVD or watching a VOD? For the same price you would probably do VOD. You only do DVD because it's cheaper." Netflix Buying More Content: "They need to keep things fresh, so more content is always good. The more exclusive the content, the more likely people are to join/remain members, so the 'Crouching Tiger' and Adam Sandler movies matter." Activision's $500 Budget For "Destiny": "…They have already sunk four years into development, so they have a basis for deciding to spend on marketing and building infrastructure. Second, they have a pretty solid record with franchise building, so it's hard to second guess them at all."
Related Link: Will Adam Sandler, 'Crouching Tiger' Bring New Subscribers To Netflix, Inc.?
Patrick Moorhead
Patrick Moorhead (@PatrickMoorhead), president and principal analyst at Moor Insights & Strategy, was ranked number one among tech analysts in the United States and Europe. One look at his commentary and it's easy to see why:
With Google's disappointing earnings I'm wondering about investor's patience with robots, cars, wind power, drones, contacs, spoons.

— Patrick Moorhead (@PatrickMoorhead) October 17, 2014
Moorhead has had a lot of interesting things to tell Benzinga over the past few weeks: Carl Icahn And Apple: "I think that, generally, Icahn is good for investments on Wall Street but bad for the company. Many times he is asking them to do things or setting up situations that are not good for the company long-term." BlackBerry's Chance Of Survival: "They don't have the scale and they don't have the differentiation that they used to have. "I see them as a software and services company, a very small one, but I do not see them playing in hardware anymore. There's too many different potential replacements. Even the federal government is approving iPhones and Android devices." HBO Go Without Cable: "This is a monumental announcement. This is the first time that a big-time content service has unbundled. It's what users want."
Related Link: Lionsgate Could Be Losing Billions To 'Hunger Games' Pirates
Sean Udall
Sean Udall (@UdallTechStrat) may not be a typical analyst (he doesn't issue "coverage"), but his expert commentary is not to be missed.
so let's sell $AAPL because crude is down $4... and $SWKS just announced EPS blowout!! #ucan'tmakethisup

— Stock007 (@UdallTechStrat) October 14, 2014
Some of his best quotes include: Apple Watch: "It's gonna probably be Apple's third- or fourth-most successful product. Once you get a full year [in], my guess is the watch probably becomes a bigger revenue-generator than Macs." Agilent's Split: "A lot of people think the medical technology division is very undervalued. Once they split the two companies, you'll see a lot of value come out of Agilent." Samsung's Decision To Stop Selling Laptops In Europe: "This is smart for them to do. If they're not making money on PCs and they're not doing well in PCs, they gotta start reducing the manufacturing of those and cutting inventory."
Walter Piecyk
BTIG analyst Walter Piecyk (@WaltBTIG) is one of the most outspoken individuals covering the tech space. He frequently points out interesting details that others miss. He also took a stab at coining a new term:
OK. Who is on board with coining the term OTTers (OTT streamers) for streaming players like AppleTV, ROKU etc?

— Walter Piecyk (@WaltBTIG) October 16, 2014
Here are some of his best quotes on Benzinga: iPhone 6 Sales: "I think given the amount of demand that exists in the global market for the product, presumably… the biggest challenge Apple has is what they can make. We're talking about moving 10 million units or over $7 billion in revenue in three days, which is impressive no matter what industry you're looking at." Apple's Lineup: "You could have some new product launches [in the pipeline]. There's certainly plenty of opportunities that exist, whether it's payments or smart homes or watches or all the stuff that we love to read about." Apple And Beats: "Dollar-wise, in the grand scheme of things, it's not a large deal. But I think the reason it's of interest to people is that the company hasn't spent more than $400 million [on an acquisition] over the last couple of decades. So any type of change in pattern obviously increases people's interest in tying to figure out what's going on."
Rob Enderle
Enderle Group analyst Rob Enderle (@Enderle) is tough to impress, which is one of the things that makes his commentary so interesting.
Yahoo's CEO takes her company where none have gone before, to a below zero calculated valuation. #yahoo http://t.co/tcEkhQGbD4

— Rob Enderle (@Enderle) September 19, 2014
Enderle has shared many words of wisdom with Benzinga, including: eBay-PayPal Split: "I think it has to be free to be able to compete with what Apple's doing, what Amazon's doing and the efforts from the credit card companies directly. It just makes sense to separate it so it can operate more freely." Paying For Facebook Likes: "It's fraud. The danger of doing something fraudulent is you could get charged criminally…it's just a matter of someone figuring out how to file the charges." Yahoo-AOL Merger Talk: "I think this is a subtle way of saying the Marissa Mayer turnaround isn't going very well. Both companies are executing a very similar strategy -- both moving to content as their primary vehicle. They're looking for synergy here. While AOL is doing better, [it] isn't really doing all that great either."
Disclosure: At the time of this writing, Louis Bedigian had no position in the equities mentioned in this report.
Posted-In: Michael Pachter Patrick Moorhead Rob Enderle Sean Udall Walter PiecykBe Your Own Boss Tech General Best of Benzinga
View Comments and Join the Discussion!