How Nike And Foot Locker Trade Together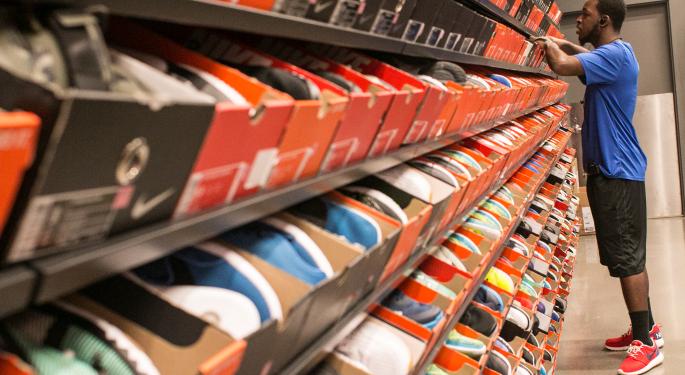 Foot Locker, Inc. (NYSE: FL) stock surged 17 percent Wednesday morning after a big earnings beat. Shares of Nike, Inc. (NYSE: NKE) are also trading higher by 1.3 percent as investors see Foot Locker's big quarter as a positive sign for Nike's latest product lines.
Benzinga took a look back to see just how closely Foot Locker's past quarterly earnings reports have correlated with Nike's and what that trend could mean for Nike's upcoming earnings report in late December.
Close Relationship
Analysts and investors have long associated Nike's performance with Foot Locker's. After all, Nike makes up about two-thirds of all Foot Locker purchases. Foot Locker's big earnings beat comes less than two months after Nike reported a big earnings beat in its fiscal first quarter back in October.
Back in September, Wells Fargo analyst Tom Nikic saw the writing on the wall for Foot Locker given positive feedback on Nike's latest products.
"As a result, we believe FL will show accelerating positive comps in the second half (2 percent in Q3 and 3 percent in Q4) and we believe sustained improvement in the Nike assortment can drive 3-4-percent comp growth over the subsequent 12-24 months (even if their second-largest supplier Adidas were to turn negative)," Nikic wrote.
Earnings Reactions
Unfortunately, the market reactions to Nike and Foot Locker's subsequent quarterly reports isn't as correlated as traders might hope.
Nike typically reports quarterly reports about a month after Foot Locker, so Benzinga looked at the past three years of reports by both companies to see if a positive earnings reaction from Foot Locker suggests a positive earnings reaction from Nike or vice versa.
Over the past 12 quarters, the direction Nike's stock traded on the first day following its earnings report has predicted the direction Foot Locker's stock would trade on its subsequent earnings report only seven out of 12 times, far from a reliable indicator for such a small sample size. In addition, Foot Locker's stock has generated an average one-day earnings reaction of about +0.5 percent regardless of whether or not Nike's previous quarter triggered buying or selling in the market.
At the same time, the market reaction to Foot Locker earnings has mirrored the market reaction to the subsequent Nike earnings report just six out of the last 12 quarters. In fact, the market has tended to react more positively to Nike's quarter overall following weak Foot Locker reports than strong ones.
Daily Stock Correlations
From an even longer-term perspective, Foot Locker and Nike share only a modest daily stock market correlation.
According to the Portfolio Visualizer daily correlation matrix, since 1998 Nike and Foot Locker share a 0.36 daily correlation. In fact, on a daily basis, Nike has much higher correlations with both the SPDR S&P 500 ETF Trust (NYSE: SPY) (0.51 correlation) and the Consumer Discretionary SPDR (NYSE: XLY) (0.56 correlation).

Related Links:
Wells Fargo Upgrades Foot Locker On Nike Developments, Projects Comp Acceleration
Analyst: Full Price Selling Is Significantly Improving At Foot Locker
Photo by Emily Elconin.
View Comments and Join the Discussion!
Posted-In: Tom Nikic Wells FargoAnalyst Color Earnings Top Stories Trading Ideas Best of Benzinga