Fiat Chrysler Outsells Ford In 'Month To Remember'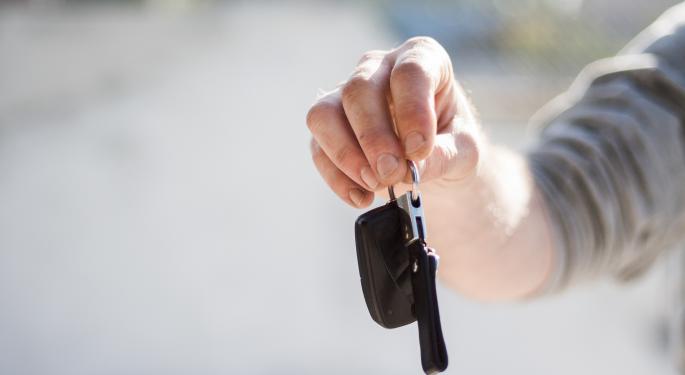 Sales at most automakers came in slightly under Cox Automotive's estimates in September, with the exception of Nissan.
Fiat Chrysler Outguns Ford
GM (NYSE: GM) led competitors with a Cox forecast of 235,000 vehicles sold, followed by Toyota (NYSE: TM) (203,098), Fiat Chrysler (NYSE: FCAU) (199,819), Ford (NYSE: F) (197,404) and Honda (NYSE: HMC) (132,668).
"September will be a month to remember for Ford, as Fiat Chrysler beat it in both total sales as well as retail sales. It was mostly expected to happen this year, as Ford moves away from sedans, and it might just be a fluke month, but that's a significant shift in the automotive world and a wake-up call for Dearborn," said Cox analyst Michelle Krebs.
GM's sales were strong in trucks, SUVs and crossovers. The company's incentive spending was below the industry standard in the third quarter. Sales are down 11 percent year-over-year, and hurricane season was partially to blame, the company said in its Q3 release.
Trucks, SUVs Dominate
"September sales were up against a year-over-year comparison complicated by the impact of demand created by Hurricane Harvey last year and the ill effects of Hurricane Florence this year. Sales were down year-over-year as forecast," said Cox Automotive's Rebecca Lindland.
Cox's Zo Rahim said trucks and SUVs have a dominant hold on the market.
"[The] market share for cars is expected to set a new record low in September at 28 percent, down from the previous record of 29.4 percent set in August," Rahim said.
Toyota
Toyota sales were down 10.4 percent, the company said. Lexus sold 24,597 units in September, down 6.1 percent year-over-year.
"Toyota had a tough month, with Camry and RAV4 sales dropping significantly. Sedans continue to struggle in this environment, and it remains to be seen if RAV4's dip is a blip or pause for greater concern," said Akshay Anand, a Cox Automotive analyst.
Fiat Chrysler
Fiat Chrysler beat Ford in both total and retail sales with a 15-percent year-over-year increase on the strength of Jeep and Ram, although individual brands continue to struggle. Chrysler is down 7 percent, while Fiat's sales decreased 46 percent.
Ford
Ford's sales declined 11.2 percent. F-Series trucks continue to sell well, with 75,092 rolling off dealer floors in September.
Mustang sales were down 1.3 percent, but the Lincoln Navigator remains hot, with overall sales up 77.3 percent.
Ford's September performance is a "tale of two hurricanes," Mark LaNeve, Ford's vice president of U.S. marketing, sales, and service, said in a statement.
Hurricane Harvey in 2017 created a replacement demand surge in vehicles last September, making it Ford's best month for sales that year. But Hurricane Florence caused a negative disruption this year, making the numbers more dramatic.
Honda
American Honda sold 132,668 vehicles in September, a 7-percent decline. Honda brand volume dropped by 8.2 percent, while Acura rose 4.4 percent. Honda's light trucks set a September record, gaining 6.3 percent.
Car sales are down 19.7 percent overall.
"At Honda, there were some wins with its SUVs, but not enough to offset declines in Civic and Accord. It seems Accord was unable to do what Civic did, which was to buck the trend of stalling sedan sales," said Cox Automotive's Anand.
Related Links:
Tesla Produced 80,000 Vehicles In Q3
NAFTA No More: The New North American Trade Deal, Explained
Posted-In: Akshay Anand Cox Automotive Hurricane FlorenceAnalyst Color News Retail Sales Top Stories Analyst Ratings Best of Benzinga
View Comments and Join the Discussion!