Breaking Down The SEC's New Pilot Program, And Why Experts Say It Misses The Mark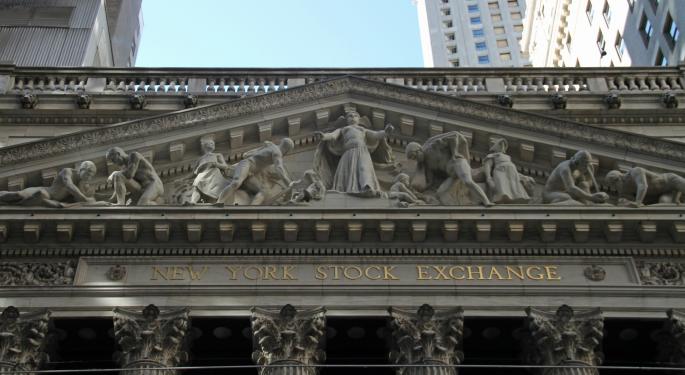 The Securities and Exchange Commission announced in March that it is launching a transaction fee pilot program to test the impact of lowering stock exchange fees.
The two-year test is meant to determine whether regulation is needed in what is known as the "maker-taker" system, according to the SEC.
Maker-taker works like this: exchanges charge fees to brokers and institutional traders who place large orders and pay rebates to market makers and brokers as an incentive for adding liquidity to the market.
The problem with this system is that there has been evidence that brokers are routing orders to exchanges that will pay them the most, rather than to the exchange where they will be filled quickest.
The idea behind the access fee pilot, which is still being constructed, is to simplify the system by reducing fees, which would theoretically reduce the influence they are having on order routing.
Criticism Of Pilot Pours In
The program drew criticism from New York Stock Exchange President Stacey Cunningham, who complained earlier this month in a Fox Business interview that the program does not include private exchanges known as dark pools.
Benzinga PreMarket Prep co-host Dennis Dick explained the pilot test and its shortcomings on a recent episode of the show. According to Dick, most retailer traders are not impacted by the access fees that the pilot is addressing.
"It's TD Ameritrade or it's your broker that is actually either paying the fee or getting paid the rebate," Dick said.
Professional traders have been opting instead to for so-called "taker-maker" exchanges, which pay rebates to takers rather than makers, Dick said. Traders often take advantage of the fact that they can "jump the queue" of an order book by offering an order on a taker-maker exchange rather than a maker-taker exchange, he said.
"The brokers will try to maximize the rebates they're taking in and minimize the fees," Dick said. "The problem is, if you're [selling] on a maker-taker exchange, you're probably going to get filled last."
Dick said that's not necessarily an unreasonable action for a discount broker to take on small retail orders. Brokers want to avoid paying a $15 taker fee on a small retail trade that only earned the broker a $9.99 commission from its client.
While Dick agreed that reducing fees will make the process simpler, he said there's a bigger problem with the system.
"Now the problem is that access fees pushed a lot of orders off-exchange," Dick said. "They have off-exchange market makers that will pay them for that order flow."
A Waste Of Time?
Dick said the fee test pilot in its current form doesn't address the problem of off-exchange trading, home to as much as 40 percent of the market.
"I think we should have addressed access fees, but I think we should have simultaneously looked at off-exchange trading because it is all tied together. The reason so many orders went off-exchange was originally access fees, but now they stay off-exchange, and if you reduce the fees you're not going to get these orders back on the exchange."
At the end of the day, Dick agrees with Cunningham in saying that reducing access fees alone will not do much to achieve the SEC's ultimate goal, which is increasing market liquidity and reducing investor risk in the market.
After a failed tick size pilot conducted in the past couple of years, Dick said the new access fee pilot could potentially end up a waste of time as well.
Listen to the full discussion at 47:15 in the podcast below.
PreMarket Prep is a daily trading show hosted by prop trader Dennis Dick and former floor trader Joel Elconin. You can watch PreMarket Prep live every day from 8-9 a.m. ET here. The replay can be found on Benzinga's YouTube channel, and the podcast is on iTunes, Google Play, Soundcloud, Stitcher and Tunein.
Related Links:
The SEC's 'Tick Size' Program Likely To End: Here's Why That's A Good Thing
View Comments and Join the Discussion!
Posted-In: Analyst Color Education Top Stories SEC Markets Analyst Ratings Media General Best of Benzinga