AMC Theaters Joins Movie Ticket Subscription Game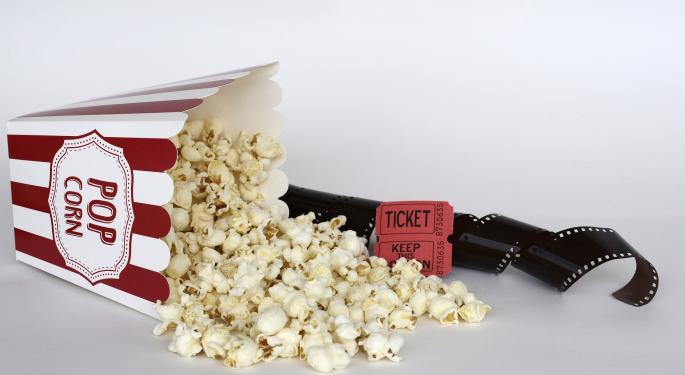 Helios and Matheson Analytics Inc (NASDAQ: HMNY) shares on Wednesday fell 29 percent — what amounts to 13 cents — on news of a competitive attack on MoviePass, in addition to a proxy filing late Tuesday.
What Happened
AMC Entertainment (NYSE: AMC) announced it would soon expand its rewards program with AMC Stubs A-List, a MoviePass-like service providing up to three movies per week for a monthly fee of $19.95 plus tax.
Unlike MoviePass, the subscription only supports AMC screenings; it allows for weeks-ahead reservations, same-day showings and second viewings of the same film; and it includes IMAX, 3D and other special showings.
On Tuesday afternoon, a Helios And Matheson proxy filing included five proposals for shareholders to vote on during a special meeting of shareholders. The statement includes a proposal to approve an amendment to the company's certificate of incorporation to effect a one-time reverse stock split of 1-for-2 to 1-for-250 shares. The statement also includes a proposal to approve an amendment to raise the number of common shares from 500 million to 2 billion.
Why It's Important
MoviePass already suffers competition from Sinemia and Cinemark Holdings, Inc. (NYSE: CNK)'s Movie Club.
On Twitter, the firm appeared to acknowledge — and perhaps underplay — the threat of AMC's program.
"Heard AMC Theaters jumped on board the movie subscription train. Twice the price for 1/4 the theater network and 60% fewer movies. Thanks for making us look good AMC!" it said in one tweet. "AMC has repeatedly disparaged our model as a way to discourage our growth because all along they wanted to launch their own, more expensive plan. We want to make movies more accessible, they want more profit," another tweet said.
"From a consumer point-of-view, the AMC offering sounds better than I expected," Canaccord analyst Austin Moldow told Benzinga in an email. "[I]t sounds better than Cinemark's offering, so that was a little surprising. But all the same things apply as when MoviePass lowered its price last year – it offers flexibility, better pricing. AMC obviously would limit flexibility by only allowing AMC theater tickets."
Moldow wasn't "shocked" by the announcement, and thinks MoviePass "still seems like the better product to capture 'mass-market' appeal."
What's Next
AMC's service becomes available June 26.
AMC's stock was trading around $16.55 Wednesday morning, up 1.8 percent. Helios and Matheson was trading around 33 cents per share. Cinemark's stock was little changed.
Related Links:
Why Helios And Matheson Crashed 30% Today
Wall Street Grows Increasingly Skeptical Of The Prospects For MoviePass
Posted-In: AMC Stubs A-List Cinemark Movie Club MoviePassAnalyst Color News Exclusives Movers Trading Ideas Best of Benzinga
View Comments and Join the Discussion!