Musk Says He Ignored Analyst Questions Because They 'Represent A Short-Seller Thesis, Not Investors'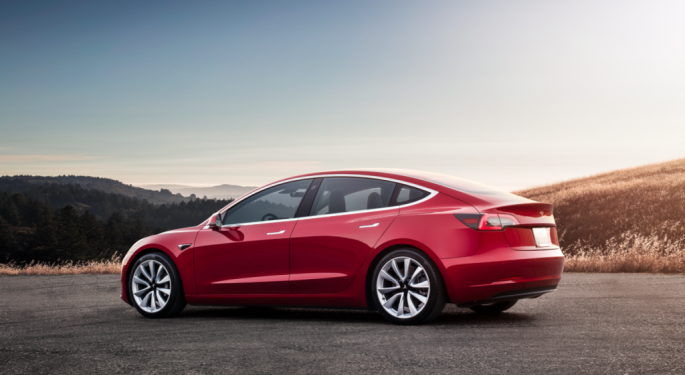 Tesla Inc (NASDAQ: TSLA)'s CEO can drive the stock with his enthusiasm and crush it with his ennui.
After catalyzing an 8-percent slide with dismissive remarks about Tesla's earnings and strategy, Elon Musk defended his posture Friday.
In a series of tweets, Musk initiated a "tedious discussion about Tesla stock" where he delineated circumstances around Wednesday's conference call.
"First, it's important to know that Tesla is the most shorted (meaning most bet against) stock on the market & has been for a while," he tweeted. "[...] The 2 questioners I ignored on the Q1 call are sell-side analysts who represent a short seller thesis, not investors."
Musk reflected on two interactions that drew particular criticism.
Bernstein analyst Toni Sacconaghi Jr. was told "boring, bonehead questions are not cool" after inquiring about capital requirements, and a Model 3 reservation question from RBC's Joseph Spak prompted a sharp and sustained shift from analyst queries to those of a retail investor.
The reason the Bernstein question about CapEx was boneheaded was that it had already been answered in the headline of the Q1 newsletter he received beforehand, along with details in the body of the letter

— Elon Musk (@elonmusk) May 4, 2018
Reason RBC question about Model 3 demand is absurd is that Tesla has roughly half a million reservations, despite no advertising & no cars in showrooms. Even after reaching 5k/week production, it would take 2 years just to satisfy existing demand even if new sales dropped to 0.

— Elon Musk (@elonmusk) May 4, 2018
One tweeter pushed back on the Model 3 position and requested indications for sustainable demand.
We went through the same drama on S & X and almost all confirmed in the end. Will likely be even better for Model 3, as customer satisfaction score post delivery is higher. I worry zero about demand. Just spent all night in the factory, not the showroom.

— Elon Musk (@elonmusk) May 4, 2018
Tesla's stock closed Thursday at $284.45 per share.
Related Links:
Tesla's Q1 Earnings Recap: Per-Share Loss Better Than Expected, Model 3 Updates
Posted-In: Elon Musk Model 3 RBC Capital Markets Toni Sacconaghi Jr.Analyst Color News Top Stories Best of Benzinga
View Comments and Join the Discussion!