Gen Z's Appetite For Luxury Drives LVMH, Kering To All-Time Highs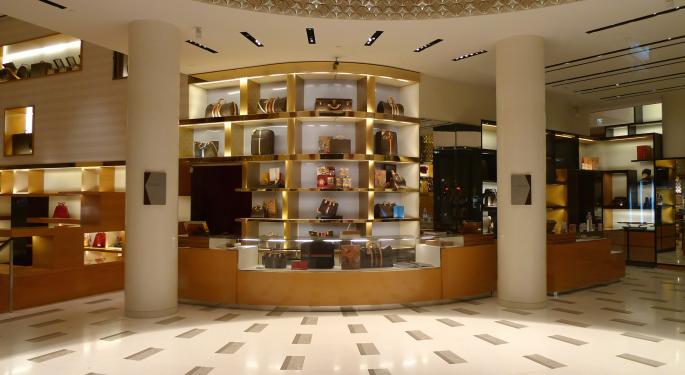 The shares of French luxury fashion houses LVMH Moet Hennessy Louis Vuitton SE (OTC: LVMHF) and KERING S A/ADR (OTC: PPRUY) hit all-time highs this week in a resurgence of luxury brands in the retail sector.
LVMH noted in its first-quarter report this week that organic growth reached 13 percent, and the company attributed it to strong growth in the U.S., Europe and Asia, where the thirst for luxury goods continues to be robust.
In the past, ultra luxury brands have typically stayed true to their heritage and adapted slowly to market trends, but younger consumers continue to show they care about products, not heritage.
Athleisure On The Runway
With athletic trends shifting toward more casual styles, many luxury brands have launched their own spin on the casual athletic sneaker styles that have served as a catalyst for brands like adidas (AG) (ADR) (OTC: ADDYY) and Kering-owned Puma's growth.
"Gen Z clearly has shown an affinity for luxury products and logo products; their interest in these brands are driving good results. The luxury designer brands' embrace of athleisure has helped wake them up from the couture doldrums they were in clearly in," said Matt Powell, vice president and senior sports industry advisor at The NPD Group.
The marketplace is "more casual than ever," Powell told Benzinga, with athleisure taking on a bigger role on the runway.
Kering's Balenciaga launched the Speed Trainers, a sock-sneaker style, that's been called the hottest shoe in fashion and has become a staple for nearly every shoe brand. A hit with athletic and music influencers, the brand also released the Triple S, which has largely been responsible for the "ugly" or "chunky" shoe movement.
Kering Focuses On Luxury Brands
For the longest time, many luxury brands were aspirational and didn't attempt to tie their product lineup to consumer trends and instead dictated the fashion market — but Powell said brands no longer dictate trends.
"The consumer is 100-percent in charge. The brands no longer create trends — they feed trends that are created by the consumer. Whether it is streetwear or what influencers decide to wear, peer influencers [are] clearly driving the marketplace.They have moved away from dictating fashion and instead are feeding fashion trends," Powell said.
With Kering coming off its most profitable year in history, Chief Financial Officer Jean-Marc Duplaix affirmed the brand's commitment to a younger generation,
"We have a new generation of designers who have a more global vision," Duplaix was quoted as saying in The Business of Fashion.
Kering announced this week that it wants to sell its stake in Volcom, an American skate, snowboarding and surf brand, in order to fully dedicate itself to the development of its luxury houses — further indication that the luxury market is where the growth lies. The company has also moved to sell 70 percent of its Puma stake.
Gucci was named a top-10 brand among teens in a recent PiperJaffray report; Gucci's cultural relevance in fashion is arguably at an all-time high.
'A Buoyant Environment For Luxury Goods'
Piper Jaffray's teen survey also noted that Generation Z's spending power is at a profound level, which could explain their influence on luxury spending, a category where they are even more likely than millennials to make a purchase despite not having entered the workforce.
LVMH announced this week it is launching a Silicon Valley-like startup incubator in Paris to foster innovation in the luxury goods space.
Louis Vuitton also continues to embrace an urban culture that it previously neglected and named influential streetwear designer Virgil Abloh as its men's artistic director.
"This is a remarkable start to the year for LVMH, with broad-based market share gains in a buoyant environment for luxury goods," RBC Europe analyst Rogerio Fujimori said in a note to clients. RBC Europe rates LVHM with the equivalent of a Buy.
Related Links:
Puma Parent Company Kering Announces Plan To Sell 70% Of Its Stake
Lululemon's Q4 Has The Sell Side Saying 'Namaste'
Photo by jean-louis zimmermann/Wikimedia.
View Comments and Join the Discussion!
Posted-In: Analyst Color Earnings Retail Sales Exclusives Analyst Ratings Movers Media Trading Ideas Best of Benzinga