The Early Reaction To Tesla's Q1 Production Numbers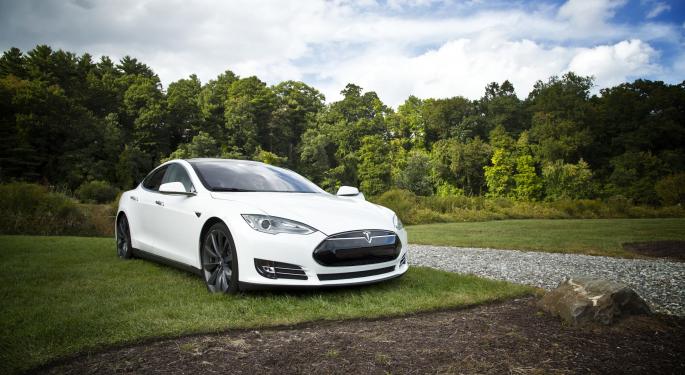 Tesla Inc (NASDAQ: TSLA) peaked 7.2 percent higher Tuesday after posting first-quarter figures in Model 3 deliveries, production and production rate.
Here is early analysis of the report.
The Miss Wasn't That Bad
The firm closed the quarter producing 2,020 Model 3s per week against guidance of 2,500.
"Mar-18 is the third out of three quarters that they have failed to meet this important target," Loup Ventures managing partner Gene Munster wrote in a note. "Investors are up in arms over these misses and have lost confidence in Tesla's production guidance."
However, Munster noted the miss wasn't as bad as anticipated, and it shouldn't be cause for concern.
"While we share some of the same frustration, this hyperfocus on missing high, self-imposed production targets causes investors to miss the bigger story, which involves the company nicely ramping production of a car that is exceptionally difficult to produce and could potentially usher in global adoption of EVs," he wrote.
Baird Equity Research expects critics to attack the rate as "manipulated," considering the disparity between a 2,020 seven-day rollout and 9,766 quarterly total, but the analysts believe the difference permissible.
"Importantly, TSLA has always indicated the production ramp would not be linear, and we believe the recent increase in production is in-line with TSLA's production plan," analysts Ben Kallo and David Katter wrote in a note.
Excuse Tesla's Deliveries
Baird was satisfied with the rate achieved and accordingly excused underwhelming deliveries. Kallo and Katter had cut their delivery forecasts ahead of Tuesday's report, and even then, Tesla only "slightly exceeded" those estimates.
They expect the heightened production rate to translate to higher delivery volumes, however, which drives gross margins and operating cash flow. Their prediction is bolstered by Tesla's resistance to 2018 capital raises, a strategy that negates the leading bear argument.
Appreciate The Model 3
Tesla reported that the Model 3 is its highest consumer-rated product, boasting a 93-percent customer satisfaction score. Baird considers this good news, particularly as rollout delays drive cancellations.
"We view the continued demand for the S and X as a positive, and believe demand for the Model 3 will increase as more cars are produced, additional reviews are released, and more consumers have access to the vehicle," Kallo and Katter wrote.
Things Will Get Better, But...
Tesla's 6,100 vehicles in transit, including 2,040 Model 3s, are seen by Baird to boost second-quarter delivery figures. Loup Ventures projects next quarter to see 4,000 Model 3s produced per week — well below Tesla's 5,000-unit goal — and 10,000 in mid-2019.
Munster accordingly cut his 2018 production estimate from 161,066 to 168,400 Model 3s.
"While on a bumpy road, we believe Tesla remains exceptionally positioned for the future around EV, autonomy, and sustainable energy," he said, predicting profitability in 10 quarters.
Baird reiterated an Outperform rating on Tesla with a $411 price target, while Loup Ventures maintained its bullish outlook.
At time of publication, shares were trading up 6.7 percent at $269.85.
Related Links:
Jefferies Upgrades Tesla On Probability Of 'Drastic Action'
Tesla's Cash Burn Could Double With Expected Model 3 Delays, Says Deutsche Bank
View Comments and Join the Discussion!
Posted-In: Baird Equity Research Ben Kallo David Katter Gene MunsterAnalyst Color News Top Stories Analyst Ratings Best of Benzinga